Sitting up. Feeding herself. Saying "mama" and "dada." Rolling over. 18 months ago, these basic childhood milestones seemed like a distant dream for Charleigh Jones when she was diagnosed with spinal muscular atrophy (SMA) type 1. Without treatment, the majority of children with this genetic condition become ventilator dependent or die by their second birthday. But thanks to advances in SMA treatment and Le Bonheur's streamlined, fast process for care, children like Charleigh have a new chance.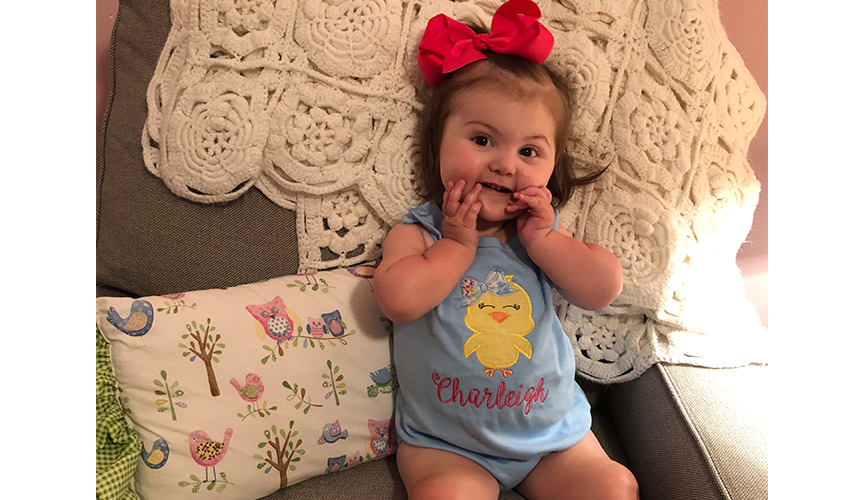 In 2019 the U.S. Food and Drug Administration (FDA) approved Zolgensma, the first gene therapy for children under two years with SMA. Charleigh was the first patient to receive the drug at Le Bonheur in December 2019. While Zolgensma does not cure SMA, it stops the progression of the disease, but its effectiveness depends on diagnosis and treatment as early as possible. Thanks to a partnership with the state of Tennessee Newborn Screening Laboratory, Le Bonheur is a primary site where children are referred for speedy treatment.
"We treat all eligible patients identified with SMA on newborn screening. Those with the most severe type, SMA type 1, or those with weakness before 6 months of age are treated as a medical emergency because newborns with fewer symptoms of weakness at time of treatment have better outcomes," said Elena Caron, MD, director of Le Bonheur's MDA/ Neuromuscular Clinic. "This is why we have newborn screening – what we do to reduce time to treatment makes a very big difference in their outcome."
Giving treatments as early as possible is part of their important mission to care for infants to put them in the best position possible to progress through development and become adults with some level of independence, says Caron.
All children born in Tennessee are screened for SMA as part of the newborn genetic screening. If a child is positive for SMA, their pediatrician is notified and then Le Bonheur's MDA/Neuromuscular Clinic is contacted to start the process of getting the child seen. Playing a huge role in this process is MDA Nurse Coordinator Carrie Knappier, MSN, RN, CPN, who coordinates everything from genetic labs to obtaining the needed drugs to administering the medication.
All in all, for children referred to Le Bonheur, the time from diagnosis to treatment can be as little as 10 days. Charles and Lacey Jones, Charleigh's parents, credit this speedy action as a primary factor in the positive outcome for their child.
"Every day without treatment, Charleigh was continuing to get weaker," said Charles. "Hearing from other SMA families, sometimes it takes weeks and even months for a child to receive treatment. Charleigh received treatment within 11 days of her diagnosis. We truly have the dream team."
Because of this early intervention and a secondary medication – Evrysdi – Charleigh is reaching milestones previously unheard of in SMA type 1 patients. Before treatment she had lost almost all movement in her arms and legs and was starting to have a little difficulty breathing. Now her parents have the joy of watching her roll over, sit on her own, eat and propel her own wheelchair.
"Just seeing her bring food to her mouth brings joy to our hearts," said Lacey. "Charleigh will be celebrating her second birthday soon. Ten years ago these children typically didn't make it to two years. This birthday and every birthday in the future are miracles for Charleigh."
Since available treatments are not a cure for the disease, Charleigh and other children with SMA type 1 continue to have medical issues that need to be addressed. Due to weakness, Charleigh needs breathing support at night (BiPap) and has developed a curve in her spine that will likely require surgery.
But the drastic improvement in outcomes for these children is pushing Caron and her clinic to be more creative with supportive care for patients. Children who couldn't eat at all are now feeding themselves thanks to speech therapists and nutritionists who work closely with patients on swallow feeding. Physical therapists work with children to get them to developmentally appropriate positions or support to participate in age-appropriate skills. Passive therapy is no longer the mainstay of physical therapy for SMA type 1. So Le Bonheur physical and occupational therapists are engaged in special training to provide expert care for these children who are now living longer and meeting more milestones.
In fact, Charleigh is doing so well that she is approved for an intensive therapy program with the goal of rapidly gaining new skills and muscle strength.
"Charleigh displays this real magic — newborn screening for SMA was not yet in place and she was weak," said Caron. "But she had a good response to treatment. She can engage in developmentally appropriate activities and we can see her excellent cognitive development on display — which is really great for us as physicians and for families to have more interaction and information from the child."
For SMA treatments to be effective, it is vital that a child receives infusion as soon as possible. Here's what the journey from birth to treatment looks like for patients in Le Bonheur's MDA/Neuromuscular Clinic.
Day 0
A newborn's screening results are completed (usually at one to two weeks after birth).
Positive results for SMA are shared with the newborn's pediatrician and Le Bonheur's genetics newborn screening nurse. The newborn is scheduled for evaluation in Le Bonheur's MDA/Neuromuscular Clinic as soon as possible.
Day 1-2
Evaluation is conducted at Le Bonheur's MDA/Neuromuscular Clinic and all needed lab work is completed.
Day 3-4
Le Bonheur's team of physicians, nurses, pharmacists and other specialists begin the process to obtain approval for the appropriate SMA treatment for the patient.
This includes obtaining lab results and identifying treatment eligibility, contacting the pharmaceutical company for the chosen treatment, engaging with a specialty pharmacy and working with insurance for authorization.
Day 7-14
Patient receives Zolgensma or Nusinersen as treatment for SMA.
Le Bonheur Children's Hospital depends on the generosity of friends like you to help us serve 250,000 children each year, regardless of their family's ability to pay. Every gift helps us improve the lives of children.
Donate Now