Pediatric Neurosurgeon Paul Klimo, MD, MPH, was recently named co-director of Le Bonheur's Neuroscience Institute. He also serves as chief of the Division of Pediatric Neurosurgery at the University of Tennessee Health Science Center (UTHSC).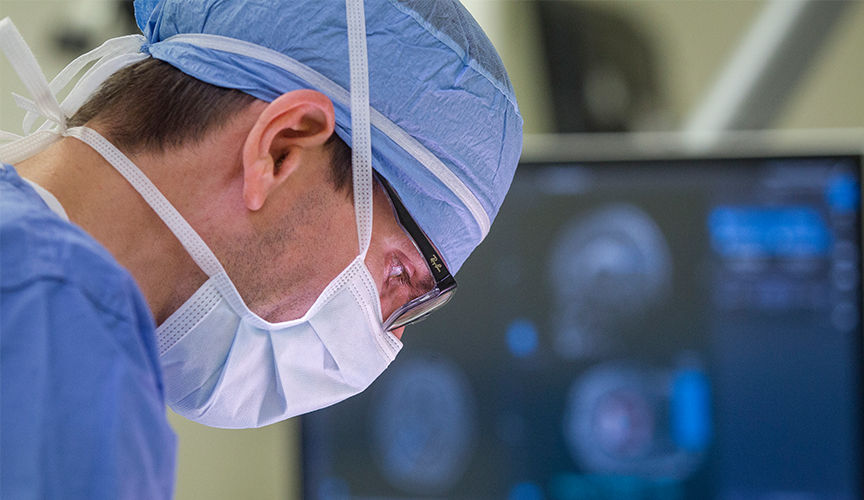 Q: What is your vision for pediatric neurosurgery at Le Bonheur?
A: My vision is to provide the best and most comprehensive care for children with neurosurgical needs using cutting-edge technology. We want to continue pushing the envelope for brain tumors, epilepsy, hydrocephalus, trauma and spinal disorders, but also explore emerging areas such as deep brain stimulators for movement disorders and focused ultrasound.
Q: How do you see pediatric neurosurgery changing in the next 10 years?
A: Over the last decade, the trend has been to try to do things less invasively, as long as you can do it as well or better, versus a traditional open approach. I think that trend will continue for the next decade. We will also continue to understand more of the genetic intricacies of pediatric brain tumors and how such knowledge may impact how we approach them surgically.
Q: How do you hope to continue growing the Pediatric Brain Tumor Program with St. Jude Children's Research Hospital?
A: In the 10 plus years that I have been at Le Bonheur and St. Jude Children's Research Hospital, I've seen our brain tumor program steadily grow. Currently we are getting close to 200 per year! I'm always looking for ways to expand the program and bring more patients and families here. An important strategy is to continue our physical presence outside of Memphis by having outreach clinics, such as Tupelo, Miss., and Jonesboro, Ark.
Another strategy is to provide immediate and high-quality service – this starts by taking the time to speak with families who are interested in coming to Memphis, answering their questions and developing a bond in a rather short period of time. Parents not only want their children cared for expeditiously but with compassion and understanding. If we can provide great service to one family, that family will hopefully become a strong voice of support for Le Bonheur and St. Jude to other families in need. I see no limit on how many kid's we can care for!
Q: What is the most rewarding part of being a neurosurgeon at Le Bonheur?
A: It has, is and always will be taking care of children who are in need. There's immense joy in successfully caring for a child and seeing the happiness on the face of the parents and other family members. As a surgeon, taking on difficult cases – those that other providers tried or said to families "it cannot be done" – is always mentally challenging and rewarding.
Le Bonheur Children's Hospital depends on the generosity of friends like you to help us serve 250,000 children each year, regardless of their family's ability to pay. Every gift helps us improve the lives of children.
Donate Now