Le Bonheur Heart Institute Co-Executive Director publishes new guidelines for diagnosis, evaluation and management of hypertrophic cardiomyopathy
Co-Executive Director of Le Bonheur Children's Heart Institute Jeffrey A. Towbin, MD, recently published the state-of-the-art reviews "Diagnosis and Evaluation of Hypertrophic Cardiomyopathy" and "Management of Hypertrophic Cardiomyopathy" with an expert panel for the Journal of the American College of Cardiology (JACC).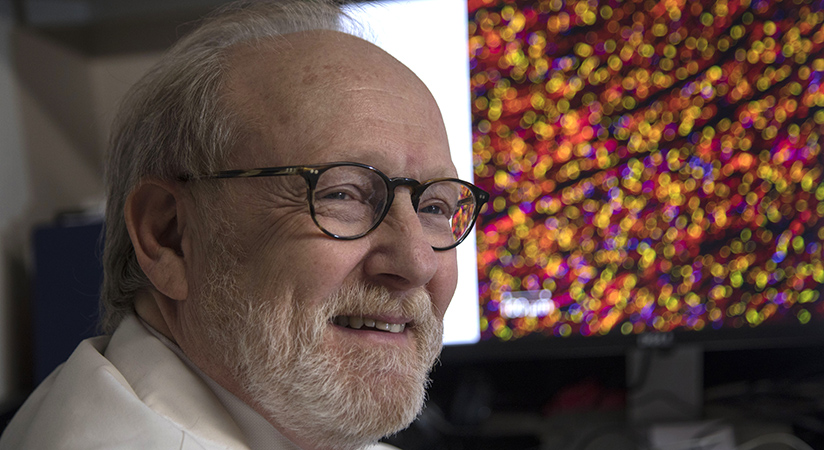 These consensus documents create a comprehensive best care model for hypertrophic cardiomyopathy (HCM) based on clinical practice experience, personal research and peer-reviewed literature. Towbin is also chief of Cardiology and medical director of the Cardiomyopathy, Heart Failure and Heart Transplant Program at Le Bonheur Children's, medical director of Cardio-Oncology and Cardio-Hematology at St. Jude Children's Research Hospital and professor of Pediatric Cardiology at the University of Tennessee Health Science Center.
According to the reviews, HCM is an under-recognized disease that occurs in one in 200 to one in 500 individuals worldwide. Because HCM is highly treatable, has seen advances in care and provides family screening opportunities, a timely diagnosis is crucial. In the first article, the JACC expert panel systematically reviewed a range of issues related to HCM, from best practices for initial evaluation to genetic testing to exercise and physical activity in an effort to provide a best care model for this patient group.
The second article covered the management of HCM including sudden death prevention, surgical options for reversing heart failure and considerations for heart transplant.
"Comprehensive initial patient evaluations are important for reliable diagnosis, accurate portrayal of HCM and family history, risk stratification and to distinguish HCM forms," said Towbin. "In recent years, effective management strategies for major HCM complications have emerged which improve clinical course, lower mortality and morbidity rates substantially and enhance the likelihood of normal longevity and good quality of life."
Recommendations and insights from the expert panel in the review "Diagnosis and Evaluation of Hypertrophic Cardiomyopathy" included the following
Initial HCM evaluation should prioritize diagnosis with assessment of left ventricular (LV) morphology and function, symptom severity, sudden death risk, family history, lifestyle modification and a surveillance plan.
Routine re-evaluation after diagnosis should take place at 12-month intervals.
Echocardiography and cardiac magnetic resonance (CMR) imaging are established strategies for HCM diagnosis. CMR should be obtained on initial evaluation and every three to five years.
Genetic testing is important for family screening, but not reliable for prognosis or clinical course. At-risk and asymptomatic family members, as well as those who can transmit the disease to children, should have genetic testing.
First-degree and other close family members should begin HCM screening with diagnostic imaging on a yearly basis beginning at 12 years old until 18 to 21 years old and then at five-year intervals.
The panel does not recommend screening prior to age 12 as HCM characteristics and adverse events are rare before adolescence, and screening can cause unnecessary anxiety and false positives.
Most athletes with HCM should be disqualified from intense competitive sports because of the risk of sudden death. The responsibility for this decision should rest with the physician who understands the risk for their patient.
"Through these guidelines, our panel aimed to express key principles for HCM in 'real-world' clinical language, largely focused on young adults," said Towbin. "While we support and promote the advantages of HCM Centers of Excellence like Le Bonheur's, an equally important objective was to more expansively inform cardiovascular practitioners caring for HCM patients in general cardiology environments."
Better understanding of the disease, improved diagnostic technologies and advances in therapeutics have consequently transformed the treatment and management of HCM. This has evolved from management primarily through medication to management with devices and interventional therapies. As a result, HCM mortality has been reduced tenfold.
Guidelines from the expert panel from the review "Management of Hypertrophic Cardiomyopathy" included the following:
Sudden death can be prevented through a mature risk algorithm with predictive markers and the use of implantable cardioverter defibrillators (ICD).
Little evidence exists showing that medication reliably prevents progression of heart failure in this population, therefore transaortic septal myectomy is the preferred treatment option for patients with drug-refractory heart failure symptoms.
Percutaneous alcohol septal ablation is the primary alternative intervention for patients who are not optimal candidates for myectomy.
Nonobstructive HCM patients should have medical therapy at the onset of heart failure symptoms, but heart transplant for refractory nonobstructive end-stage heart failure patients is considered when quality of life has become unacceptable and no other options for treatment are available.
Atrial fibrillation in HCM can be controlled through medications, catheter ablation and maze surgical procedure.
"Evidence-based and guideline-directed personalized treatment strategies have transformed HCM into a starkly different disease entity," said Towbin. "More widespread implementation of these advances in regional and community-based populations and worldwide, remains an important challenge for this disease that has now emerged from the darkness."
Le Bonheur Children's Hospital depends on the generosity of friends like you to help us serve 250,000 children each year, regardless of their family's ability to pay. Every gift helps us improve the lives of children.
Donate Now