Strength.
Compassion.
Determination.
These words are just the tip of the iceberg when describing Le Bonheur Infectious Disease Specialist Bindiya Bagga, MD. Her decades-long career in medicine has taken her from India to Louisiana and eventually to Tennessee, but her desire to positively impact lives has remained constant. In her newly-announced role as pediatric residency director at the University of Tennessee Health Science Center (UTHSC), she'll be impacting countless lives for years to come as she guides residents at the start of their medical careers.
Bagga grew up in Kolkata, India, raised by two engineers who placed great emphasis on education. Her mother was the only woman in her engineering class, a feat Bagga both recognized and admired. Driven by the strength instilled by her mother, Bagga pursued medicine at the advice of her father. He realized she had the mind for science and the creativity required to consider situations from many different angles, qualities that went hand in hand with her boundless curiosity.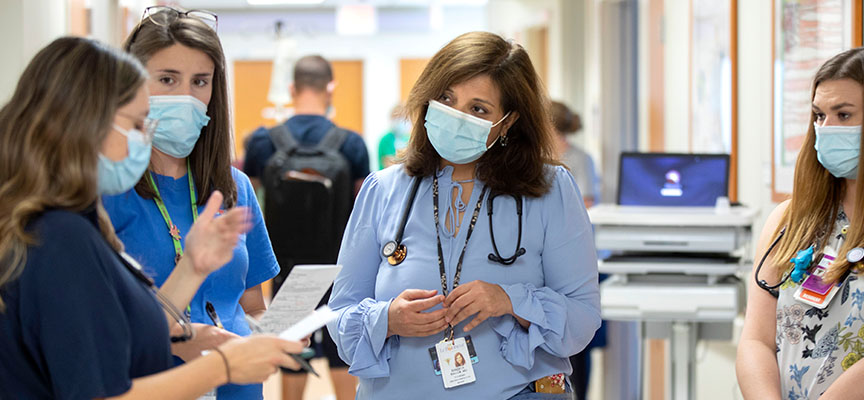 In 2008, Bagga came to Memphis for the combined UTHSC and St. Jude Children's Research Hospital infectious disease fellowship, eventually staying on as a faculty member.
"I was working with so many senior officials with years and years of experience, and I felt a bit like an imposter," Bagga said, "I over prepared because I couldn't help but feel that I was underprepared."
Eventually Bagga's extra preparation paid off, as it led to her recognition by students and residents as an outstanding educator both at the bedside and in the classroom. She'd begun her fellowship with the intention of a career in grant writing and research for RSV (respiratory syncytial virus), but when she discovered her true passion was teaching and mentoring, it made the transition to a clinician educator and leader in medical education a no-brainer.
Bagga's lifetime of intense curiosity made infectious diseases a natural fit. Her initial years of research focused primarily on RSV, a respiratory virus which can afflict some children with minor cold symptoms while others require lifesaving measures. Her work in seeking to understand prolonged RSV respiratory symptoms earned her the Caroline B. Hall Clinically Innovative Research Award from the Pediatric Infectious Disease Society in 2018.
"I love infectious diseases as it requires me to think outside the box a lot because I'm solving puzzles. I like to put on my detective hat," Bagga said.
Her other area of research interest is antimicrobial stewardship, which aims to optimize the selection and use of antibiotics with the ultimate goal of reducing antibiotic resistance. Bagga also serves as co-medical director of the Antimicrobial Stewardship Program at Le Bonheur, which she helped to develop.
Her time both as an educator and in infectious diseases has been quite successful. Bagga has earned multiple teaching and mentoring awards both from the department of Pediatrics at UTHSC and from pediatric residents. Bagga was inducted by the UTHSC College of Medicine into the inaugural class of the Academy of Master Educators in 2020 and selected as a member of the Beta Tennessee Chapter of the Alpha Omega Alpha Medical Honor Society in 2022.
I want to make sure my residents are getting the best training they can, but I want them to do more than just survive. I want them to thrive and avoid burning out ... I also want them to feel supported, giving them the skills they need to prevent burnout and enhance their wellbeing.
After serving as an associate program director for UTHSC's Pediatric Residency Program, where she focused on and built the resident wellness and mentoring programs, Bagga was named the Pediatric Residency Program director earlier this year.
While recruiting and interviewing medical students is a large part of her job, Bagga takes her role much more seriously than just focusing on the day-to-day administrative logistics. She wants to ensure her residents are fulfilled and thriving, keeping a focus on their wellbeing and opportunities for mentorship.
"I'm recruiting the new generation of learners. I want to recruit the best applicants across the country, make them part of our UT and Le Bonheur family and prepare them to be pediatricians and leaders of tomorrow with the hope that many of them will stay in the Memphis area long term," said Bagga. "I believe our unique city of Memphis, the flagship programs at Le Bonheur and the outstanding faculty and facility have us well positioned to provide outstanding pediatric training. I am both honored and humbled to lead this wonderful program."
Bagga wants to ensure that residents receive a well-rounded education and exposure to a variety of situations, procedures and conditions. But Bagga also wants her residents to do more than just eke by and exhaustedly cross the finish line upon the completion of their term.
"I want to make sure they are getting the best training they can, but I want them to do more than just survive. I want them to thrive and avoid burning out," Bagga said. She believes that being proactive and intentional about wellbeing early in a physician's career is the best way to prevent future burnout.
"It can be tough to find the right balance. I want to challenge them and deliver best practices of training, but I also want them to feel supported, giving them the skills they need to prevent burnout and enhance their wellbeing," said Bagga.
Like her residents, Bagga strives to practice what she preaches, reminding herself daily that balance is key to a thriving life, both at home and at work. Bagga unwinds by journaling, reading, painting, practicing yoga and hopping on flights to see family and loved ones.
A self-proclaimed foodie and chai enthusiast, Bagga loves trying out different restaurants and testing new recipes in her kitchen. She's known to bring chai and other goodies to her residents. After raising their only son — a true Memphis boy she says — and sending him off to college, she and her husband enjoy their time as empty nesters with delicious meals and long walks through the city's Shelby Farms Park.
"Le Bonheur and UT keep me in Memphis. The relationships and friendships I have made here make this a home-away-from-home for me," Bagga explained. "Le Bonheur is a very special place, and it is truly a privilege to work here. Whether I'm seeing patients or helping my residents, I want them all to feel supported during their time with me and I want to bring my authentic self to each and every interaction."
Le Bonheur Children's Hospital depends on the generosity of friends like you to help us serve 250,000 children each year, regardless of their family's ability to pay. Every gift helps us improve the lives of children.
Donate Now