As medical director of Le Bonheur's Interventional Catheterization Laboratory, Shyam Sathanandam, MD, FSCAI, saw an opportunity to improve the care of his tiniest patients. Sathanandam had already pioneered transcatheter PDA closure (TCPC) in extremely low birth weight (ELBW) neonates at Le Bonheur, but one of the largest risks for complications was still a major concern — transport.
To undergo TCPC in Le Bonheur's cath lab, neonates are transferred from their birth hospital, which includes neighboring facilities in Memphis but also as far as Johnson City, Tenn., a nearly 500-mile journey. Sathanandam recognized that for the welfare of these children, he and his team needed to be able to bring TCPC directly to the bedside of these neonates to minimize complications and give them the best possible outcomes.
"Transfer of extremely low birth weight neonates outside of the NICU is associated with increased morbidity and mortality," said Sathanandam. "Despite the many benefits of performing TCPC in the cath lab, the best place for the patient to stay may be in the NICU for their procedure."
As a result, Sathanandam and colleagues in pediatric cardiology, neonatology, anesthesiology and medical transport worked together to safely bring TCPC to the NICU bedside and eliminate the need for transport of this vulnerable patient population. Sathanandam and colleagues published their methods and roadmap to TCPC closure at the NICU bedside in Congenital Cardiology Today.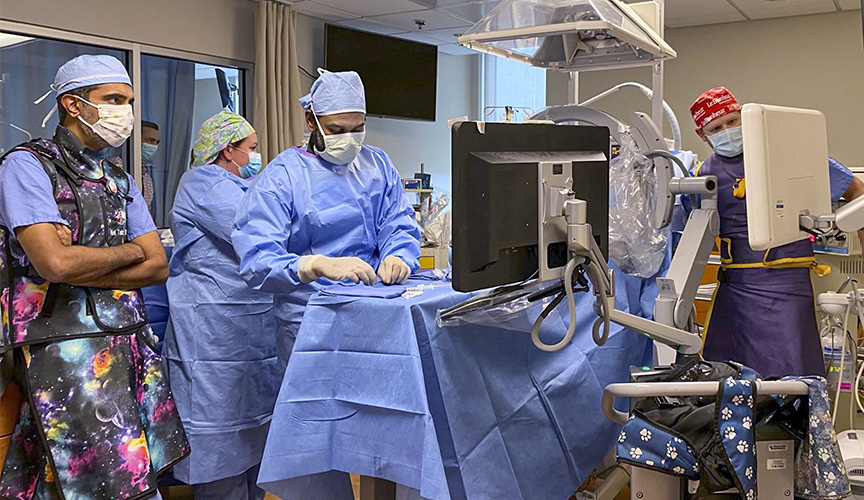 "The highest-risk part of transcatheter PDA closure is transport," said Mark Weems, MD, medical director of Le Bonheur's NICU. "These small babies are particularly sensitive to stimulation, changes in temperature and differences in ventilator settings, which are inevitable when moving a patient from the NICU to the cath lab."
Moving the procedure to the patient's bedside eliminates many of the risk factors, keeps the patient more stable and allows physicians to see the benefits of early PDA closure, says Weems. He and the neonatologists at Le Bonheur see the best outcomes when the PDA is closed prior to 1 month old, as delayed closure means a baby's lungs recover slower. Weems and his team believe that offering TCPC in the NICU will allow earlier PDA closure and therefore more rapid improvement in these tiny patients.
An Innovative Program
The option to even consider bedside TCPC is a result of years of refining a multidisciplinary program and building expertise among all parties who work with ELBW neonates. In 2019, Sathanandam was the first in the world to implant the first commercially approved medical device for TCPC in ELBW neonates — the Amplatzer Piccolo™ Occluder. Since then, Le Bonheur has used the device to close more than 350 PDAs in babies weighing less than 4 kilograms.
The success rate has been excellent, says Sathanandam, with low adverse events suggesting that earlier closure (before 4 weeks old) is associated with improved outcomes. As a result, patients at Le Bonheur have undergone TCPC at progressively younger ages and lower weights.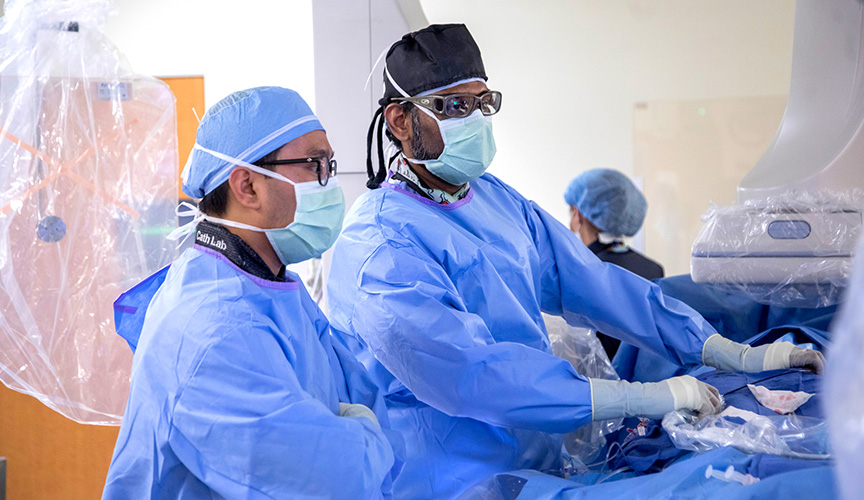 This success is thanks to expertise in PDA management across divisions including neonatology, cardiology, anesthesiology, pulmonology, neurodevelopment, nutrition, speech therapy, social work, medical transport and research collaboration.
"Creating procedure expertise amongst all individuals assisting in TCPC is essential," said Sathanandam. "As available devices improved, we have refined our cath lab closure process. The immense experience and expertise we have performing TCPC in ELBW neonates in the cath lab allowed us to even consider performing TCPC at the bedside."
Leaving the Cath Lab
Many aspects of PDA closure are the same at the bedside as in the cath lab, but the smaller space puts some constraints on the procedure. One of the major differences is the limited availability of fluoroscopy at the bedside. Sathanandam and interventional cardiologists refined their TCPC methods with limited fluoroscopy in the cath lab relying heavily on transthoracic echocardiogram (TTE) instead to test this obstacle.
Based on early experience, NICU bedside TCPC appears to be just as safe and effective as TCPC in the cath lab, says Sathanandam. Patients no longer require transport — a frequent concern of TCPC in ELBW neonates. As a result, Sathanandam expects an increase in device closures of PDA in ELBW neonates as previously the transfer of a patient could lead to hesitancy of neonatologists to fully support TCPC.
"Although we have an incredible safety record for closing PDAs in the cath lab, we still have referring physicians choose to delay closure because they fear the risk remains too high in the first few weeks," said Weems. "We believe that offering PDA closure in the NICU will decrease transport-related risks and allow us to close the PDA earlier."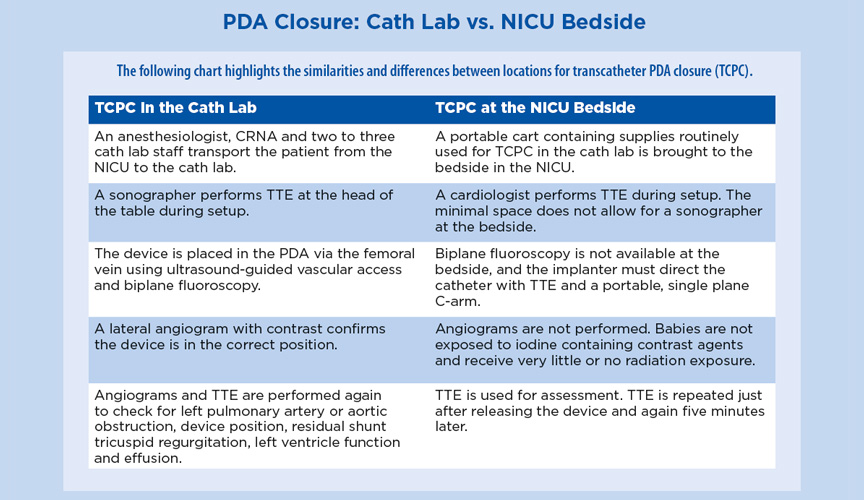 Future of PDA Closure
Moving PDA closure to the bedside marks a significant program shift that is a result of years of refining methods and building expertise at Le Bonheur Children's. Now, NICU bedside TCPC is the preferred method at Le Bonheur, and the majority of TCPCs are performed at the bedside.
For Weems, the potential for this option is already clear. In a recent case, a baby on a high-frequency ventilator with a high oxygen requirement had a PDA closed in the NICU at just 3 weeks old. The baby was extubated only four days later.
"These are the types of successful cases that make this procedure so rewarding," said Weems.
The team is actively collecting data on the procedure at the bedside and anticipate similar procedure times, lower radiation exposure and similar success and complication rates as the cath lab.
Sathanandam and the PDA closure team continue to bring education around TCPC for this neonate population through their PDA Symposium — a multispecialty symposium on the advanced management of PDA in newborns. In the four PDA Symposiums held to date, Le Bonheur cardiologists and neonatologists have covered a variety of topics related to PDAs including benefits of closure for premature infants, avoiding complications, ongoing clinical trials and, this year, how bedside TCPC is the way forward. Sathanandam has completed close to 20 live cases for education purposes at the PDA Symposium, Pediatric Interventional Cardiology Society meetings and directly to hospitals. All babies were less than 1 kilogram at the time of the procedure.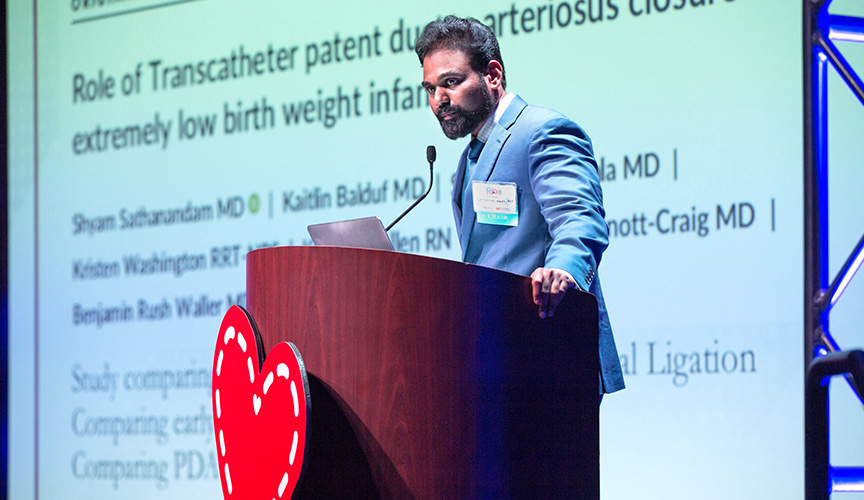 This year's PDA Symposium was held in partnership with the NeoHeart Society on Aug. 5-6 in Anaheim, Calif. This multispecialty symposium focuses on advanced management of PDA in newborns bringing together experts from around the world to have robust discussion on the current management of PDA in premature infants.
Visit pdasymposium.com to learn more.
Le Bonheur Children's Hospital depends on the generosity of friends like you to help us serve 250,000 children each year, regardless of their family's ability to pay. Every gift helps us improve the lives of children.
Donate Now