Brandon Edgerson, PharmD, MS, vividly remembers standing on the lawn of the hospital following the death of George Floyd. It was June 2020, and he was listening to a poem read by Le Bonheur Chaplain Sarita Wilson-Guffin, EdD, MDiv, as part of a White Coats for Black Lives event.
"I turned around and noticed that I was surrounded by a far larger crowd than anticipated, and the diversity within that crowd," said Edgerson, Le Bonheur chief operating officer. "I saw staff and providers from all different departments understanding and embracing that moment, recognizing the seriousness of the time we are living in now. It was such an emotional moment for me."
Traffic came to a standstill on Poplar Avenue, one of Memphis' busiest streets, as drivers joined the time of reflection and prayer. Wilson-Guffin calls it a moment of gut-wrenching unity.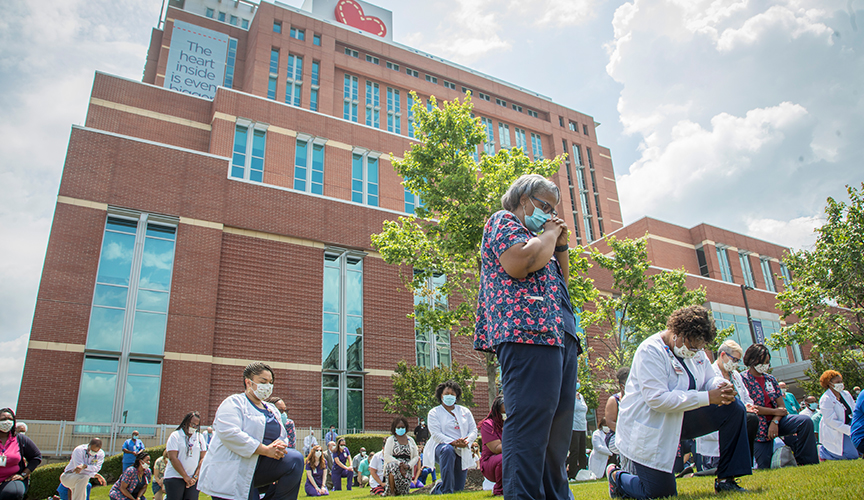 In June 2020, Le Bonheur providers and staff gathered in front of the hospital as part of the White Coats for Black Lives event. This was a turning point for hospital leaders leading to the formation of the Diversity, Equity and Inclusion Steering Committee.
It was also a turning point that led hospital leaders to launch a strategic effort to create safe spaces for conversations about diversity, equity and inclusion. Le Bonheur President Michael Wiggins, DBA, FACHE, assembled a Diversity, Equity and Inclusion (DE&I) Steering Committee, chaired by Edgerson and Wilson-Guffin.
The 12-person committee, which includes physicians, began their work with a survey of 255 hospital leaders. Edgerson says the survey revealed gaps in understanding and provided an outline for a hospital-wide curriculum, specifically addressing conscious and unconscious bias and cultural humility. The survey also showed that newer terms, such as allyship and microaggression, were opportunities for education.
The key is to recognize when we may be part of the issue, why someone might be uncomfortable and how that affects the way we deliver care.
"The ah-ha moment for us was really the way the organization has embraced this work," said Edgerson. "We want to make sure we're on the forefront. We want to make sure we address those terms that impact our care."
The committee focused first on educating itself and making sure its members were equipped to facilitate conversations across the hospital. Along with the hospital's executive leadership team, the committee is participating in a series of trainings with New Memphis, a local company focused on leadership development. Additionally, members of the hospital's Center for Bioethics and Health Equity team lead guided trips to the National Civil Rights Museum to help caregivers better understand the city's history of racism and role in the civil rights movement.
The committee members serve as a resource to hospital staff and physicians, and often help troubleshoot patient and family concerns. These conversations help increase the staff's awareness of their own bias, Edgerson says.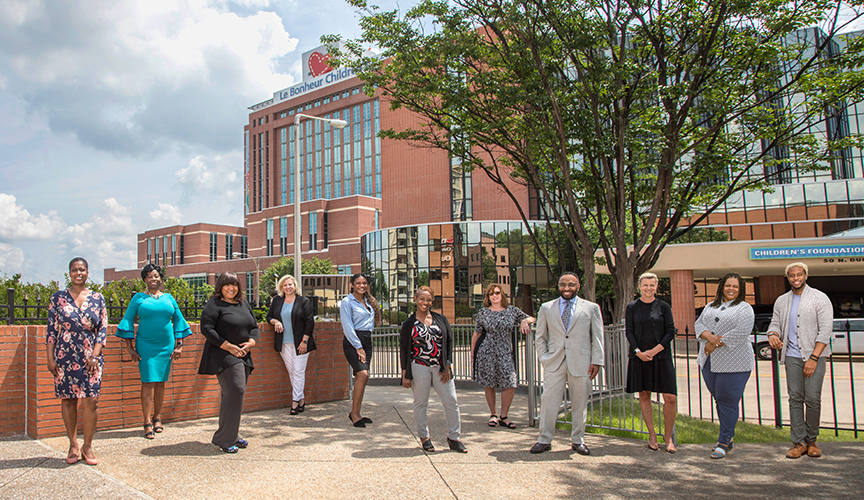 The Diversity Equity and Inclusion (DE&I) Steering Committee was formed in response to overwhelming evidence of inequities in society and concern that these affect care and caregivers. The committee was intentionally designed to have representation from various Le Bonheur entities and meets every two weeks to continue addressing matters of diversity, equity and inclusion at Le Bonheur.
"The key is to recognize when we may be part of the issue, why someone might be uncomfortable and how that affects the way we deliver care," Edgerson said. "By first identifying where those biases may be, we can address a family's concerns. We want families to feel comfortable coming into our hospital."
And ultimately, diversity, equity and inclusion work impacts the well-being of the entire community, Wilson-Guffin says. By addressing the social determinants of health that vary by culture, race, gender and age, caregivers can begin eliminating the roadblocks to better health.
Cynthia Cross, MD, chief of Pediatric Hospital Medicine and member of the DE&I Steering Committee, says physicians play a key role as they learn a patient's history, interpret it and develop a treatment plan in the context of the social determinants of health.
The social determinants of health don't stop at the front door of the hospital.
Cross remembers a 3-week-old patient who came to the hospital with a fever. Typically, a patient with this diagnosis stays in the hospital for 48 hours for treatment, but the baby still wasn't feeding well after this period.
"The whole time I felt that there was something about the situation (the mom) wasn't telling me. When I told her that the little one needed to stay longer, she burst into tears," Cross said. "I told her 'you're going to have to talk to me.' The mom said, 'I'm hungry. I've been here for two days. No one can bring me food. I don't have any money.'"
It was a situation Cross could solve quickly. Each inpatient unit has a pantry with food for families in need, and Cross also arranged for the mother to get a meal from the hospital cafeteria.
"The social determinants of health don't stop at the front door of the hospital. They affect issues here. If we can, in a non-judgmental way, address these issues, families will be better off. Next time they come, they will know we have their backs," Cross added.
The committee has aligned itself with partners, including the University of Tennessee Health Science Center, to ensure everyone who serves Le Bonheur patients, including residents and fellows, is working toward the same goal.
"Long-term, our goal is to eradicate the bias in health care at least on our campus," Wilson-Guffin said. "We want staff and providers to feel free of any discrimination or retaliation, and for Le Bonheur to be a place where everybody feels celebrated and comfortable in their work."
The moment on the front lawn in June 2020 was just the beginning.
"This road to diversity and inclusion is a journey. It's not a quick fix. We're talking about unlearning generations of unrest," Wilson-Guffin said. Edgerson agrees, saying, "We see this as a part of the way we deliver our care. This is not an episodic program. This is a way we see ourselves operating moving forward."
Le Bonheur Children's Hospital depends on the generosity of friends like you to help us serve 250,000 children each year, regardless of their family's ability to pay. Every gift helps us improve the lives of children.
Donate Now