For the first time in published literature, Le Bonheur Researcher and University of Tennessee Health Science Center Plough Foundation Endowed Chair of Excellence Amali Samarasinghe, PhD, showed that a variety of white blood cells known as eosinophils, naturally supercharged after an asthma attack, have a protective effect against a subsequent influenza A (IAV) respiratory infection. These findings were published recently in the journal Cells and may have a direct correlation to understanding SARS-CoV-2 (COVID-19) infection, explaining why asthmatics with COVID-19 fare better and providing a potential avenue of treatment for nonasthmatics.
The Le Bonheur study found that eosinophils directly immunomodulate airway epithelial cells during IAV infection, helping to neutralize the virus and protect the airway. The research was conducted by University of Tennessee Health Science Center Postdoctoral Fellow Meenakshi Tiwary, PhD, from the Samarasinghe group in collaboration with Robert Rooney, PhD, assistant professor of Pediatrics at the University of Tennessee Health Science Center and director of the Biorepository and Integrative Genomics Initiative at Le Bonheur, and Swantje Liedmann, PhD, a postdoctoral fellow at St. Jude Children's Research Hospital.
"We examined eosinophil responses to influenza A virus during the early phase of infection and found that eosinophils exhibit multiple functions as active mediators of antiviral host defense," said Samarasinghe. "These include virus neutralization, trafficking to draining lymphoid organs and, most importantly, protecting the airway barrier from virus-induced cytopathology."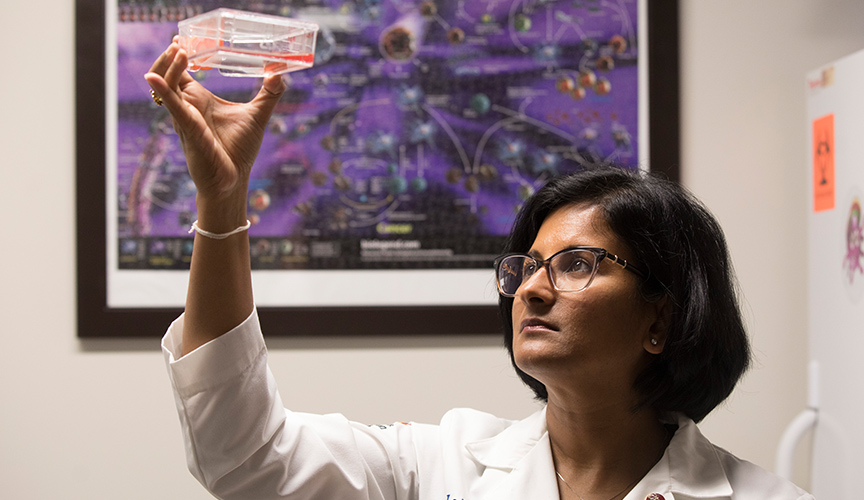 The study used both mouse models and cell culture models to observe eosinophil responses during the early phases of IAV infection. Investigators found that eosinophils altered the respiratory epithelial transcriptome to enhance epithelial cell defenses against virus-induced damage. As eosinophil-deficient allergic mice had heightened virus-induced damage to the epithelial barrier, eosinophil and epithelial cell interactions are necessary for host protection during influenza.
Further results included the following:
Eosinophils are rapidly activated upon virus exposure. As a result of IAV infection, eosinophil movement into and out of the lungs increased, and activated eosinophils expressed molecules necessary to migrate into lymphoid organs from the site of infection.
Crosstalk between airway epithelial cells and eosinophils promotes activation in both cell types. The presence of eosinophils reduced expression of specific surface markers in epithelial cells when placed in close proximity during IAV infection. This is especially important given that this study provides direct evidence that eosinophils are not toxic to host tissue.
This study builds on Samarasinghe's lifelong inquiry into elucidating the protective functions of
the immunological system, specifically eosinophils, against respiratory infections based on the observation that asthmatics were less likely to suffer from severe disease than non-asthmatics during the swine flu pandemic of 2009. Recent data come at the heels of previous discoveries from the Samarasinghe group that eosinophils played a crucial role in enhancing T cell defenses during influenza and that eosinophils continue to safeguard the host from virus-mediated bacterial co-infection.
"Reports from the COVID-19 pandemic have early indicators that patients with allergic asthma are not at increased risk of severe COVID-19," said Samarasinghe. "It is tempting to speculate that eosinophils may play an antiviral role against SARS-CoV-2, similar to their function against influenza A and other virus infections."
Le Bonheur Children's Hospital depends on the generosity of friends like you to help us serve 250,000 children each year, regardless of their family's ability to pay. Every gift helps us improve the lives of children.
Donate Now