When Diabetes and COVID Collide
Black patients with Type 1 diabetes and COVID-19 are almost four times as likely to present
with diabetic ketoacidosis compared to white patients
Non-Hispanic black patients with Type 1 diabetes and COVID-19 were almost four times as likely to present to the hospital with diabetic ketoacidosis (DKA) compared to non-Hispanic whites, according to an article published in The Journal of Clinical Endocrinology & Metabolism by Le Bonheur Pediatric Endocrinologist Kathryn Sumpter, MD.
The study examined 180 patients with Type 1 diabetes and laboratory-confirmed COVID-19 from 52 clinical sites, including Le Bonheur Children's. The objective of the study was to evaluate instances of DKA, a serious complication of Type 1 diabetes, in patients with Type 1 diabetes and COVID-19 and determine if minorities had increased risk when controlled for sex, age, insurance and last hemoglobin A1c (HbA1c) level.
"We know that Type 2 diabetes is a risk factor for worse COVID-19 outcomes, but less is known about Type 1 diabetes and COVID," said Sumpter. "This study allowed us to examine the intersection of Type 1 diabetes and COVID while also determining the racial inequities in DKA for these patients."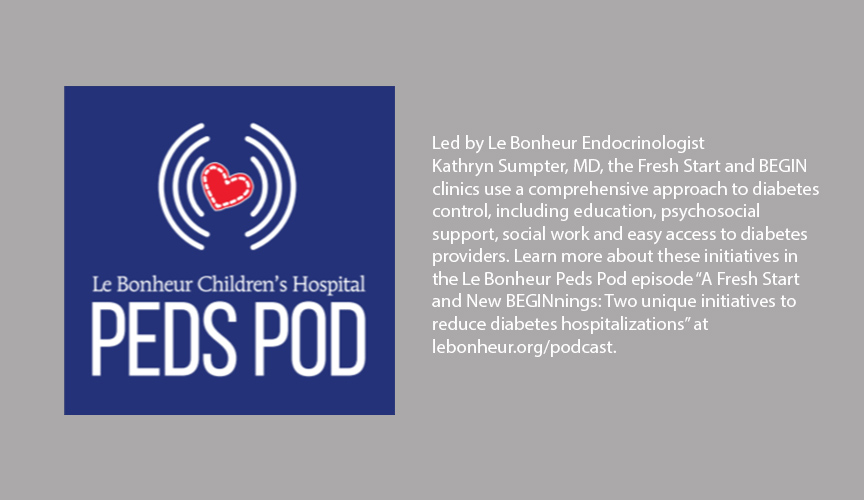 Previous studies have shown that COVID-19 disproportionately affects racial and ethnic minority groups with higher rates of infection and death. The same minority groups with Type 1 diabetes have also been shown to have increased risk of DKA and associated mortality. Because of these existing risk factors, it is critical to understand how COVID-19 and Type 1 diabetes interact and affect outcomes. The results of this study show that non-Hispanic black patients with COVID-19 and Type 1 diabetes have an additional risk of DKA beyond the risks associated with diabetes or being of minority status.
The results of the study show that non-Hispanic blacks were more likely to present with DKA and COVID-19 (55%) compared with non-Hispanic whites (13%). Hispanics had almost two times greater odds of presenting with DKA compared to non-Hispanic whites, which researchers found to not be statistically significant.
"A combination of factors lead to higher rates of DKA among minority Type 1 diabetes patients with COVID-19 that relate to social and structural risks," said Sumpter. "Social determinants of health, including income level, education, racial discrimination and inadequate health care access, impact these populations with devastating complications for Type 1 diabetes and COVID-19."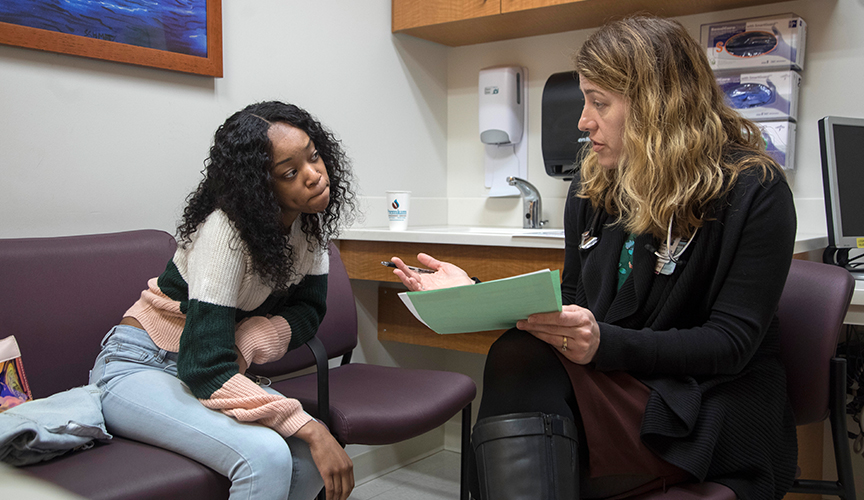 According to the study, intervention in these areas is essential to prevent these poor outcomes that unequally affect minority populations.
In an effort to reduce hospitalizations of diabetes patients, Le Bonheur has developed two clinics, Fresh Start and BEGIN, for children and adolescents with poorly controlled type 1 diabetes.
Race, Psychosocial Factors Predict Negative
HBA1C Trajectories in Youth With Type 1 Diabetes
Psychosocial factors, particularly diabetes management in social scenarios, are a key part of understanding racial inequities in high hemoglobin A1c (HbA1c) trajectories in youth with Type 1 diabetes, according to research from Le Bonheur Chief of Endocrinology Ramin Alemzadeh, MD, and Le Bonheur Psychologist Angelica R. Eddington, PhD, published in the Journal of Pediatric Psychology.
"Psychosocial factors are so central that, without addressing them, other medical diabetes interventions are unlikely to be successful," said Alemzadeh. "From a clinical standpoint, it is important to consider youth who anticipate trouble adhering to treatment in social situations when forming a treatment plan."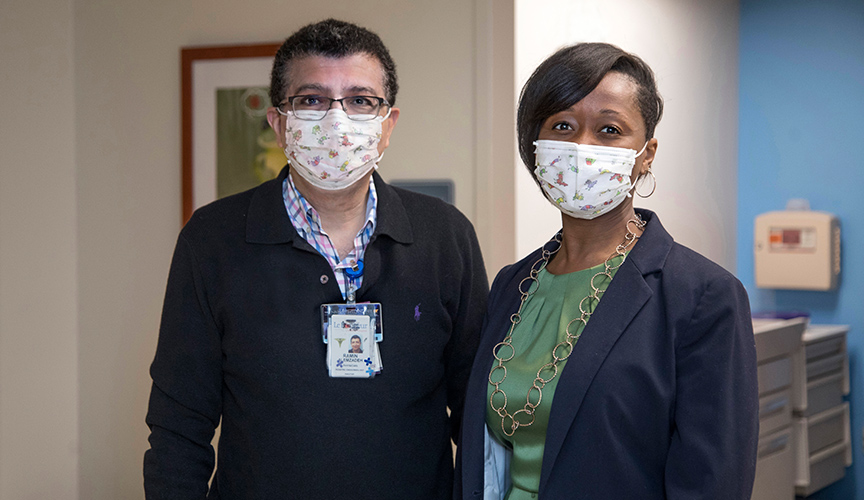 The study was led by Principal Investigator Mary E. Keenan, MS, using data from the University of Memphis Predicting Resilience in Youth with DiabetEs (PRYDE) study, which was led by Principal Investigator Kristoffer S. Berlin, PhD. The aim of this research was to expand the literature that speaks to health disparities in glycemic control of black adolescents based on factors that might contribute to these disparities – particularly social information processing (SIP) variables. Adolescents who disagreed with statements about diabetes care such as "I'd think my friends would understand" or "I think I would be likely to do my diabetes care in this situation" were a predictor of poor HbA1c trajectories.
Youth were divided into three groups based on the trajectory of HbA1c in the study: high decelerating, mid-high accelerating and near-optimal accelerating. Results showed that black participants were highly likely to be in the high decelerating and mid-high accelerating groups. Anticipated adherence difficulties (AAD) to treatment in social situations and other stress associated with diabetes management were also predictors for these groups. These results shine a light on the need to focus on the unique psychosocial factors and stress in social interactions faced by youth with Type 1 diabetes in communities of color in order to improve HbA1c trajectory.
"Previous studies have been carried out in predominantly white samples," said Keenan. "But we know that black youth have distinct social experiences that impact diabetes care adherence, including institutional and individual instances of racism."
Previous studies have also shown that racial and ethnic minorities experience significant disparities in achieving recommended HbA1c levels. But health care related factors such as barriers to care and access to diabetes technology such as insulin pumps do not account for the entirety of that disparity. Psychosocial factors are another vital component of diabetes management especially when they cause youth to forego diabetes care in public to avoid negative judgments from peers.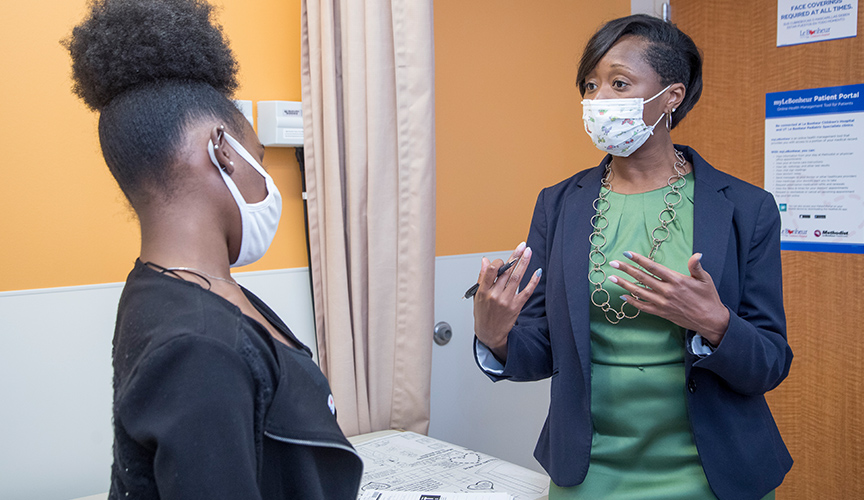 The study followed 184 youth between 12 and 18 years with Type 1 diabetes receiving treatment at Le Bonheur. Fifty-seven percent of participants were black. Youth and caregivers completed questionnaire packets at baseline and approximately six and 12 months later to analyze psychosocial factors of diabetes management. The questionnaire consisted of the Attributions of Peer Reactions Scale Short Form (APR-SF) which describes various situations in which youth would need to take insulin around peers and allowed youth to choose how they would likely respond, and the Diabetes Stress Questionnaire (DSQ), a 65-item self-report measure covering various stressors including parental stress, peer stress, adverse personal effects and more. HbA1c values were also gathered at the same three time points.
"For black youth, addressing stressors at multiple levels of their social systems could be an important avenue for future intervention, especially contextualized within the minority stress model," said Eddington. "Further research should consider the intersecting identities of youth with Type 1 diabetes and the multiple sociocultural levels at which they interact with their world."
Le Bonheur Children's Hospital depends on the generosity of friends like you to help us serve 250,000 children each year, regardless of their family's ability to pay. Every gift helps us improve the lives of children.
Donate Now