Understanding the role of the airway microbiome in the development and progression of asthma may lead to new treatments or more effective administration of current therapeutics, says a review article from a team of investigators at Le Bonheur Children's Hospital published in Frontiers in Pharmacology. The review explored the relationship between the airway microbiome and asthma alongside other intrinsic and extrinsic factors, with particular emphasis on how these factors impact asthma development and severity in pediatric and Black populations as high-risk groups. This review was co-authored by Chief of Pediatric Pulmonology Patricia J. Dubin, MD, Researcher Amali E. Samarasinghe, PhD, and Emergency Medicine Physician Mark A. Snider, DO.
"Crosstalk between the mucosal microbiota and the immune system as well as the gut-lung axis have direct correlations to immune bias that may promote chronic diseases like asthma," said Dubin. "Asthma initiation and pathogenesis are multifaceted and complex with input from genetic and environmental components."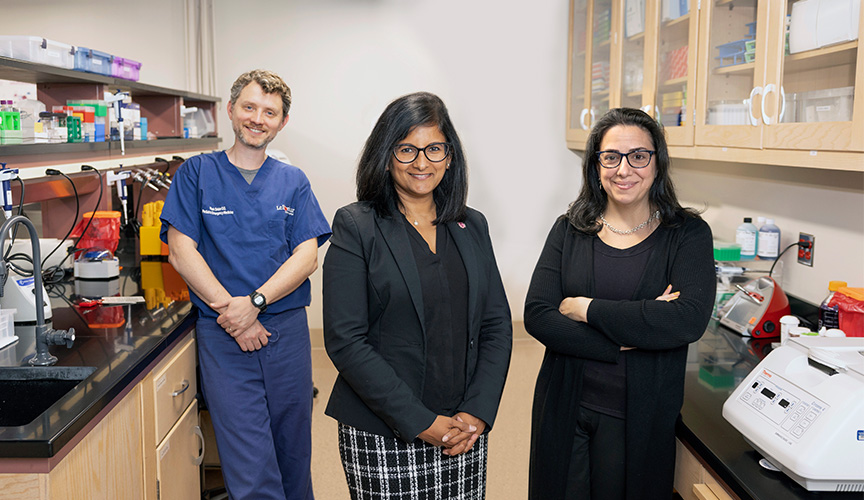 Review co-authors (left to right) Emergency Medicine Physician Mark A. Snider, DO, Researcher Amali Samarasinghe, PhD and Chief of Pediatric Pulmonology Patricia J. Dubin, MD
Composition and Development of the Airway Microbiome
When comparing the airway microbiome, which includes bacteria, viruses and fungi, a microbiome of high density and low diversity is associated with inflammation. Historically, bacteria have been associated with asthma exacerbations, severity of disease and how individuals respond to treatments. The virome of asthma patients had a reduced abundance and diversity of the viruses that attack bacteria, and severe asthma patients had an increased virome density that correlated with poor lung function. When looking at the asthma patient lung mycobiome, research has shown that significant fluctuations, with the loss of good fungi and the proliferation of pathogenic fungi, may promote the development of asthma.
"In addition, there may be significant differences in the airway microbiome in asthma patients of different ethnicities or racial groups that may impact disease progression and may require personalized therapeutic approaches," said Samarasinghe.
The Role of the Gut-Lung Axis
Researchers also looked at the gut-lung axis and how this might impact asthma patients. It is postulated that the microbiota of the gut and lungs may cross-regulate as the respiratory and gastrointestinal tracts share a common embryonic origin. Certain gut bacteria were more abundant in Black women, showing a link between the gut microbiome and disease susceptibility and severity in terms of race. Researchers noted that the observed variation in microbiome may be a result of socioeconomic differences rather than inherent biological factors.
"Differences in gut microbiota have been associated with disease susceptibility by race and sex," said Samarasinghe. "Analysis of the gut microbiome may be a simple and early biomarker for disease predisposition."
Factors Affecting the Microbiome
The review looked at additional factors the affect the airway microbiome and thereby might have an impact on asthma development and severity. These factors included:
Genetics
Smoking: Black smokers have more negative consequences of smoking, including asthma, compared to White smokers.
Diet and nutrition: Incorporating fiber-rich foods led to significant alterations to the gut microbiome and improved mucosal health in Black populations. Vitamin D deficiencies are correlated with asthma in Black children.
Drugs: Antibiotics and corticosteroids can impact the microbiome.
"The risk factors for the pathogenesis and severity of asthma are multifactorial. Whether race contributes to asthma severity and outcomes more as a biological factor or a social construct is unclear, but what is clear is that higher prevalence, higher severity and worse outcomes are associated with the Black race as defined in literature," said Snider.
Le Bonheur Children's Hospital depends on the generosity of friends like you to help us serve 250,000 children each year, regardless of their family's ability to pay. Every gift helps us improve the lives of children.
Donate Now