In the largest pediatric study to date reviewing Acute Stress Disorder (ASD) following a traumatic injury, results showed that 64.8% of children tested positive for ASD in the aftermath of a traumatic injury. ASD is the precursor to Post Traumatic Stress Disorder (PTSD). The study stems from a partnership between Le Bonheur Children's Trauma Services Division and the BRAIN Center at the University of Memphis and was published in Trauma Surgery & Acute Care Open. The results of the study provide evidence of the link between traumatic injury and mental health distress symptoms in children and much-needed data to advocate for integrated mental health screening in the hospital setting at the time of an injury.
"We have a critical need for mental health screening and counseling services at the time of an acute pediatric trauma — these findings further highlight that need," said Le Bonheur's Medical Director of Trauma Services Regan Williams, MD. "Traumatic experiences can negatively affect long-term function and increase overall mental health distress in these kids without the proper mental health intervention."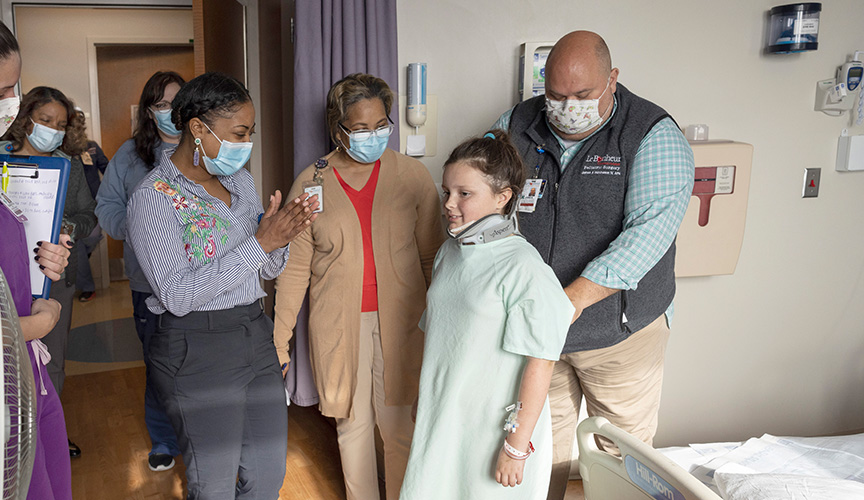 Trauma Services providers round with counselors from the Hospital-Based Violence Intervention Program – a group of counselors providing mental health interventions for children who have experienced a traumatic injury. This is a partnership with the BRAIN Center at the University of Memphis.
Investigators were awarded a grant to embed trauma mental health counselors in the Trauma division at Le Bonheur Children's, integrating mental health care with medical care at the bedside. This study was a needs assessment to identify the incidence and establish a baseline understanding of children who experience symptoms of acute stress disorder (ASD) after a traumatic injury. Previous pediatric studies of mental health and traumatic injury have focused on the development of posttraumatic stress disorder (PTSD), which requires symptoms to be present for at least one month for diagnosis. Screening for symptoms of ASD — avoidance, negative mood, hyperarousal and intrusive symptoms — allows for earlier intervention and prevention of the development of PTSD.
In the eight months of the study, 617 patients ages 2-18 years were screened using the Child Stress Disorders Checklist-Screening Form (CSDC-SF) — a four item self report assessment adapted from the Child Stress Disorders Checklist (CSDC). The questions rate a child's behaviors of avoidance, emotional distress and hyperarousal, with a score higher than one indicative of acute stress disorder. All patients received emotional support, psychoeducation and free outpatient counseling resources. Patients scoring one or higher were educated on coping mechanisms and potential risk factors of PTSD and were recommended for outpatient mental health services.
The average ASD score was 1.71 with 64.8% of children scoring one or higher. The percentages found in this study are significantly higher than previous studies, which researchers say may be attributed to the prolonged heightened stress response due to the COVID-19 pandemic.
Older participants, females, motor vehicle collision patients and weapons-related patients experienced higher levels of ASD symptoms in the study. Discrepancies in scores between older and younger patients may reflect the elevated risk for exposure to traumatic events for adolescents and the concern of under reporting among caregivers for children in early childhood. Furthermore, the higher level of ASD in motor vehicle collision and weapons-related injury patients show a link between injury severity and increased mental distress.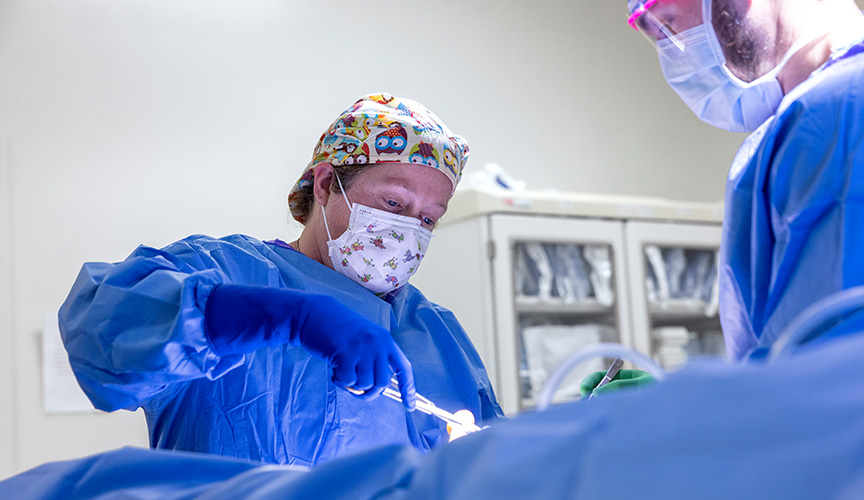 "Our findings further support literature indicating that ASD is a prevalent reaction that children experience following an injury," said Williams. "Proper screening, early identification and treatment can lead to improved mental health outcomes among children post-injury."
Providing timely mental health intervention is crucial for several reasons, researchers say. Prolonged exposure to stress can lead to long-term negative impacts on a child's mental health. It is critical to develop mental and behavioral health counseling that is integrated with medical care at the time of the traumatic injury. This allows for proper screening, early identification and prompt treatment to mitigate the consequences of ASD and PTSD. This study provides evidence needed to advocate for these types of services in pediatric hospitals.
Future research will examine ASD symptoms three months after injury to see if PTSD diagnoses were reduced with mental health intervention and assess the efficacy of various counseling interventions after traumatic injury.
Le Bonheur Children's Hospital depends on the generosity of friends like you to help us serve 250,000 children each year, regardless of their family's ability to pay. Every gift helps us improve the lives of children.
Donate Now