Nonstented tubularized incised plate (TIP) is safe and effective for distal hypospadias repair, according to research published by Le Bonheur Pediatric Urologist Joseph M. Gleason, MD, and colleagues in Pediatric Urology. To compare the complications of nonstented versus stented TIP repair, Gleason conducted a retrospective study of 195 patients who underwent nonstented TIP repair of distal hypospadias.
In hypospadias, the opening of the urethra does not form at the tip of the penis. Instead, it forms near the end of the penis (distal hypospadias), along the shaft (midshaft hypospadias) or where the penis and scrotum meet (penoscrotal hypospadias).
TIP is widely accepted for hypospadias repair, but the use of a stent in TIP has remained controversial. Previous research indicates stents may be associated with some complications, such as bladder spasms, pain and longer hospital stays.
Gleason and colleagues used their experience with nonstented TIP repair of distal hypospadias to investigate the rates of immediate and delayed complications. They hypothesized the rates of complications with nonstented TIP repairs performed at Le Bonheur would be similar to those of stented TIP repairs reported in the literature.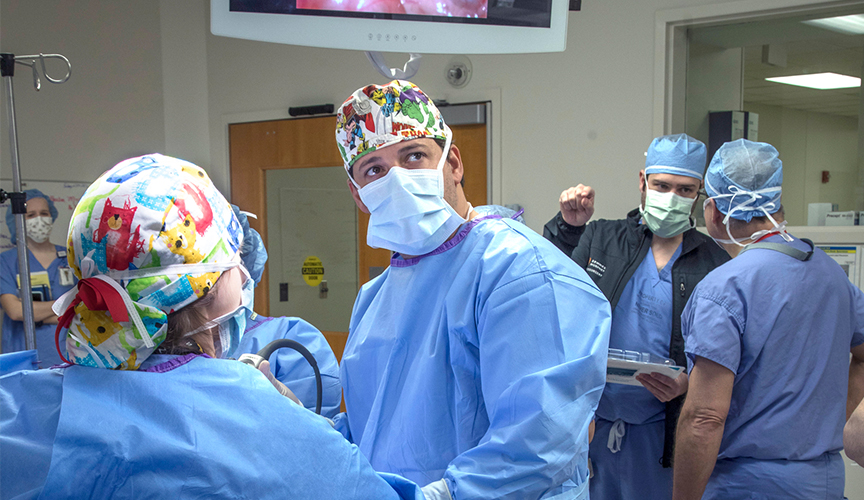 Le Bonheur Urologist Joseph Gleason, MD
5.6% of patients who underwent nonstented TIP repair presented with immediate postoperative complications, including split urine stream, painful or difficult urination, inability to completely empty the bladder and blood in the urine. Of the original 195 patients, 142 had follow-up appointments at an average of 10.5 months after surgery. Of these 142 patients, 8.5% presented with at least one delayed postoperative complication, including an opening between the urethra and perineum, a narrowed opening at the tip of the penis and separation of the edges of the surgical wound.
The rates of both immediate and delayed complications were low following nonstented TIP repair of distal hypospadias. The delayed complications of nonstented repairs were also comparable to those of stented repairs. These results support the safety and efficacy of the nonstented TIP technique for distal hypospadias repair. Patient anatomy often dictates whether a stent should be used, and more complex repairs may contribute more to the development of delayed complications than the use of a stent.
Assadi, A., Alzubaidi, A. N., Cline, J. K., Sharadin, C., Travis, A.J., Marley, K., Dewan, C., & Gleason, J. M. (2020). Nonstented Tubularized Incised Plate Distal Hypospadias Repair: A Single Center 5 Years' Experience. Urology, 146, 207–210. https://doi. org/10.1016/j.urology.2020.08.014
Le Bonheur Children's Hospital depends on the generosity of friends like you to help us serve 250,000 children each year, regardless of their family's ability to pay. Every gift helps us improve the lives of children.
Donate Now