Cangrelor, a novel, intravenous P2Y12 platelet inhibitor, can safely be used as a long-term antiplatelet therapy for pediatric patients on continuous flow ventricular assist devices (VADs), according to research published in Artificial Organs by Le Bonheur cardiologists and led by former Le Bonheur Pediatric Cardiology Fellow Sarah E. Fahnhorst, DO. While previous studies have demonstrated viability of cangrelor in adult populations, this was the first study published on successful long-term use of cangrelor in pediatric patients.
"Thromboembolic events and bleeding are major sources of morbidity among pediatric patients supported on a VAD," said Fahnhorst. "Cangrelor is short-acting, reversible and intravenous, making it a feasible antiplatelet agent in select pediatric patients."
Pediatric patients who are unable to take or do not respond well to other antiplatelet drug options can safely remain on a VAD by using cangrelor. This allows for a lower risk of blood clotting or bleeding complications.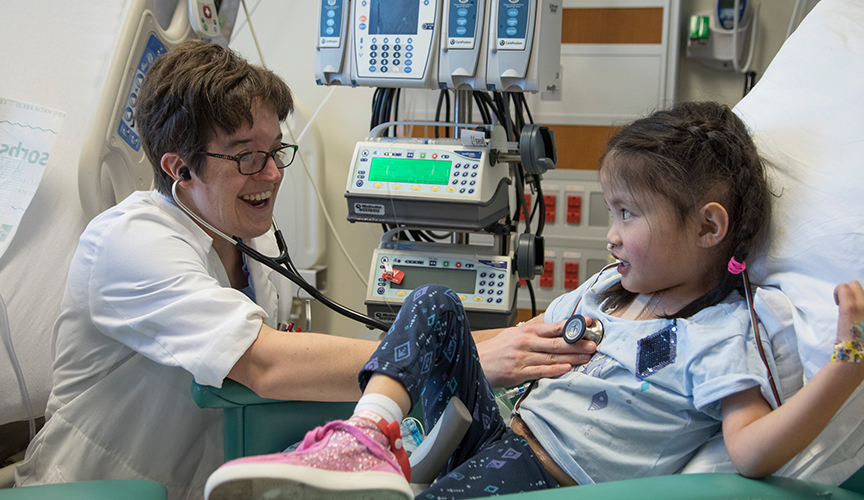 Former Le Bonheur Pediatric Cardiology Fellow Sarah E. Fahnhorst, DO (at left)
For optimal VAD function, pediatric VAD patients require a delicate balance between combating blood clot formation and preventing bleeding episodes. This dilemma has prompted development of new strategies to mitigate risks. In addition, 20-40% of the population are poor metabolizers of common antiplatelet drugs and do not have an adequate response to these drugs. Therefore, an alternative option to long-term antiplatelet therapy is necessary for patients who need this crucial treatment.
The study followed seven patients at Le Bonheur who had end stage heart failure and were supported on continuous flow VADs. The majority of patients were started on cangrelor because of impaired enteral absorption of oral P2Y12 antagonists or due to an inability to reach therapeutic goals. The median duration of a patient receiving intravenous cangrelor was 43 days.
Patients on cangrelor reached the therapeutic P2Y12 level in a mean of 1.86 days. No cerebrovascular events occurred while on cangrelor. There were two episodes of mild gastrointestinal bleeding, one episode of hematuria and one pump thrombosis. The number of these events are comparable or reduced when compared with statistics from previous studies. Adequate platelet inhibition was achieved quickly and with a much lower dose of cangrelor than previously reported by the manufacturer.
This study showed that cangrelor is a successful, viable, longterm antiplatelet therapy in select pediatric VAD patients. Future studies would benefit from a larger sample size with a control group to further evaluate safety and effectiveness in the pediatric population.
"Cangrelor addresses some of the major pitfalls of oral antiplatelet therapy, including impaired enteral absorption, reversibility and epigenetic factors," said Fahnhorst. "As more pediatric patients are placed on VAD support, cangrelor may be a feasible antiplatelet strategy."
Le Bonheur Children's Hospital depends on the generosity of friends like you to help us serve 250,000 children each year, regardless of their family's ability to pay. Every gift helps us improve the lives of children.
Donate Now