In its first year of operation, Le Bonheur's Family Resilience Initiative (FRI) showed that of the 246 families enrolled in the program, more than half of caregivers reported one or more adverse childhood events (ACEs) for their child and a social determinants of health (SDOH) need according to research published in Clinical Pediatrics. The FRI program is a multidisciplinary collaborative that screens for ACEs and SDOH in Le Bonheur's ULPS General Pediatrics Clinic and connects families with needed services to mitigate and prevent future ACEs.
Adverse childhood experiences are potentially traumatic events in childhood that can be emotionally painful or distressing and have effects that persist for years. Social determinants of health are defined by the World Health Organization as the non-medical factors that influence health outcomes. These include conditions in which people are born, work and live and economic, social and political forces and systems.
"Adverse childhood experiences have been described as the public health emergency of our time," said Jason Yaun, MD, division chief of Outpatient Pediatrics and medical director for FRI. "The primary care setting is an ideal place for screening for ACEs and SDOH and providing evidence-based interventions."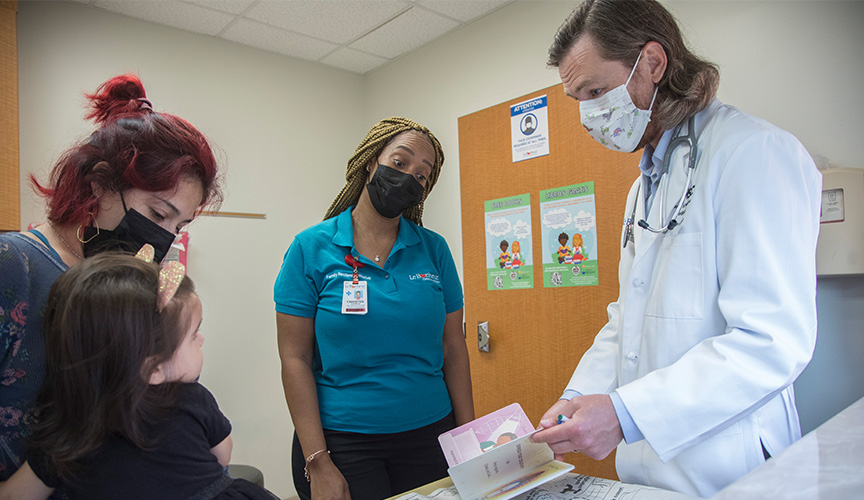 FRI is embedded in the primary care setting and funded through a grant from the Urban Child Institute. Outreach coordinators screen patients ages 9 months to 5 years as a part of their well-child visit using the Accountable Health Communities (AHC) Health-Related Social Needs (HRSN) screening tool for SDOH and a modified version of the Pediatric ACEs and Related Life Events Screener (PEARLS) tool for identifying ACEs. Families that have a SDOH need or an ACE are enrolled in the FRI program. If SDOH are identified, the outreach coordinator connects the family with resources to help meet their needs, and if any ACEs are identified free counseling is offered through a child psychologist embedded in the clinic. All families receive education and prevention strategies for ACEs. The outreach coordinators communicate findings to the medical team documenting ACEs and SDOH in the medical record. They follow up with families based on intensity of needs. The screening process is repeated on an annual basis.
During the first year of intake, FRI had 246 participants. Primary results showed 39.4% of families in the program reported both ACEs and SDOH with 56.9% reporting at least one ACE. At least one SDOH-related need was reported by 63% of families.
Additional results included:
The most common ACE reported was separation or divorce of parents/guardians (40.7%) followed by child living or having lived with a household member who was depressed, mentally ill or attempted suicide (13.4%).
The average number of ACEs per patient was .94.
40 families (33.1%) received a referral for psychology services.
The most common SDOH issues were around food insecurity (36.1%) followed by utility needs (19.6%) and transportation (18.4%).
Outreach coordinators conducted 2,240 follow-up activities.
"The successful design, implementation and experience of the FRI model in our first year shows that this model is a feasible approach to implement trauma-informed care," said Yaun.
Yaun says that provider awareness of the ACEs and SDOH needs of patients practically impacts patient care. Approaching care with a trauma-informed lens allows the clinic to view patients and families with greater empathy and probe into the root of the issue for anything from behavioral problems to appointment no-shows. Providers also can connect how trauma and ACEs play into health-related problems like feeding, development and sleep.
FRI research supports the evidence that ACEs are common from a young age which further emphasizes the need to mitigate effects of previous ACEs, while providing resiliency building and empowerment to prevent future ACEs. Next, the FRI program hopes to evaluate FRI interventions and impact on child development, health outcomes, health care utilization and more, potentially expanding enrollment to adolescents.
Le Bonheur Children's Hospital depends on the generosity of friends like you to help us serve 250,000 children each year, regardless of their family's ability to pay. Every gift helps us improve the lives of children.
Donate Now