The Vascular Anomalies Clinic at Le Bonheur Children's Hospital is the only program in the region providing coordinated, multidisciplinary care for patients with vascular anomalies (growths or abnormalities of blood vessels that have not formed correctly).
Approximately one in 10 children are born with a vascular anomaly, which may sometimes be referred to as a "birthmark".
About half of all children who have vascular anomalies require treatment. Le Bonheur's Vascular Anomalies Clinic provides all aspects of care for vascular anomalies, including medical, surgical, and minimally invasive interventional radiology treatments, such as sclerotherapy.
Vascular anomalies fall into two broad categories: benign or potentially aggressive vascular tumors that can cause a variety of complications and vascular malformations that occur when arteries, veins and/or lymphatic channels develop abnormally. The most common diagnosis seen in Le Bonheur's Vascular Anomalies Program is the infantile hemangioma – a benign growth of blood vessel tissue.
Why Le Bonheur Children's Hospital
Because vascular anomalies are unique to each child, we create a customized multidisciplinary team based on each child's needs. Our team meets twice a month before the clinic to discuss patient cases and review imaging. Specialists include:
It is the collective knowledge present in our pre-clinic meetings that sets us apart. Many Vascular anomalies are so rare that any individual physician may not have seen a specific anomaly before, but, with a room full of experts, someone has seen it or knows someone who has.
Our team has many years of combined experience gained from training received all over the country. In our clinic, patients benefit from having access to multiple specialties in one clinic visit.
Treatment Options
When our team determines that a child needs treatment, a variety of options are available at Le Bonheur based on the type and severity of the anomaly. Many vascular anomalies are asymptomatic and do not require treatment. For symptomatic and/or complicated vascular lesions, Le Bonheur's specialists provide treatment options specific to each child's needs. Sclerotherapy, a minimally invasive radiology procedure, is a common treatment for vascular malformations. Medication is injected into the abnormal blood vessels to reduce the size of lesions and ease symptoms of pain and dysfunction. In rare cases, surgery may be required to remove or improve a lesion.
Your Visit to the Vascular Anomalies Clinic
Clinic Coordinator Lindsey O'Neal, BSN, RN, CPN, assists with scheduling all aspects of patient care before, during and after clinic appointments. This includes diagnostic lab and radiologic testing, consultations with other specialists, and interventional and surgical procedures.
In addition, she coordinates arrangements for FedExFamilyHouse lodging, a home away from home for out-of-town families with children receiving treatment at Le Bonheur. To contact her, call 901-287-6447.
Your clinic visit might include:
Bedside ultrasound (USG)
Lab testing and biopsies
Consultation with multiple specialists
Patient Stories
Below are some examples of the types of vascular anomalies we have treated here at Le Bonheur Children's Hospital.
Kimberly Femat; Infantile Hemangioma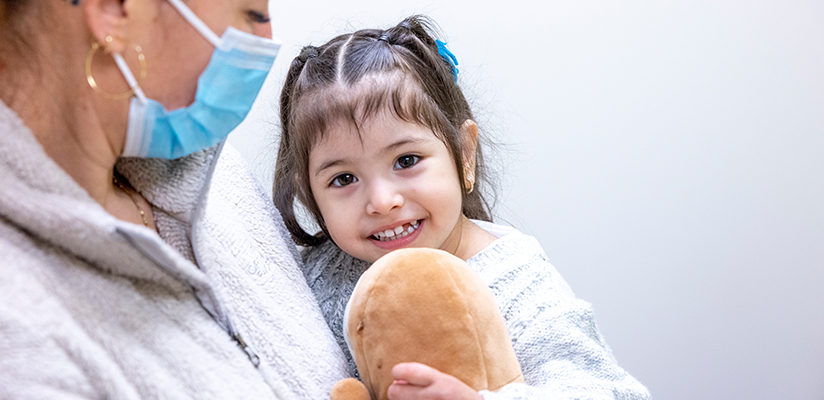 In early 2020, Kimberly Femat saw Le Bonheur Chief of Pediatric Dermatology Teresa Wright, MD, to examine a vascular birthmark on her left arm and chest, which at the time was not causing any issues.
The COVID-19 pandemic broke out weeks later, and Kimberly was not seen again until she presented in Le Bonheur Emergency Department in significantly worse condition. She now had swelling, a lesion in her upper chest and was severely anemic which indicated that Kimberly was bleeding internally, but it wasn't clear where.
After a blood transfusion, Kimberly underwent myriad tests to find the root of the problem. Le Bonheur Pediatric Surgeon Regan Williams, MD, conducted a diagnostic laparoscopy while gastroenterologists performed a push endoscopy. As a result, Williams found something she had never seen before – Kimberly's mesentery, the blood supply to the intestines, was covered in red lesions.
A biopsy confirmed this was a very rare presentation of infantile hemangioma. The lesions could not be surgically removed because the hemangioma was covering her mesentery, so physicians started her on the medication propranolol and steroids. Over time, the team was able to take her off steroids, and she has now been stable for a long time.
Eisleigh Bennett; Lymphangioma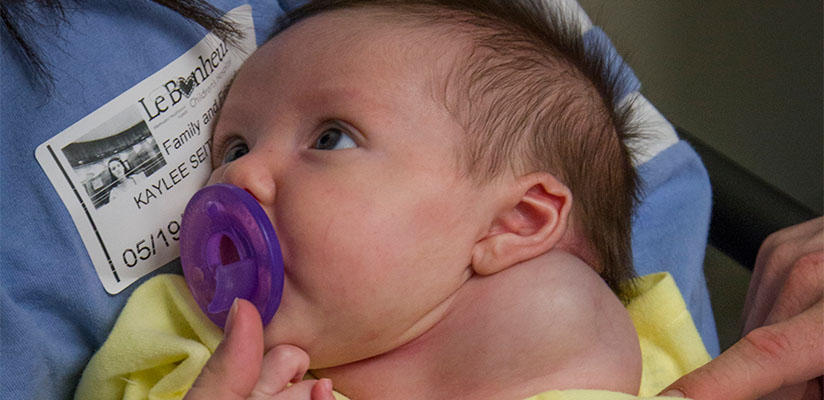 Kaylee Switcher's daughter, Eisleigh, had been diagnosed with lymphangioma in utero at 32 weeks. She met weekly with a maternal fetal medicine specialist at Le Bonheur's Fetal Center until delivery, where she also consulted with members of the Vascular Anomalies team.
When she delivered Eisleigh at 38 weeks, the benign mass on the left side of her neck was still present.
The family followed up in the Vascular Anomalies Clinic when Eisleigh was 2 weeks old and again four weeks later. By that time, the malformation had drastically grown.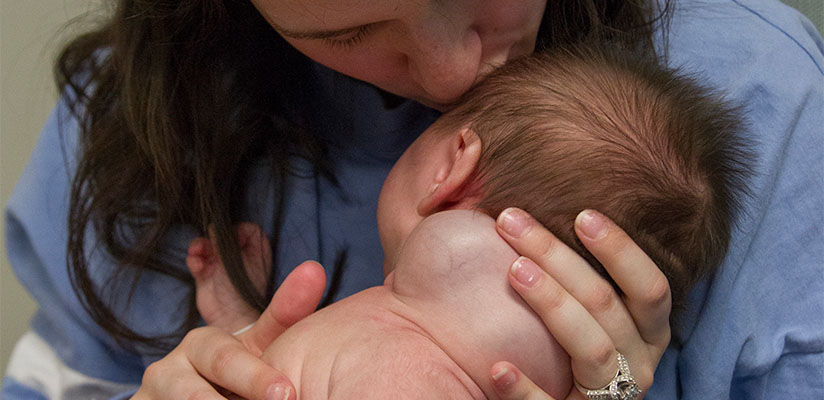 She underwent her first sclerotherapy session and is expected to need more to control the lesion. For each sclerotherapy treatment, Lucas Elijovich, MD, co-director of the Pediatric Vascular Anomalies Center, injects sclerosant, doxycycline that causes inflammation and subsequent scarring and collapse of the cyst.
Leeya Alperin; Generalized Lymphatic Anomaly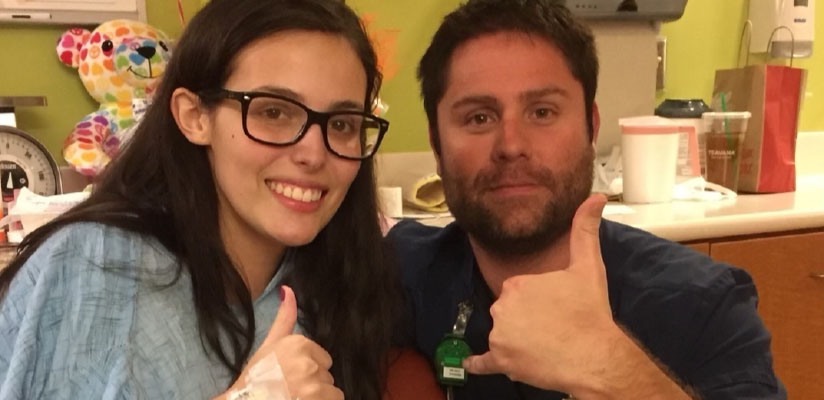 In 2016, when Leeya Alperin was just a sophomore in White Station High School, she started having aches and stomach problems.
After two biopsies she was diagnosed with a rare lymphatic condition called generalized lymphatic anomaly, but one of the biopsies had caused another problem. In just two weeks she ended up with thirty pounds of fluid in her stomach.
The family found hope in the Le Bonheur Children's Vascular Anomalies Program. Le Bonheur specialists worked with Leeya daily to help her deal with her pain, her medications and her treatment. Leeya was able to leave just in time for Thanksgiving, thanks to the doctors, incredible nurses and all Le Bonheur staff that helped her recover.
It has been seven years since then and Leeya recently graduated from college. Leeya wants to pursue a career in hospital administration and is also on a mission of advocacy because of Le Bonheur's life-changing impact.
Sawyer Dembicky; Facial Hemangioma
By the time Sawyer Dembicky visited her pediatrician for her six-week checkup, the facial hemangioma that was present at birth had drastically grown in size.
An MRI showed that the lesion hadgrown behind Sawyer's left eye and was pushing it forward, out of orbit. She was immediately referred to Le Bonheur's Vascular Anomalies Program, where the family met with Teresa Wright, MD, chief of Pediatric Dermatology and Brian Fowler, MD, an ophthalmologist with Hamilton Eye Institute.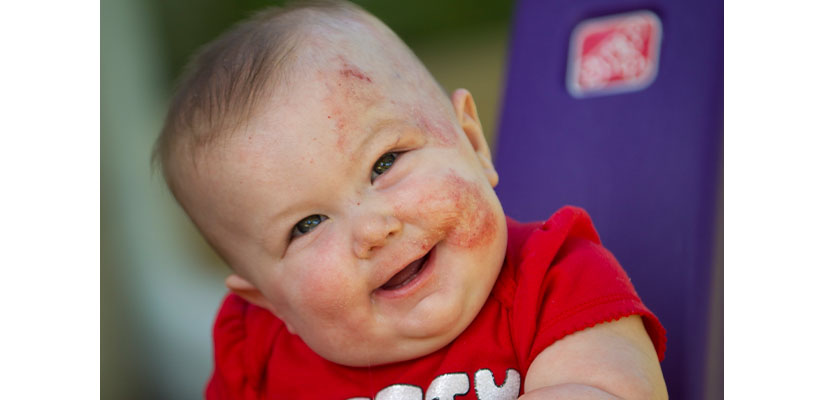 Sawyer was prescribed propanalol, a beta blocker commonly used for hypertension but found to help reduce the size of vascular tumors. Her parents noticed a drastic difference in just 24 hours.
Today, Sawyer's lesion continues to improve. Her swelling and hard spot under her cheek are gone, and her vision is the same in both eyes. She continues to follow up regularly in clinic.
Arionna Banks; Macrocystic Lymphatic Malformation
Arionna Banks, 4, presented with a macrocystic lymphatic malformation along her jawline.
Like the majority of children with lymphatic malformations she had repeated painful swelling of the lesion with viral upper respiratory infections," said Medical Director of Interventional Neuroradiology Lucas Elijovich, MD.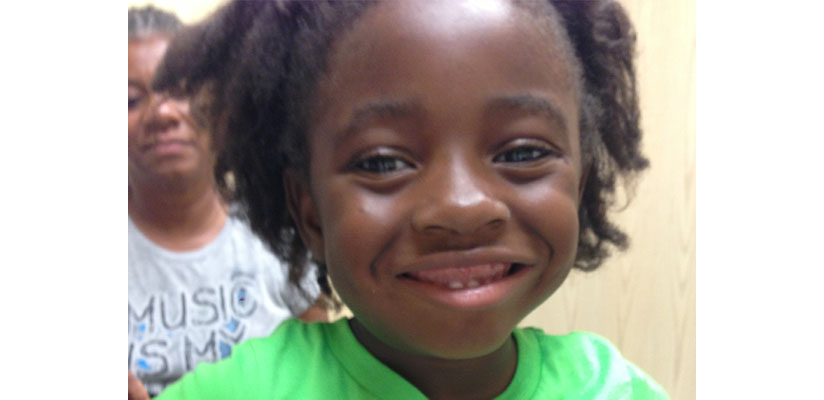 Arionna had one attempt at surgical resection that did not significantly reduce the size of the lesion. The last bout of swelling was so severe it caused breathing problems due to compression of her airway and required hospitalization.
Elijovich performed one sclerotherapy session with intralesional ultrasound-guided injection of doxycycline and bleomycin. Arionna experienced significant reduction in her lymphatic malformation.
Her father, Jamarvis Banks, said, "Arionna is doing a lot better. She's back to her regular self now that the swelling has gone down. She loves making faces and posing for pictures.
Conditions We Treat
arteriovenous malformation/fistulas (AVM/F)
capillary malformation
congenital and infantile hemangiomas
cutis marmorata telangiectatica congenita (CMTC)
cystic hygroma
kaposiform hemangioendothelioma (KHE)
Kasabach Merritt phenomenon
Klippel Trenaunay syndrome
lymphatic malformation
mixed vascular malformation
multifocal lymphangioendotheliomatosis (MLT)
Parkes Weber syndrome
port wine stain
Sturge Weber syndrome
tufted angioma
vascular malformation
venolymphatic malformation
venous malformation
Blue Rubber Bleb Nevus syndrome
Bannayan-Riley-Ruvalcaba syndrome
CLOVE syndrome
Maffucci syndrome
Proteus syndrome