The Dravet Syndrome Center at Le Bonheur's Neuroscience Institute is one of 18 programs in the country certified by the Dravet Syndrome Foundation as a Dravet Comprehensive Care Center. With our high level of expertise, advanced diagnostics and resources for epilepsy treatment, Le Bonheur offers multidisciplinary care for children diagnosed with Dravet syndrome.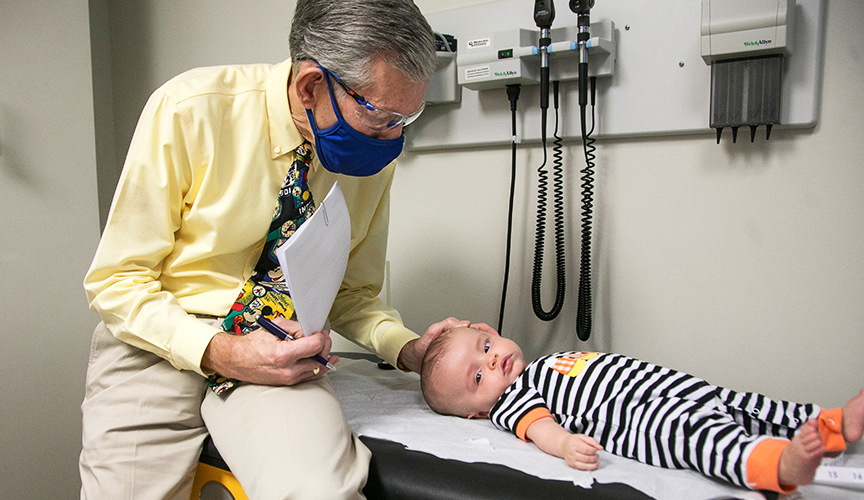 Dravet Syndrome
Dravet syndrome is a rare type of epilepsy with a genetic cause from mutations in the SCN1A gene. Typically, it manifests in the first year of life and is diagnosed by the pre-school years.
Symptoms include:
Prolonged and frequent seizures
Behavioral and developmental delays
Movement and balance difficulties
Problems with sleep
Delayed speech
Treatment
Our neurologists are dedicated to pursuing every treatment option available to children with Dravet syndrome. Research into genetic cures is ongoing and current treatments available include:
Medications including participation in clinical trials to bring new epilepsy drugs to market
Ketogenic diet
Surgery
Vagus nerve stimulation (VNS)
We are actively engaged in research protocols for seizures and their causes.
Your Visit to the Dravet Syndrome Center
We utilize all of our resources to diagnose and treat your child. The evaluation may begin in our state-of-the-art Epilepsy Monitoring Unit (EMU). This testing will record, diagnose and determine an individualized treatment plan for your child.
Our Center uses the most advanced diagnostic technology to give your child an advantage in getting the most accurate diagnosis and treatment. Testing your child may undergo includes magnetoencephalography (MEG), functional magnetic resonance imaging (fMRI), transcranial magnetic stimulation (TMS), high density electroencephalogram (hd-EEG) and neuropsychology evaluations.