Ten rooms are equipped for epilepsy monitoring and each room has a refrigerator to store food and drinks.
An inpatient rehab room is located on the floor so that your child can stay close to their room for rehabilitation services.
More than 35 specially-trained registered nurses staff the unit and take care of a full range of patients. A family room is available for parents to gather and relax.
Comforts like a laundry room, kitchen and wireless internet are available.
Child Life services focus on the needs of children with neurological conditions.
Parent mentors understand your experience and are willing to share their experiences and offer support.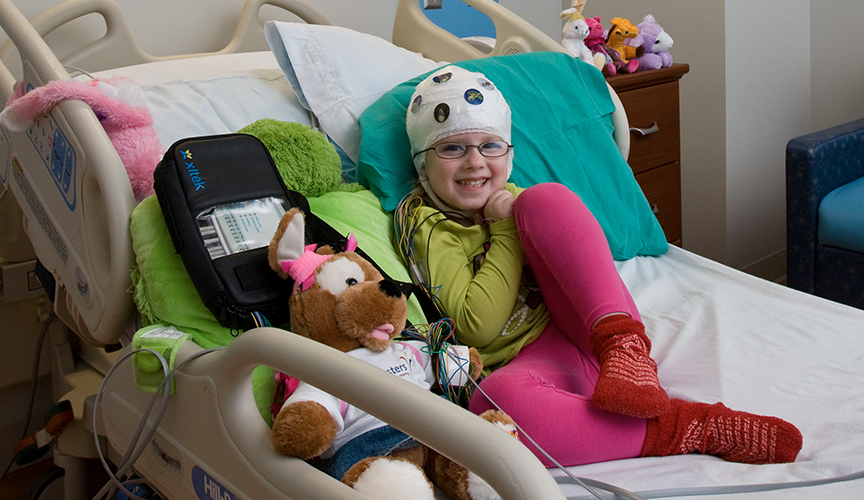 Coming to the Neuroscience Unit?
If you and your child are expecting an upcoming admission to the Neuroscience Unit, the following tips will make your stay go smoothly and help your child to be as comfortable as possible.
Bring a list of your child's medications (prescription and over-the-counter) including the name, dose, how often given, and when the last dose was taken.
Bring films or test results that your doctor has requested.
Pack any items that your child finds most comforting (pillow, favorite blanket, favorite toy, or pajamas, for example).
Invite family and friends to visit you and your child while in the unit.
Bring homework and study materials if you are planning an extended stay.
Pack things to do - for example, games, cards, coloring books, puzzles, movies, etc.
Stay connected with your loved ones - bring telephone numbers and email addresses.
If you are coming for a surgical procedure, make sure you are aware of any food or beverage restrictions.
Visiting Le Bonheur
Every detail of Le Bonheur was created around the needs of children and their families. Learn more about the features that make our hospital and clinics special.
For more information on our Neuroscience Institute, e-mail neuroscience@lebonheur.org.