Le Bonheur's comprehensive epilepsy program is a National Association of Epilepsy Center Level IV accredited
program, the highest level and one of only a few in the United States.
Our epilepsy team includes nationally recognized physicians who are leaders in neurological associations and societies around the world. The comprehensive team treats children with the most complex diagnoses to focal seizures in children and juvenile myoclonic epilepsy (JME). Our Neuroscience Institute team conducts epilepsy research to provide the most innovative treatments to children. Our epilepsy monitoring unit allows us to provide a comprehensive evaluation of each child's seizures.
Each year, we treat more than 1,300 children with epilepsy and other seizure disorders. Our patients have some of the highest seizure-free rates in the country.
Epilepsy Conditions We Treat:
Generalized epilepsy
Absence seizures
Focal or partial seizures
Dravet syndrome
Infantile spasms
Lennox-Gestaut syndrome
Juvenile myoclonic epilepsy (JME)
Intractable epilepsy
And many more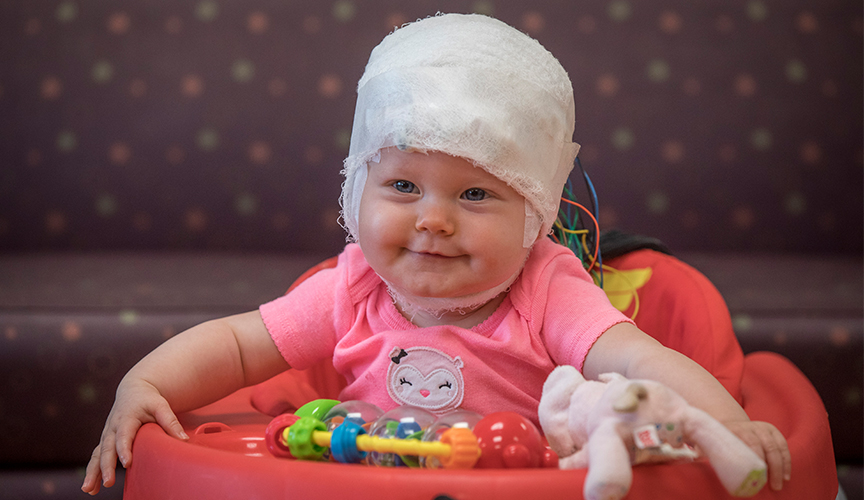 Seizure Signs & Symptoms in Children
Jerking movements of the arms and/or legs
Stiffening of the body
Loss of consciousness
Sudden and brief cognitive or emotional changes such as fear and anxiety
Change in breathing
Loss of bowel or bladder control
Staring and decreased awareness
Periods of brief confusion
Causes of Epilepsy
Epilepsy can be caused by various factors, but some people with epilepsy have no identifiable cause for the condition. Causes can include:
Genetic factors: We offer state-of-the art genetic testing to look for genetic causes screening for several hundred potential genetic causes.
Congenital genetic conditions: Down's syndrome, tuberous sclerosis, neurofibromatosis and others may be associated with epilepsy.
Developmental disorders: Epilepsy can occur alongside developmental disabilities or disorders such as autism or cerebral palsy.
Injury at or before birth: Brain damage can occur at or before birth leading to seizures.
Head injury: Seizures can occur after a traumatic brain injury (TBI).
Brain abnormalities: Epilepsy can have a structural cause when brain abnormalities such as a brain tumor or vascular malformation are present.
Infection: Infections that target that effect the central nervous system may cause seizures, including meningitis, HIV, viral encephalitis
Epilepsy Monitoring Unit: The Evaluation Process
If your child is experiencing seizures, a multi-disciplinary team will evaluate your child when admitted to our-state-of-the-art Epilepsy Monitoring Unit (EMU) on the seventh floor the hospital. Testing will record, diagnose and determine an individualized treatment plan for your child.
Ten patient rooms are equipped for epilepsy monitoring with wireless technology that provides constant EEG monitoring, even when a child is out of the bed.
A specially-designed playroom creates a safe space for children with epilepsy as it includes wireless monitoring, cameras, soft cornered furniture and rubber flooring. We know that seizures occur when kids are just being kids. We want our epilepsy monitoring unit patients to be as comfortable and active as normal while being evaluated.
Daily nurse-led educational sessions offer a chance for EMU families to interact and learn answers to common pediatric epilepsy questions.
Advanced Testing
Our center uses the most advanced technology to assist in the evaluation of your child's epilepsy including:
Single photon emission computerized tomography (SPECT) and subtraction SPECT
Wada test (intracarotid amobarbital testing)
Once the diagnostic process is complete, our team of epilepsy specialists analyzes each child's results during a weekly conference. This ensures that each child receives a comprehensive medical opinion. Treatment options are then presented to the family.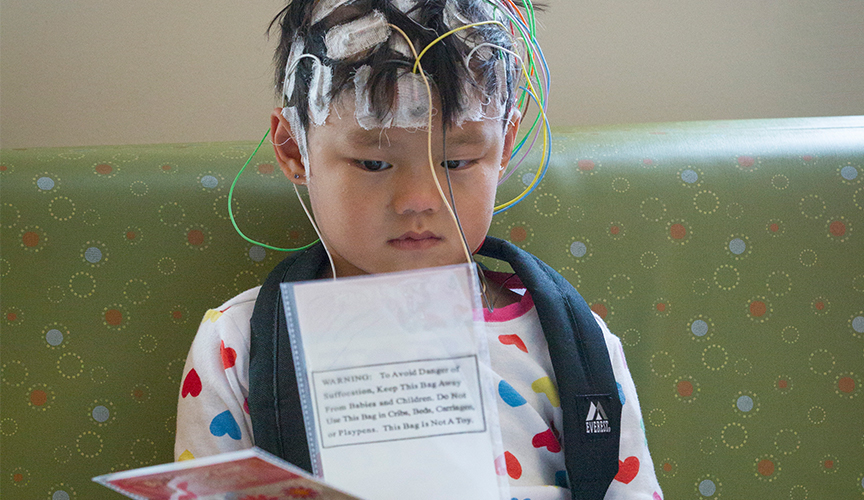 Treatment Options
Once the evaluation and diagnosis process is complete, your family will be presented with a care plan. Advanced treatments may include new medications, a special diet or surgery, like vagus nerve stimulation therapy.
Vagus nerve stimulation implants a small device beneath the skin of the chest that sends impulses to the brain to prevent or stop seizures. This device is approved as a treatment option in children as young as four years old. Vagus nerve stimulation can be a great option for children when medication and diet changes are not effective in controlling seizures.
When surgery is required, your child will recover in the dedicated six-bed Neurosurgical Intensive Care Unit.
Visiting Le Bonheur
Patients and families who come to the Epilepsy Monitoring Unit at Le Bonheur will work with a nurse coordinator to schedule their visit.
Traveling to Memphis
For more information
For more information, contact the Neuroscience Institute at neuroscience@lebonheur.org or Le Bonheur Connect at 901-287-PEDS or 1-866-870-5570.