The Crippled Children's Foundation was in need of a new cause.
Thanks in part to their generosity, polio had been eliminated in the United States, and it was time to point their support in a new direction. So the Children's Foundation of Memphis was born.
Their new cause: The Children's Foundation Research Institute (CFRI) – a partnership between the Children's Foundation of Memphis, University of Tennessee Health Science Center (UTHSC) and Le Bonheur Children's Hospital. Their goal: to serve the health and well-being of children in the Memphis area.
"Any successful children's hospital has to have the infrastructure to support physician research," said Marie Jackson, senior director of the CFRI. "The Children's Foundation of Memphis allowed us to build out a resource for research on our campus – from outfitting laboratories to providing funding for grants."
The CFRI remains the Children's Foundation of Memphis' primary grantee with continued support for new initiatives and ongoing projects.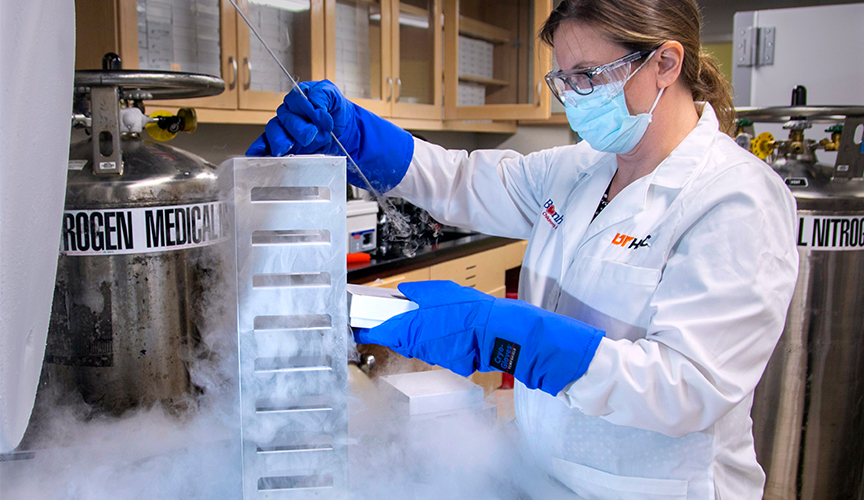 Memphis provides a unique population in which to conduct research. A large percentage of Memphis children are African-American, a population that has traditionally been underrepresented in research. This affords an opportunity to study the intersection of race and health equity as well as increasing diversity and representation in clinical research. In addition, issues that affect children's health such as childhood asthma, poverty, obesity and adverse childhood experiences (ACEs) are largely prevalent in the city.
Thanks to the CFRI, Le Bonheur has facilitated state-of-the-art biomedical research with the goal of improving the health and well-being of children. From basic to translational to clinical research, the CFRI trains new researchers and supports experienced ones through the course of their projects.
COVID Opportunities
The emergence of COVID-19 gave Le Bonheur and the CFRI a unique opportunity to remain committed to their mission by developing new projects to investigate the disease's unique effects on children. Plus, the CFRI had to pivot to adhere to new policies and innovate new methods of delivering care and medication to children involved in research projects.
At the onset of the pandemic, labs were closed and resources were shifted to those working on COVID-19 research. And with reopening, they contend with how to conduct research while navigating regulations to keep everyone safe – cleaning processes, social distancing and more.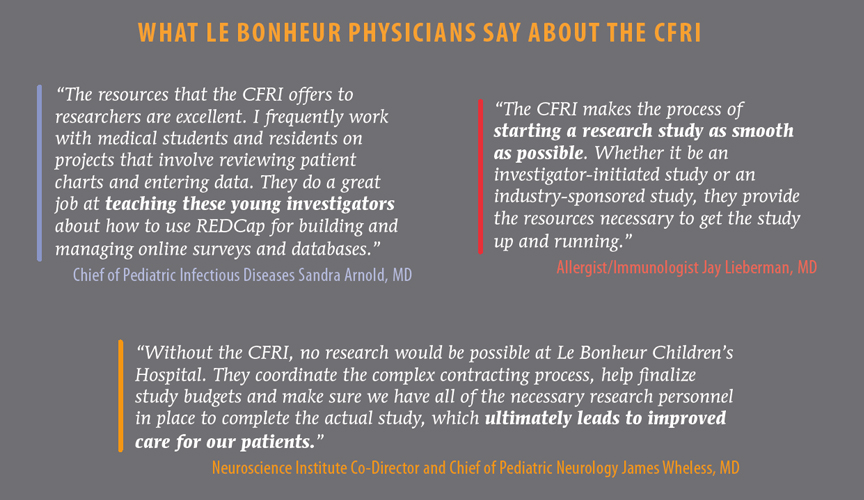 "It has affected the basic ways that we execute studies and lab work," said Jackson. "But it also set us up for a great opportunity to innovate new ways of providing continuity in research."
The area of greatest concern that arose at the start of the pandemic was how to continue providing medications and follow-up for clinical research participants without requiring in-person contact.
"Our responsibility is to protect those who volunteer for trials," said CFRI Director of Research and Study Coordinators Kerry Moore, RN, BS, CCRC. "By using telemedicine and setting up couriers and drive-throughs for obtaining investigational medications, we made sure none of our clinical research participants experienced an interruption in their care."
The CFRI has also turned the challenges associated with the pandemic into opportunities for future success. These innovations in remote access through telemedicine and shipping medications have set the stage to expand clinical research beyond Memphis.
Le Bonheur researchers are also joining those around the world to investigate COVID-19, its effects and potential drug therapies through a variety projects that are underway.
The Next Generation
The Children's Foundation of Memphis remains integral to supporting the growth of the CFRI — including infrastructure and new initiatives such as the chair of excellence and special programs like the Biorepository and Integrative Genomics (BIG) Initiative and neuroscience research into intractable epilepsy disorders.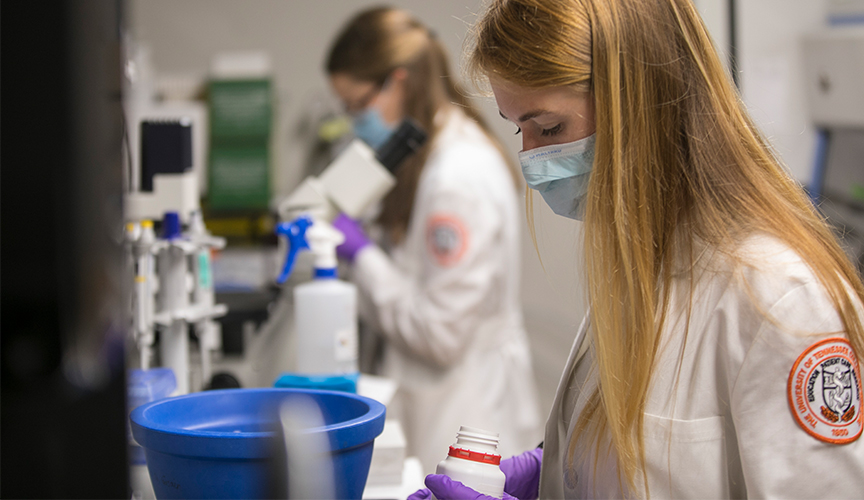 And the CFRI's leaders are already looking to the next generation of researchers and of children to benefit from that research.
A large focus of the CFRI is training new faculty, says CFRI Scientific Director Dennis Black, MD. He and his team are able to offer a multitude of guidance and services to facilitate their career growth, whether teaching them how to apply for K-awards, conducting monthly K-R0 Club meetings that train junior faculty to successfully write NIH research training and other grants or connecting them with a mentor.
"We want to be smart about our growth – keeping up with the latest innovative techniques and technology for research," said Black.
Both Black and Jackson hope to see research initiatives expand to help children beyond the Memphis area and increase the CFRI's existing footprint.
"Building infrastructure to support growth for researchers is a priority for the CFRI's future," said Jackson. "We are poised to continue building off of the great work that our investigators have done for years contributing to pediatric medicine."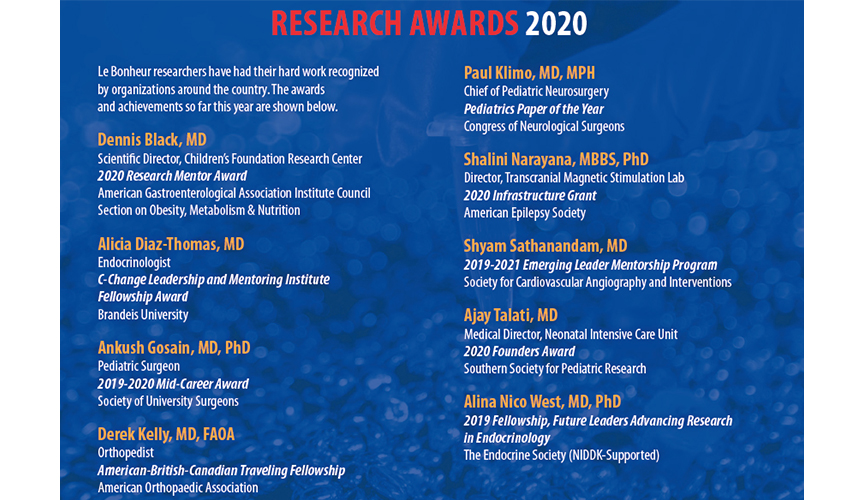 Le Bonheur Children's Hospital depends on the generosity of friends like you to help us serve 250,000 children each year, regardless of their family's ability to pay. Every gift helps us improve the lives of children.
Donate Now