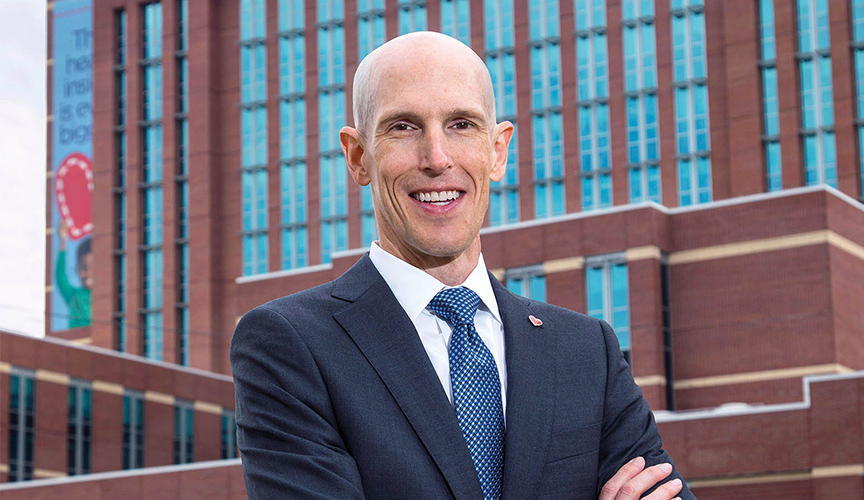 Dear friends,
We believe that art has the power to heal and reassure. From the whimsical and playful artwork throughout our hospital to the live music of local musicians, art helps families discover peace and joy during difficult times.
The recent exhibition in the Le Bonheur event space, 1,000 Paper Cranes by local artist Hannah Lewellen, is a visual representation of hope, healing and good fortune. This inspiring installation epitomizes the dedication, sacrifice and teamwork of Le Bonheur – a strength and commitment to children that your gifts help make possible.
We are fortunate to have generous supporters like Hannah lend their talents to give back to Le Bonheur. From pottery, to woodturning, to origami, to music, I am in awe of the artists' gifts you will read about on the following pages, and I am humbled by their support of Le Bonheur. Keep reading to see how they are making a difference in creative ways.
You are also making a difference. While we have faced many challenges thus far in 2020, we also have much to celebrate and be proud of. For the 10th year in a row, Le Bonheur Children's Hospital has been named a "Best Children's Hospital" by U.S. News & World Report. The U.S. News badge is a sign of excellence in pediatric medicine and it means that parents can count on us and our unparalleled commitment to children and their health. Thank you for helping us achieve this special honor.
As always, we are grateful for your continued generosity. Your support enables us to provide expert care for children, and is bringing hope to their families.
Sincerely,
Michael Wiggins, MBA, FACHE
President
Le Bonheur Children's Hospital
Le Bonheur Children's Hospital depends on the generosity of friends like you to help us serve 250,000 children each year, regardless of their family's ability to pay. Every gift helps us improve the lives of children.
Donate Now