Josiah Huckaby had run low on oxygen tanks because of a national shortage during the pandemic. Emily Morales passed out at school after days of fatigue.
Both are residents of West Tennessee and live at least 80 miles away from the nearest major city. Both required specialized pediatric care. But without Le Bonheur's regional services in Jackson, Tenn., pediatric experts would be much harder to find for these children and their families in the time they needed it most.
Keeping kids closer to home is always the best option when they need medical care, a value that led to Le Bonheur's expansion into the West Tennessee region. In 2018, Le Bonheur opened a 30,000 square-foot facility in Jackson, Tenn. The Jackson Le Bonheur Children's Outpatient Center features 20 exam rooms and provides a variety of diagnostic services and subspecialty clinics.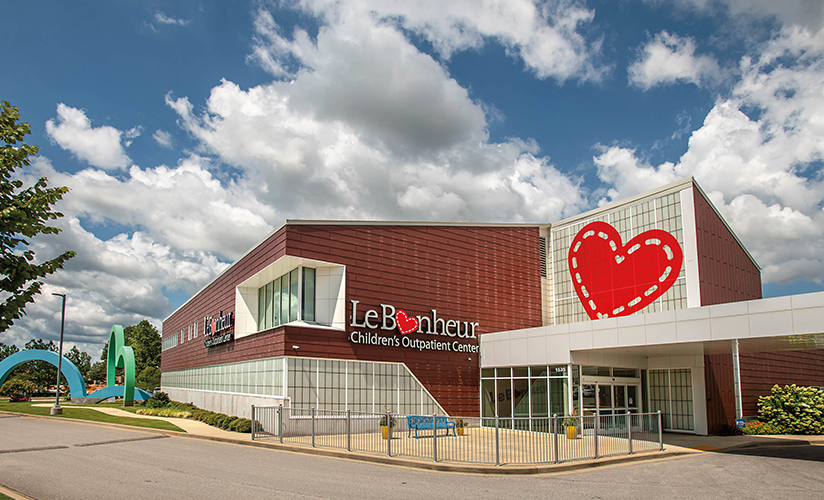 But specialized care for children doesn't stop with outpatient services. Earlier this year, Le Bonheur collaborated with West Tennessee Healthcare to open a 21-bed pediatric inpatient unit inside Jackson-Madison County General Hospital. This collaboration forwards the mission to provide West Tennessee kids access to expert pediatric care in the region surrounding Le Bonheur Children's.
These are the stories of two children who received this expert pediatric care in West Tennessee when they needed it most.
Josiah Huckaby, 5, Henderson, Tenn.
At the height of the COVID-19 pandemic, oxygen tanks were running short. This created a huge problem for 5-year-old Josiah Huckaby who is dependent on oxygen at all times. The drive from his hometown of Henderson, Tenn., to Le Bonheur's Outpatient Center in Memphis was four hours round trip, not including the time needed for his specialist appointments. His mother, Keri, simply couldn't find enough oxygen tanks to safely make the journey. Yet, his complex medical conditions required frequent follow-up from Le Bonheur specialists.
Thanks to Le Bonheur's Outpatient Center in Jackson, Tenn., Josiah was able to get the care that he needed to continue being the outgoing, social little boy who loves dinosaurs and playing with construction trucks.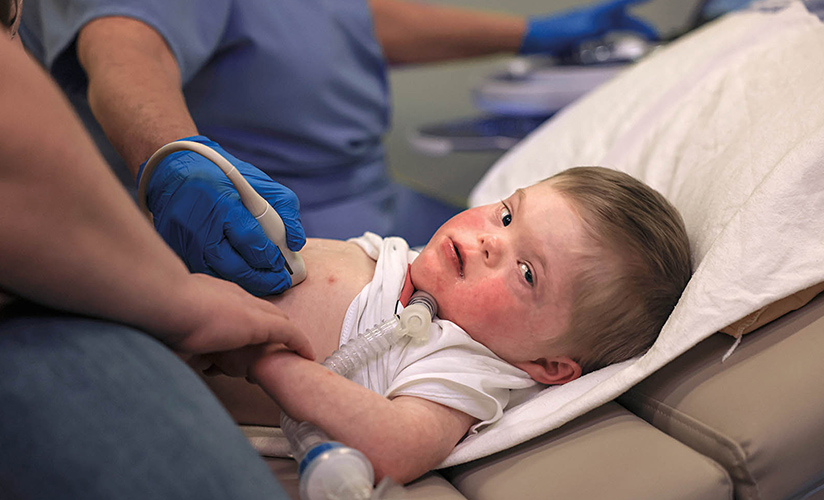 "The first time the oxygen tanks were low, we had to move Josiah's appointments from Memphis to Jackson because we didn't have the tanks to get us to Memphis and back," said Keri. "With Josiah's follow up appointments in Jackson, we are close enough that I can travel with Josiah by myself, which I can't do when traveling to Memphis."
The Huckabys' Le Bonheur journey began when Josiah was born prematurely. He spent his first year of life in Le Bonheur's Neonatal Intensive Care Unit (NICU) eventually coming home with a tube for his feedings and dependence on machines to help him breathe. He has Down syndrome, lung disease and several other complex disorders.
When the Huckabys first left the hospital, they had to return to Le Bonheur's Memphis location for follow-up visits, but gradually they were able to move the majority of his appointments with Le Bonheur specialists to Le Bonheur's Outpatient Center in Jackson.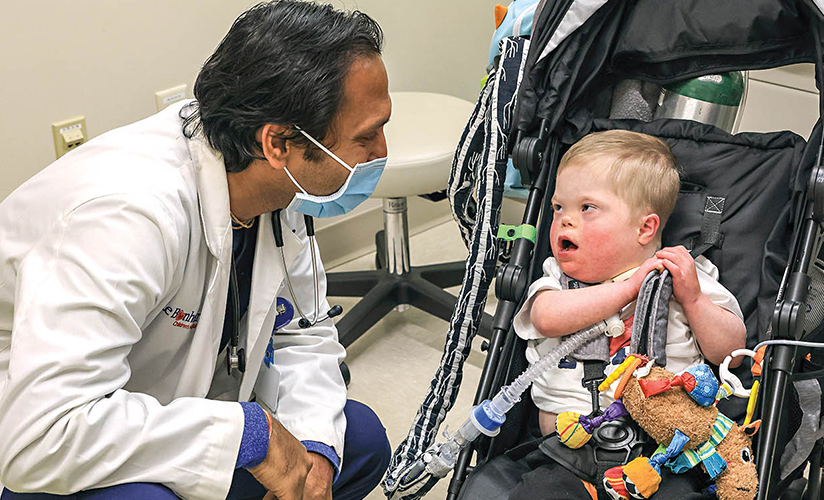 "Traveling to Memphis is an all-day event for us, taking roughly eight hours of travel and appointments," said Keri. "It's only 45 minutes to drive to Jackson for us, making it easier for us to get in and out."
Although Josiah has to see dozens of different kinds of doctors, now six of his specialist visits can be performed closer to home with the Jackson team. And going to Jackson for appointments also means he can spend more time at school — where he loves to socialize and play with other kids.
"We love Le Bonheur and have had an amazing experience," said Keri. "We would highly recommend it to anybody and have had amazing physicians and nurses overall."
Emily Morales, 14, Bells, Tenn.
It was unusual for Emily Morales to feel so fatigued. A very active 14 year old, Emily participates in cheerleading, soccer and volleyball, to name a few of her extracurricular activities. Her regular doctor's appointments never revealed anything out of the ordinary, but on the last day of school, she passed out and became unresponsive during May Day celebrations.
Emily needed specialized pediatric care. Quickly. Thanks to Le Bonheur's new 21-bed satellite unit in Jackson- Madison County General Hospital, Emily was able to stay close to home while getting the care that she needed.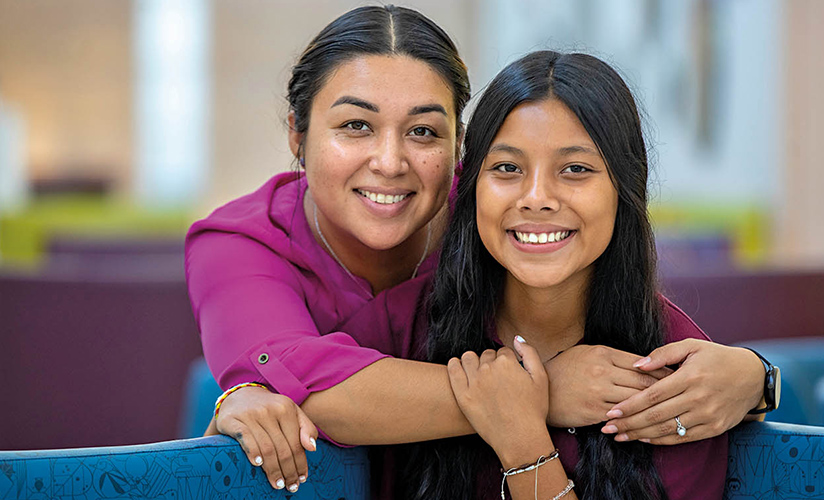 "It was the scariest experience of my life," said her mother, Edna Morales, who works in administration and provider relations at Le Bonheur's Outpatient Center in Jackson. "I feel blessed to have care so close to home where I feel comfortable and safe taking my child because I know she will be treated by the best pediatric experts."
Emily was taken in an ambulance to Jackson-Madison County General Hospital, where pediatric specialists on Le Bonheur's unit discovered an undetected urinary tract infection, dehydration and a viral infection. She was admitted to the new unit for a few days for fluids, medication and tests to make sure that there wasn't any further damage to her kidneys. Emily was able to get the care she needed promptly with no lingering health issues.
The Morales family is from a small town outside of Jackson, Tenn., and Emily was one of the first children admitted to the new pediatric unit. Because of this unit, Emily was able to stay close to home, meaning that Edna could continue taking care of her other children while still having Emily close by.
"It's just a huge impact to have the resources we need within our reach," said Edna. "Having that pediatric care so close to home was so important. Otherwise, we would have ended up in an Emergency Department waiting for hours while Emily got worse and she probably would have had to go to Memphis for the closest pediatric care."
Today, Emily is doing well and back to her active lifestyle. For the Morales family, it was a wakeup call not to take anything for granted, said Edna.
"Even though the unit had only been open a couple of days, you could see the little details that make it a Le Bonheur facility," said Edna. "You could see the compassion and care the staff had for Emily and for me and the passion to find out what was really going on. I completely trusted that they were going to do the best thing for her."
Le Bonheur Children's Hospital depends on the generosity of friends like you to help us serve 250,000 children each year, regardless of their family's ability to pay. Every gift helps us improve the lives of children.
Donate Now