Balancing the care of a child with special needs, along with the daily routines of school, work and life in general, can be taxing on a family. Traveling to frequent medical appointments is often a barrier to care for many families. In order to increase access to care and best meet the needs of each patient, Le Bonheur Children's Rehabiliation Services team works with kids at home, at school, or in a Le Bonheur clinic.
Every year thousands of children are under the care of a Le Bonheur rehabilitation therapist, and each patient is there for a unique reason that requires an individual plan. With two outpatient clinics, one in Downtown Memphis and one in East Memphis, school sites in 35 Memphis-area and West Tennessee counties, and Early Intervention Services in homes throughout West Tennessee, Le Bonheur's rehab services team is able to serve children in whichever environment best allows them to excel. Le Bonheur is committed to familycentered care, and having therapists in schools, clinics and patients' homes is one way they consider the context of the entire family unit and their schedules.
According to Danielle Keeton, director of Le Bonheur Outpatient Rehab and Developmental Services, the rehab services team's ability to identify those needs and create a program allowing children to not only check milestones off a list — but thrive in their social, familial and educational environments — is often life-changing
for the families served.
"In this role, the most rewarding thing for me is making sure my leaders and their teams have what they need to provide excellent care," Keeton said. "We have some fantastic folks working here, and when I can see them shine and see the kids they serve excel, it reminds me why I'm here and the difference that we make for families."
Ivy Bridges, 2, Early Intervention in-home therapy
Morgan Bridges' daughter, Ivy, was born with a host of medical issues, including spina bifida, scoliosis, gastroparesis and abnormally small kidneys. These diagnoses required multiple surgeries, and by the time she was 6 months old, it was evident that Ivy wasn't meeting the expected milestones. To get the one-on-one therapy she needed, Ivy's doctor referred her to Le Bonheur's Early Intervention rehabilitation services team.
Ivy's team comes to her family's home, where she works with speech, developmental and physical therapists.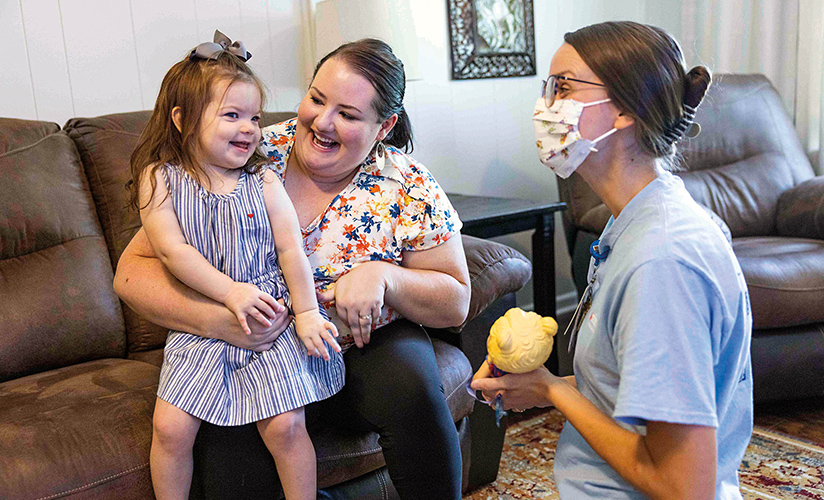 "Our family lives about an hour away from the outpatient center," said Morgan. "So having in-home therapies benefits us greatly because we can avoid the long drive and stay in the comfort of our own home while getting these wonderful therapy services that help Ivy tremendously."
Because undergoing so many surgeries impacted Ivy's ability to reach milestones, her therapists first focused on developmental activities. Thanks to hard work and expert care, today, this determined little girl has met all of her recent goals.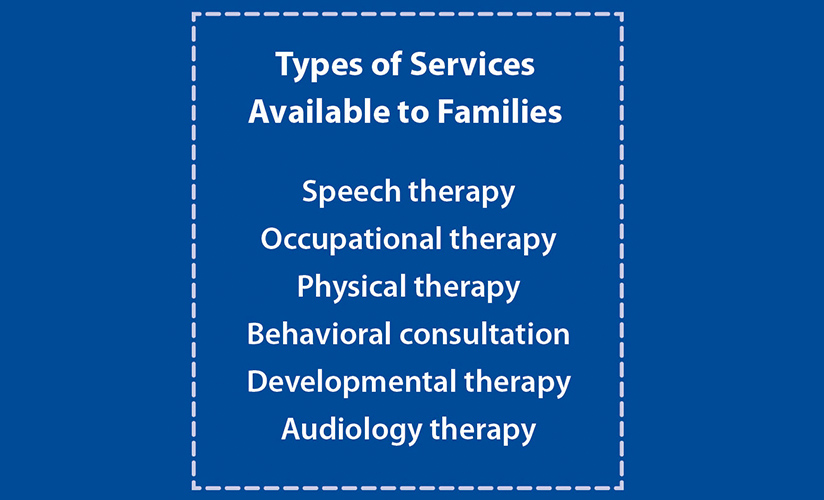 "Le Bonheur therapists are empathetic and very understanding of the family situation, and they do everything in their power to help the child. I am so grateful that Ivy's been a part of the rehab services family," said Morgan. "Without Le Bonheur's rehab services, my daughter wouldn't be able to function like she does today. They've helped her grow into the independent 2-year-old that she is."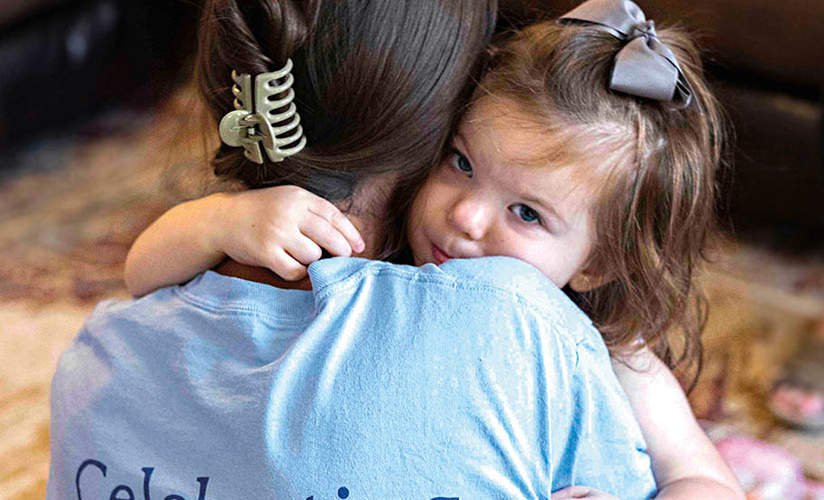 Taylor Cook, 8, Outpatient therapy
When Taylor Cook was born at just 27 weeks due to a placental abruption, doctors knew that Taylor had experienced a lack of oxygen during the birthing process and told her family she'd need to start physical therapy immediately. Taylor went straight to a therapy session from the Neonatal Intensive Care Unit.
As she grew, it was obvious that Taylor was a bright baby, but very developmentally delayed. As her mom, Crystal, explains it, "She's very cognitively strong, she just happens to be in a power wheelchair."
Eventually Taylor was diagnosed with cerebral palsy, and her rehabilitation journey has modified as her needs have changed.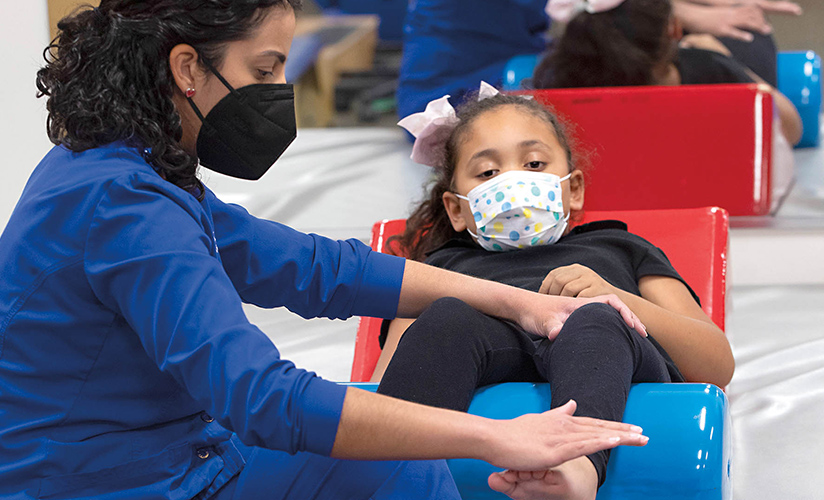 Eight-year-old Taylor's cerebral palsy is classified as a spastic quad diagnosis, meaning she cannot sit, stand or walk independently. When her therapies weren't showing the results the team had hoped or expected, they consulted with her doctors to determine the next best steps.
Taylor underwent surgery and now sees rehab therapists four days a week at a Le Bonheur Outpatient Center. Taylor's therapists have helped her grow and flourish, meeting milestones and encouraging her along the way.
"I absolutely love that therapists know Taylor. Sonia Waites, her physical therapist since she was a baby, is like her second mom, and I discuss every aspect of Taylor's life with her," said Crystal. "These relationships have helped Taylor blossom because there's so much trust and comfort there."
Brinley Cunningham, 10, School-based therapy
Brinley Cunningham spent her first 23 days of life at Le Bonheur. She was born with 17 different anomalies, including a fused front fontanel, hydrocephalus, an atrial septal defect, Gorlin syndrome and a twisted bowel. Facing so many medical obstacles at such an early age, her family didn't know what to expect in terms of the future.
Doctors told Brinley's family that her life expectancy was 5 years, but today she is a thriving 10 year old. Thanks to the love and support of her mom, Amanda Cunningham, her grandmother, Gail Bradford, and her rehab services team, Brinley is exceeding expectations. A true miracle with an old soul, Brinley has endured 19 surgeries and sees her rehab team for occupational and physical therapies every day at school.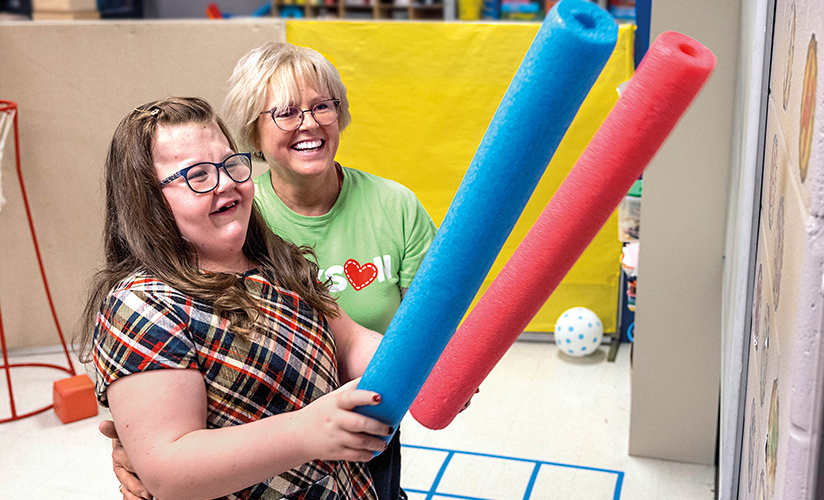 By bringing much-needed rehab services closer to home for patients in West Tennessee, there is much less strain on families working to coordinate care.
Having rehab services come to Brinley's school in Dyer, Tenn., has been amazing. Brinley receives one-on-one care from Ms. Petra and has improved in all her skills, even with tasks we were told at birth she'd never do. We are so grateful and blessed to have services available for Brinley and other children at her school.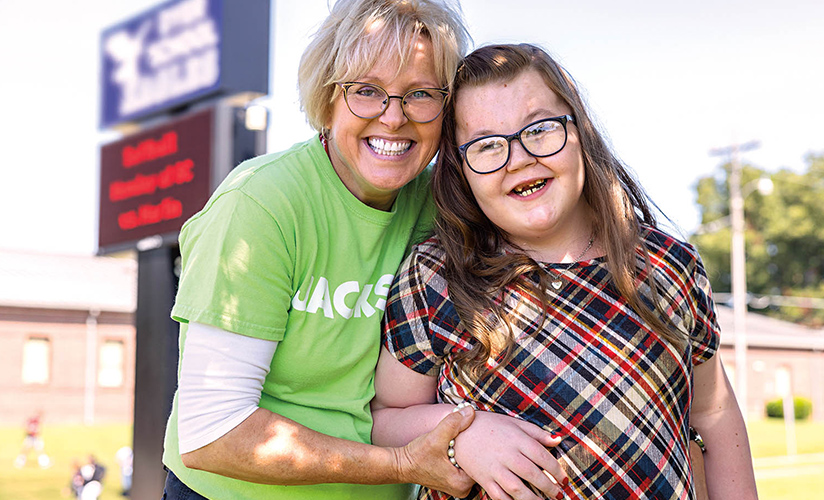 Le Bonheur's dedication to kids and families is vitally important to the region, and they strive to meet families where they're needed most.
Le Bonheur Children's Hospital depends on the generosity of friends like you to help us serve 250,000 children each year, regardless of their family's ability to pay. Every gift helps us improve the lives of children.
Donate Now