One in seven new moms experience postpartum depression or anxiety. One in 10 new dads have parallel symptoms.
Observing the effect that parental mental health has on the physical health of a neonate, Le Bonheur Neonatologist Jennifer M. Davidson, DO, realized that the Neonatal Intensive Care Unit (NICU) at Le Bonheur Children's had a chance to intervene early in a child's life.
"We have always acknowledged the stress in a stay in the NICU," said Davidson. "The NICU has a unique opportunity to provide mental health support for parents to the benefit of the children in the unit."
Mental health struggles can be a driving factor that keeps parents from visiting their child in the NICU. The more a parent is present during a NICU stay, the better the long-term outcomes for the child. Davidson believes that by intervening in a parent's mental health, Le Bonheur can positively affect the physical health of a child for years to come.
Working closely with nurses, child life specialists and lactation consultants, Davidson and the NICU social work team developed the NICU Perinatal Mental Health Screening Initiative to identify parents in need of intervention and provide needed mental health support with the ultimate goal of improving health outcomes for neonates.
Building A Program
Le Bonheur's Social Work team consists of professionally trained and licensed master social workers who help patients and families with a variety of issues that may arise as a result of a child's illness. Prior to the implementation of the formal program, the social work team provided mental health screening throughout the hospital – but only if the parent was referred. They noted a trend – the vast majority of referrals were coming from the NICU. In 2019 alone, social workers screened more than 120 neonatal parents.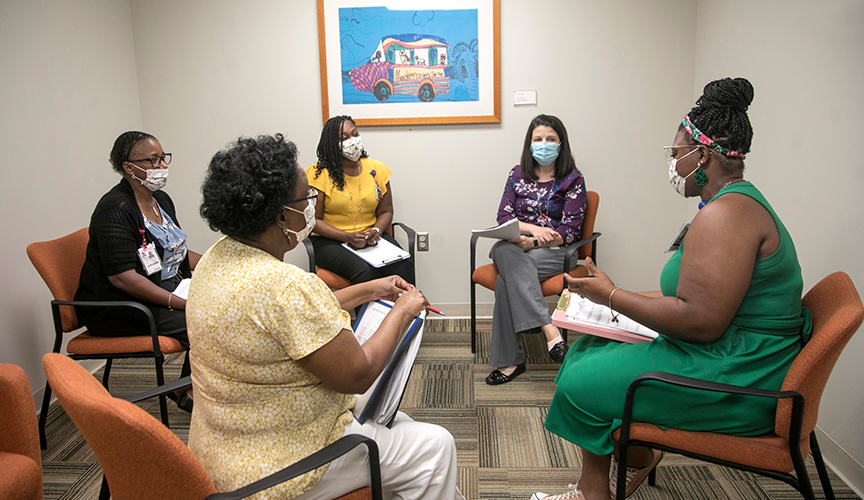 "Parents with newborns in the NICU face unique challenges and stressors including, but not limited to, postpartum mental health struggles. We knew that we needed a formal structure to provide these parents with the best support we could offer," said Davidson.
The NICU Perinatal Mental Health Screening Initiative was implemented in February 2020, and social workers now screen all mothers who have a baby in the NICU with a stay in the hospital longer than two weeks, using a standardized depression screening tool. This screening identifies possible mental health diagnoses, what interventions would be most beneficial and whether the parent is open to receiving help.
Subsequent interventions and support fall on a three-tier continuum. Parents who need the lowest level of support are provided with typical NICU support such as social work and child life to cope with stressors present at home or related to the birth of their child. The second tier consists of more focused social work support and education. Parents have a brief consultation with Licensed Psychologist Carlos Torres, PhD, where they are given coping strategies to apply to their situation. And the highest level is clinical support including one-on-one counseling and frequent follow up with Torres. Medication support is provided when needed, and the team continues to track any cognitive or behavioral symptoms.
"We are always asking the question 'Does this mom have good support?'" says Davidson. "Social support is key for parents with mental health struggles. We can ensure that parents who need it are connected with others whether through individual counseling or parent support groups."
The hospital also has a general parent support group that meets weekly. Caregivers who want social support and connection discuss the emotional burdens associated with having a sick child in the hospital. Plans are in place to start a support group specifically for NICU parents.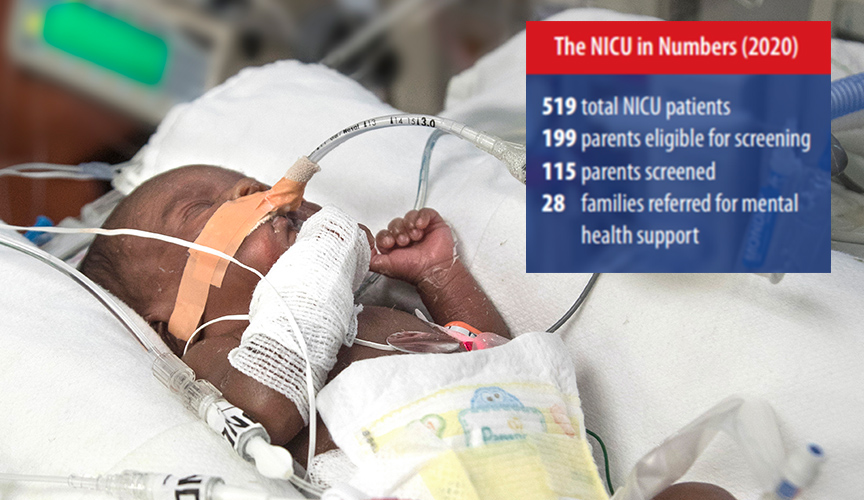 Support doesn't end when a child is discharged from the NICU. Social workers create a discharge plan for parents to ensure continuity of care including connecting parents to a community provider for counseling when needed.
Lasting Change
One of the roadblocks that Davidson and her team uncovered was the stigma toward mental health that still exists in the South – and the unique issues that Memphis families face in that regard.
"Philosophies around strength and what that looks like can be a hindrance to getting parents the support they need. We're working to break down beliefs and fight against the stigma of mental health," said Davidson.
Success in the fight to provide mental health support leads to more than just improved parental mental health – it's a chain reaction delicately interconnected with the child's physical health.
The better the parent's mental health, the more often they visit his or her child in the NICU. And the more time a parent spends in the NICU with his or her child, the better the child's long-term outcomes.
Over time, Davidson hopes to affect change in the physical health of NICU babies by decreasing the length of hospital stays and increasing parent visits thereby increasing bonding between a parent and child.
"We're trying to help parents be present more often," said Davidson. "Integrated behavioral health is embedded in what we do at Le Bonheur, and the NICU strives to start this chain reaction from a baby's first days of life."
Le Bonheur Children's Hospital depends on the generosity of friends like you to help us serve 250,000 children each year, regardless of their family's ability to pay. Every gift helps us improve the lives of children.
Donate Now