Dennis Black, MD, shares a near-equal love for science and rock and roll. He's an accomplished researcher, award-winning physician and an avid vinyl record collector. He spent his days in high school and college working at the local radio station, while also taking all the necessary courses for a career in medicine.
Today, Black is scientific director of the Children's Foundation Research Institute (CFRI), a pediatric
gastroenterologist and co-owner of Memphis-based music label, Black and Wyatt Records. He's a man who certainly proves the expression, "There's more than meets the eye."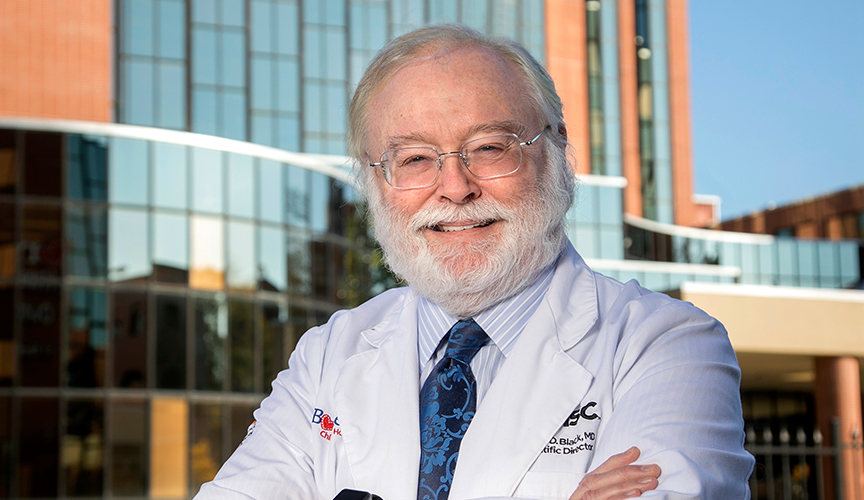 Black grew up in Covington, Tenn., a small city 40 miles north of Memphis. The town's family practitioner sparked Black's interest in medicine.
"As a kid, I was always fascinated going to his office," said Black. "His tools and instruments. The thoughtful way he could examine a patient and come up with a diagnosis."
His career as a pediatric gastroenterologist and researcher has taken him from Memphis for medical school, pediatric and gastroenterology (GI) training to Chicago, Ill., to Little Rock, Ark., and back to Memphis. As a clinician he specializes in pediatric liver diseases and was part of the team responsible for the very first living donor liver transplant in a pediatric patient in the country in 1989 at the University of Chicago.
As a scientist, Black has taken a fascination to studying lipids and understanding how they are absorbed in children and neonates. He has focused on apolipoprotein A-IV and demonstrated a role for this protein in facilitating fat absorption in the neonatal small intestine. He also showed that genetically altering the structure of the protein could significantly enhance fat absorption, which may lead to a therapy to improve fat absorption in infants with intestinal failure. The research side of medicine, in particular, is Black's passion and has earned him more than $8 million in funding for his research from organizations like the National Institutes of Health (NIH) and the Food and Drug Administration (FDA).
"I love the process of coming up with a research idea, setting up and designing the experiment, carrying out the experiment and getting results," said Black. "And when your hypothesis is validated, there's a huge satisfaction."
His latest research project funded by the FDA Office of Orphan Product Development, published in Hepatology Communications, evaluated the use of ursodeoxycholic acid in the treatment of primary sclerosing cholangitis (PSC), a rare liver disease. That work earned him the Gerard Odell Prize for Excellence in Hepatology Research from the North American Society for Pediatric Gastroenterology, Hepatology and Nutrition and could make way for promising new drugs that can treat PSC, for which transplantation is the only cure.
It was research that drew Black and his family — wife, Pediatrician Gail Beeman, MD, and their three children — back to Memphis, where his medical career first began. He was recruited in 1999 to serve as scientific director for the Children's Foundation Research Institute, then called the Crippled Children's Foundation Research Center. He is also vice president of Research at Le Bonheur and the J. D. Buckman endowed professor of pediatrics at the University of Tennessee Health Science Center (UTHSC).
Memphis, known for its music, has been the perfect place for Black to nurture his two passions: research and music. He started a vinyl-only record label in 2018 with colleague Pediatric Nephrologist Robert Wyatt, MD. The label, Black and Wyatt Records, was created to give a platform to local musicians and support the Memphis music scene. The label has released eight records, and two more releases are planned by the end of the year. The record company has been more of a spare-time hobby than a business, but one that has been a real joy for Black and Wyatt and a boost for local Memphis talent.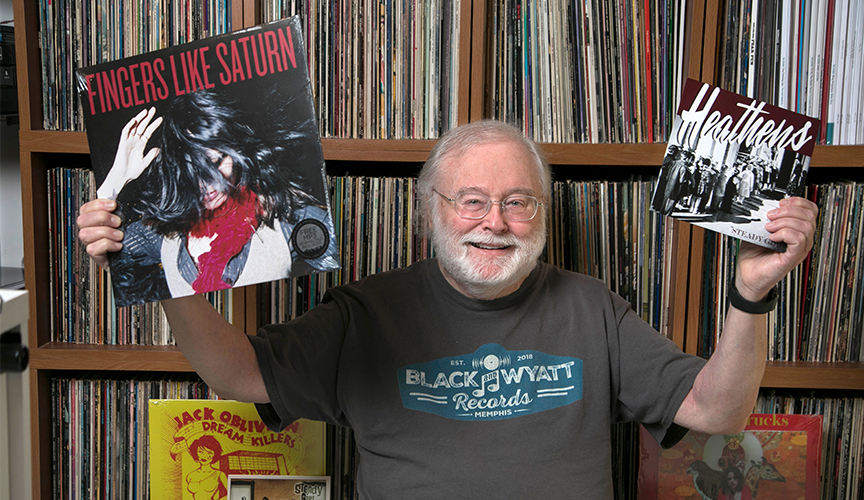 And as for research: Black and other leaders have worked hard to transform the CFRI — a collaboration among Le Bonheur, UTHSC and the Children's Foundation of Memphis — into a world-class organization with 30,000 square feet of lab and research space. Last year, CFRI investigators received more than $9 million in NIH and other external funding, and faculty members assisted by CFRI published more than 217 papers with 39% appearing in the top 25% of high-impact journals.
"We used to have two floors of laboratory space in the Le Bonheur West Tower for the research center and that was all," said Black. "We've recruited top notch researchers, more than doubled our faculty and now have a dedicated tower on (Le Bonheur's) campus for research efforts."
In 2010, Le Bonheur leaders and major long-time CFRI supporter, the Children's Foundation of Memphis, made a commitment to invest in research expansion — renovating its seven-story West Tower, purchasing state-of-the-art equipment and hiring the human resources needed to support researchers, including experts in biomedical informatics and biostatistics.
It's created an atmosphere of learning and discovery that Black loves.
Black was awarded the Department of Pediatrics annual Excellence in Mentorship Award in 2017 and the American Gastroenterological Association Institute Council Section on Obesity, Metabolism and Nutrition Research Mentor Award in 2020.
"I enjoy helping young researchers and physicians. Getting to know them and mentor them along the way in their projects," said Black. "I tell my students, 'There aren't many professions out there where you can take something you're really interested in and are supported to delve deeper into it.' To be successful (with research), it has to be more than a passing interest. There has to be a fire in your belly."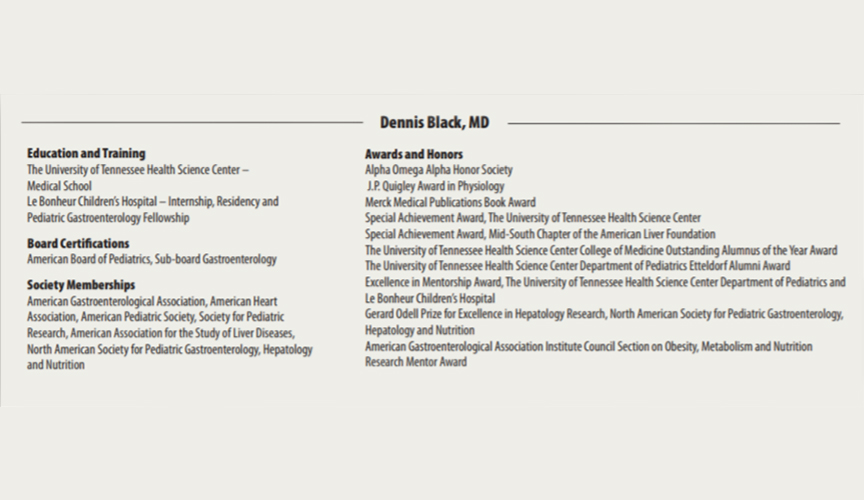 Le Bonheur Children's Hospital depends on the generosity of friends like you to help us serve 250,000 children each year, regardless of their family's ability to pay. Every gift helps us improve the lives of children.
Donate Now