Christian Fussell, 12
All-terrain vehicle accident
Hernando, Miss.
A dirt bike ride with friends turned into a nightmare for Rhonda Crenshaw when her 12-year-old grandson, Christian Fussell, suffered a traumatic leg injury. After Christian hit a tree, his bike's foot peg created a deep wound that immediately started to bleed heavily.
Christian is one in the ever-increasing number of pediatric trauma cases that Le Bonheur has seen since the onset of the COVID-19 pandemic.
"If this had happened further from our house, he wouldn't have time to get to the hospital and would have bled to death," said Rhonda, who worked for years as a cardiac clinical assistant. "I had to keep my medical brain on to be able to take care of him until the paramedics arrived."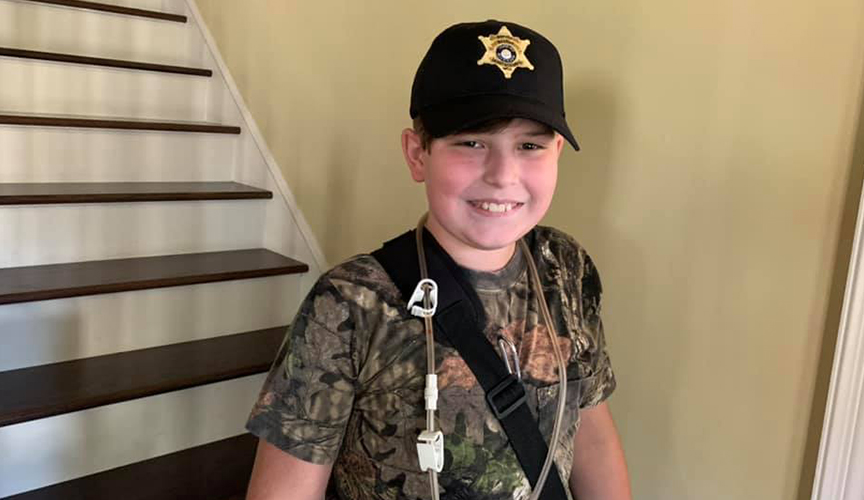 Le Bonheur Medical Director of Trauma Services Regan Williams, MD, says the rise in trauma cases is linked to children spending more time at home, due to quarantine and stay-at-home orders.
"Just because the world slowed down doesn't mean that trauma slowed down," said Williams. "We have seasonal variation every year — cases increasing in summer and decreasing when children return to school. This year we did not see a drop off as many children were still at home doing virtual school."
First on the scene of Christian's accident was neighbor Justin Finger — on off-duty paramedic and former Le Bonheur employee. Christian was rushed to Le Bonheur's Emergency Department by Mississippi's DeSoto County Sheriff's Department. While his prognosis was good, Christian faced a long road to full recovery, including a wound VAC and 10 outpatient surgeries to progressively close the wound.
Recovery was difficult for Christian. While both grandparents were able to stay with him in the hospital, no visitors could come. And they have continued to limit visitors once home to further reduce risk of any infections.
"Christian is such a people person, and this has been so confining for him," said Rhonda. "We can't let anyone come visit him in the house. We can't afford for him to get any sickness."
Today, Christian is well on his way to recovery and has had his stitches removed. While he's completing this semester of school at home, he looks forward to going back to school and getting back to his usual activities. But he did have one special visitor that cheered him up.
"The DeSoto County Sherrif's deputies not only saved his life, but they made an effort to make sure he was on his way to healing," said Rhonda. "They gave him a hat and a patch — we will forever be grateful for them, our neighbor Justin and Le Bonheur's fantastic nurses and ED staff."
Le Bonheur Children's Hospital depends on the generosity of friends like you to help us serve 250,000 children each year, regardless of their family's ability to pay. Every gift helps us improve the lives of children.
Donate Now