Frannie Crowley, 3
Diagnosis: Congenital limb differences and heart defects
Services: Occupational and physical therapy
Three-year-old Frannie Crowley has been a Le Bonheur patient since before she was born. Diagnosed at 20 weeks gestation, Frannie was born with limb differences and heart defects, which led to multiple procedures and stays in the hospital.
Continuous occupational and physical therapy has always been critical for Frannie's development. And the COVID-19 pandemic was not going to stop the need for her to continue reaching milestones. She was one of the fortunate children who have been able to continue rehab services in spite of the pandemic, thereby avoiding delays in her development.
"Frannie's limb differences mean that in order to meet milestones, she has to learn to do everything differently," said Frannie's mom, Hannah. "Our therapists have worked on everything from practicing falling to using utensils to creating adaptive equipment. She met milestones later than some kids, but not that much later, thanks to our therapy team."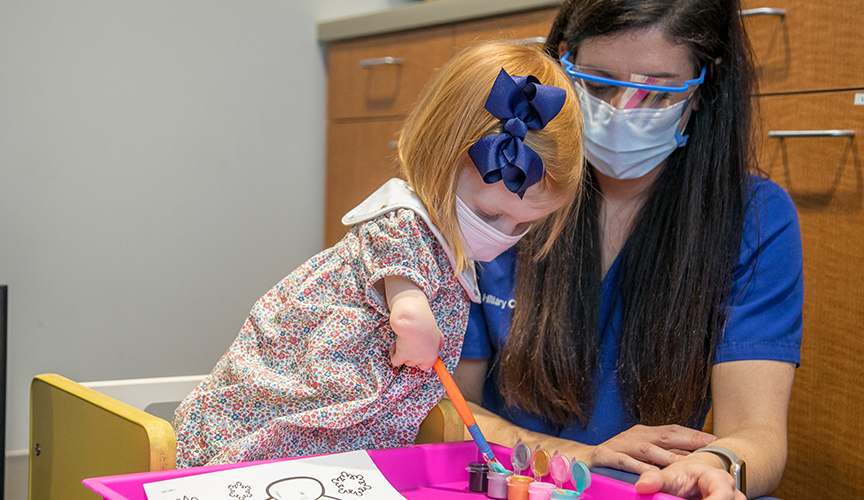 The arrival of COVID-19 threatened to interrupt Frannie's therapy — a vital part of keeping her development on track and teaching her how to do everyday tasks. When the pandemic hit, she saw an occupational therapist once a week and a physical therapist every other week. On top of that, her physicians had concerns about the impact that contracting COVID-19 could have on Frannie's health with her existing heart condition. All of this meant switching to telehealth rehab for nearly three and a half months.
"Because of COVID, we have tried to set up as much of a hybrid model of virtual and in-person therapy as we can," said Danielle Keeton, MA, CCC-SLP, Le Bonheur's director of Rehabilitation and Developmental Services. "Success of virtual therapy is very dependent on the individual needs of the child and family."
Telehealth rehab for Frannie looked a bit different from usual therapy services. Therapists spent more time talking through her needs and modeling activities for Hannah to replicate with her daughter. Telehealth therapy allowed her to keep her development on track during the pandemic.
"Frannie is a hard worker, and she didn't lose any progress by using telehealth rehab," said Hannah. "They continued to give us ideas to work on the skills she needs to develop."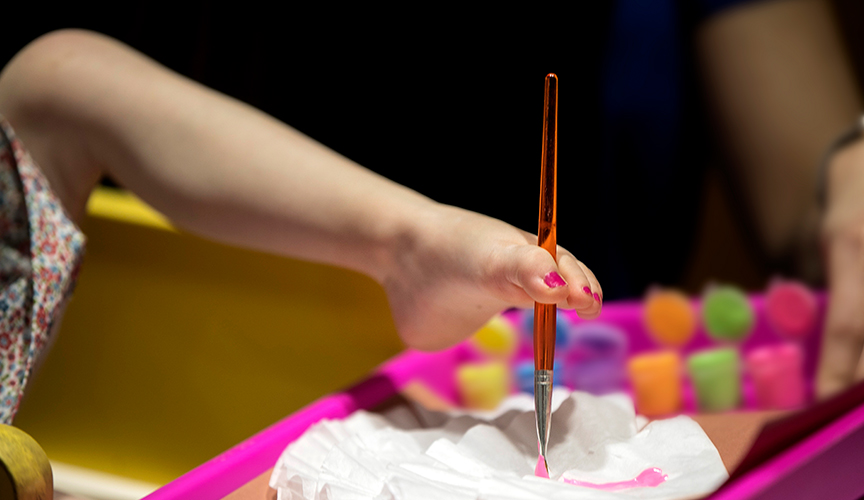 In May 2020, when elective surgeries were reinstated at Le Bonheur, Frannie underwent a pollicization surgery to create a thumb, giving her better grip and control. Telehealth therapy for surgery recovery was no longer a viable option. It was vital that her therapy services resume in-person in order for her new thumb to heal and develop the strength she needed to use it properly.
"Telehealth was fine, until it wasn't fine anymore," said Hannah. "If we weren't able to be in person for therapy, she definitely would not have progressed learning to use her thumb."
In June, Frannie was able to return to in person therapy, with Le Bonheur following all precautions for social distancing, cleaning and masking. Hannah says they have felt safe both at the doctor's office and at therapy. It mitigated the risks for Frannie's development and progress to halt during the COVID-19 pandemic.
"We love Le Bonheur very much and are so thankful for Frannie's therapists," said Hannah. "The therapists from Le Bonheur have been on top of it and work hard to get us the services we need. Frannie is excited to go to therapy — they know what she likes and make therapy fun for her."
Le Bonheur Children's Hospital depends on the generosity of friends like you to help us serve 250,000 children each year, regardless of their family's ability to pay. Every gift helps us improve the lives of children.
Donate Now