At the start of the school term, a teacher at A.B. Hill Elementary noticed a neck rash on one of the students. In previous years, without a full-time school nurse on staff, the teacher might have called the child's parents to let them know or might have sent the child home, typically the only methods of recourse when presented with health issues in the classroom.
But this year, the teacher had a better option.
The student saw Le Bonheur school nurse Patricia McGraw, who had recently joined the elementary school team as part of a pilot project seeking to determine if dedicated school nurses could improve the health of children in Memphis and Shelby County and reduce rates of chronic absenteeism.
Nurse McGraw identified the rash as possible Acanthosis Nigricans, a sign of diabetes in children. She connected with the student's parents to help them understand the issue and seek additional care. After receiving a formal diabetes diagnosis and insulin prescription, McGraw initiated diabetic teaching with the child back at school.
It's one of dozens of examples illustrating the impact made by nurses in the pilot program, a partnership initiated in the 2019-2020 school year by Le Bonheur Children's Hospital, Shelby County Schools and Urban Child Institute. Less than a year into the pilot, initial results show an 85% return to class by children who saw their school nurses, better management of chronic conditions and increased referrals for health issues likely to have gone unnoticed without professional evaluation.
The five schools chosen by Memphis' Shelby County School system to participate in the pilot — A.B. Hill Elementary, Riverview K-8, Hamilton K-8, Hamilton High School and Magnolia Elementary — are known as "feeder schools," meaning they involve family members in multiple grades. Five comparison schools were also chosen for evaluation purposes.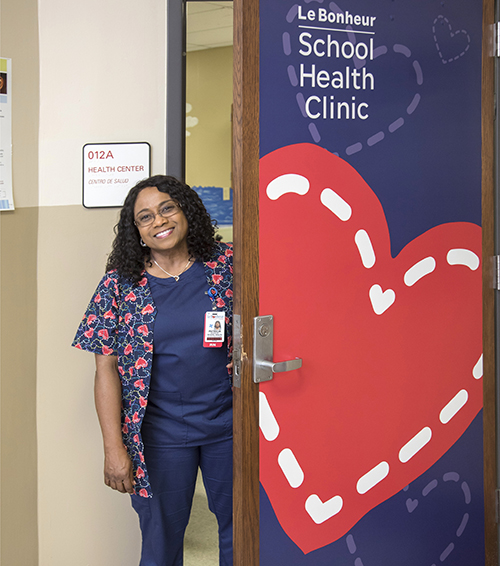 The concept of school nursing has existed for a century; but uniformity among states and school districts varies greatly, as do the laws governing school health services. Some school districts in the rural Mid-South, such as Tipton County, provide a nurse in every school, while others such as Shelby County provide, on average, a nurse in each school for only four hours a week. The current Tennessee ratio equates to one nurse per 3,000 students.
As part of this pilot, one Le Bonheur nurse is embedded in each of the five schools, while a nurse practitioner and social worker rotate among the schools. They function as staff members, actively working with students, teachers and families to keep children healthy, safe and ready to learn.
Services include:
Providing care or first aid for sick and injured students and staff
Helping parents and health care providers obtain necessary health information
Administering medications as ordered by the physician and necessary for school attendance
Assisting with state-mandated school health screenings
Helping families find other specialized doctors and nurses when needed
Ensuring students have the required vaccines and physical exams for school
Providing staff emergency first aid and CPR training
Helping families learn to care for chronic diseases like asthma and diabetes, when needed
Providing weekly support from a licensed social worker and nurse practitioner
Outcomes indicated success, according to research by Debra Bartelli, DrPH, Research Associate Professor, Division of Epidemiology, Biostatistics, and Environmental Health & Director of Undergraduate Programs at The University of Memphis. Teachers overwhelmingly agree that the program has improved the health of students in their school and say that with a nurse in the schools, they have more time to teach. Principals also strongly endorse that the program has resulted in an increased number of children returning to the classroom after seeing the nurse for health concerns.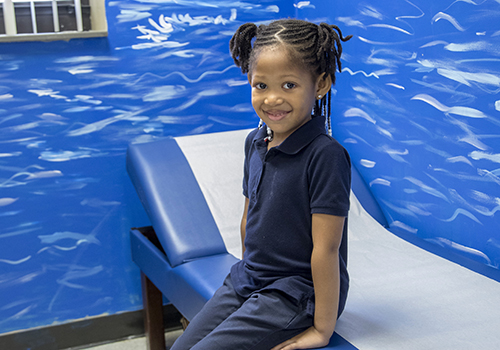 Teacher Response
Response from Le Bonheur School Health Services pilot participants - 88% of teachers responded
95.7% agree that the program has improved the health of their students
90.6% agree that having the nurse in the school allowed them to spend more time teaching
96.1% agree that the nurse had a positive impact on the overall well-being of students
95.3% agree that the nurse had a positive impact on overall well-being of students with chronic conditions
86.8% agree the nurses had a positive impact on improving academic performance for students
Response from five control schools - 42% of teachers responded
66.1% agree that school nurses improved the health of their students
70.5% agree that having the nurse in school allowed them to spend more time teaching
62.5% agree that the nurse had a positive impact on the overall well-being of students
65.4% agree that the nurse had a positive impact on overall well-being of students with chronic conditions
52.2% agree that the nurses had a positive impact on improving academic performance for students
Based on this early success, the Shelby County Schools leadership team is interested in expanding the school nurse program in an additional five schools. The ultimate goal is to provide a nurse in every Shelby County school.
Le Bonheur School Health Services Director Cindy Hogg said the pilot has also highlighted the value of relationship building, an intangible core aspect of community outreach work. "One thing we've seen is the trust parents have for our nurses," she said.
"This is really important when it comes to children who have chronic conditions like asthma, and the result is that our nurses are able to partner with families when making the call about whether these children can stay in school or need to seek higher levels of care."
The American Academy of Pediatrics (AAP) recommends that each school has its own full-time nurse due to the increase of chronic conditions in children, including asthma. The increased survival of pre-term infants and children born with congenital anomalies has resulted in more children with disabilities and chronic diseases.
The number of children with behavioral issues has also increased. Caring for these children in school requires the services of a professional registered nurse. Since program implementation in the pilot schools, approximately 2,750 nurse visits were completed.
The COVID-19 pandemic and early school closures cut those numbers short, though when school returns in person, the role of the school nurse is sure to be even more critical to community health. And during this time, nurses have kept in contact with students known to have chronic conditions to ensure proper case management. They've also participated in efforts such as creating pop-up food pantries to help families experiencing food insecurity.
"We can focus on children's health needs and the educators can focus on educating, which takes a huge weight off of their shoulders," said Charnece Brown, Le Bonheur school nurse supervisor. "With a rotating system, there is not as much continuity of care and many gaps. Although they are wonderful professionals, it's rare that school staff has a health care background. As a result, many health care needs can be left untreated."
The difference a school nurse makes can be seen with another anecdote, this time from pilot school Hamilton K-8 and a sixth-grader experiencing frequent nosebleeds. Rather than experiencing the old hallway head-tilt, this student saw his Le Bonheur school nurse.
The nurse watched the child for several days and found his blood pressure to be extremely high for his age. The nurse notified his parents, who took the student to a physician's office, where the child was determined to have hypertension. Thus, not only could the child return to class, he was able get treatment for the underlying issues that were taking him out in the first place.
Le Bonheur Children's Hospital depends on the generosity of friends like you to help us serve 250,000 children each year, regardless of their family's ability to pay. Every gift helps us improve the lives of children.
Donate Now