In 2011, Erik Krull paced up and down the sidewalk along Memphis' busiest street. The hot June sun was beating down on him as he pushed a wheelchair holding his wife, Kate, and comatose 8-year-old daughter, Lucy, over cracked sidewalks.
After spending 20 months in and out of hospitals, Lucy was tragically losing her battle with brain and spine cancer. Her doctor encouraged the Krulls to go outside and get Lucy fresh air.
Without a green space for families to retreat to at Le Bonheur, the Krulls turned to the sidewalks of the busy
Memphis medical district. They planned Lucy's funeral as they walked back and forth along Poplar Avenue.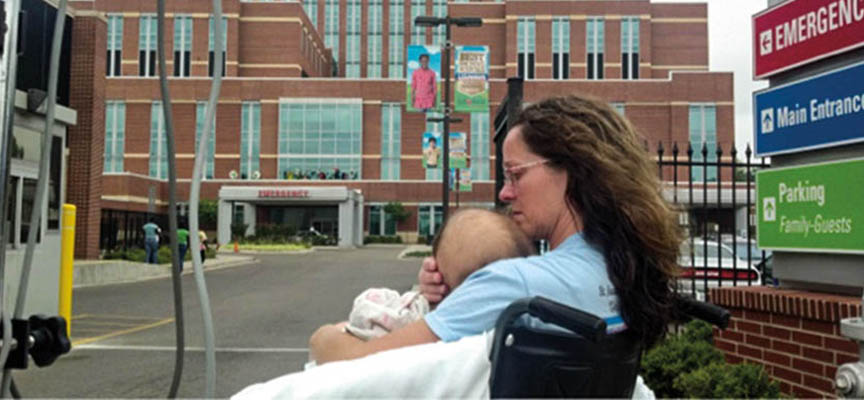 But then a miracle happened. After seven days in a coma, Lucy woke up and made an extraordinary recovery.
In the years that followed, Kate and Erik remembered their experience outside and wanted to give other
families at Le Bonheur the gift of an outdoor space that would provide healing and hope.
Le Bonheur Art Director Linda Hill and Development Director Michelle Rogers shared the Krulls' vision.
Through their Go Lucy Go Foundation, the Krulls made a gift to the hospital, helping to start the process to
create Le Bonheur Green along with donations from other groups and individuals.
"To be able to feel the sunshine, even if you're in a wheelchair or have an IV pole, is a small slice of normal
life for a child in the hospital," Kate Krull said.
"For kids to hear birds chirping, cars driving by, and feel the fresh air on their face is a reminder that life has not stopped because they are in a hospital bed. Rather, it is a reminder that 'All of this will still be there when I'm able to go home and the rest of the world is waiting for me.'"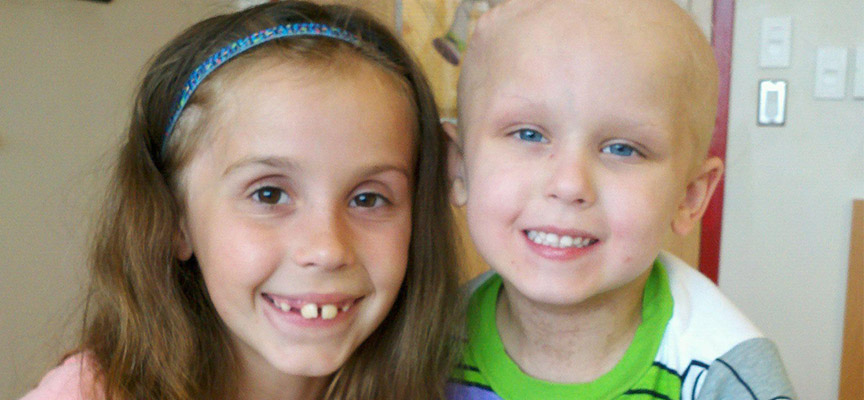 On Oct. 25, 2019, Le Bonheur broke ground on Le Bonheur Green: a nearly two-acre green space on the hospital's front lawn. The area includes a pavilion for families to enjoy fresh air in the shade, a serenity garden with unique works of art and a wind chime instillation playing a tranquil melody as the breeze blows.
Le Bonheur Green also features the hospital's signature heart in its hardscape, which provides space for children to run and play. A one-of-a-kind labyrinth will be installed this fall to provide a walking path for families. An iris garden brings blooming beauty mere steps from the hospital and custom-made berms include seating elements so patients and their families can relax outdoors.
The long-awaited grand opening celebration for Le Bonheur Green was held on May 24. Donors and patient families joined Le Bonheur staff to officially commemorate the new space.
"When children can experience the sights and sounds of nature, they are reminded of their normal life outside the hospital," Hill said. "Le Bonheur Green will allow families to escape the emotional challenges of the hospital and feel renewed."
Le Bonheur Green will also provide staff and physicians a place to rest and recharge during the often hectic workday, and the green space is already providing families with strength, peace and a welcome distraction.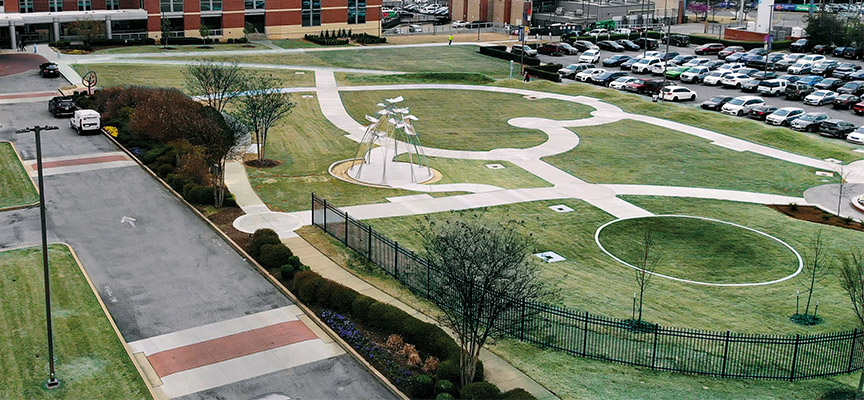 Katherine Russell brought her daughter, Clark, to Le Bonheur Children's recently for her bi-annual neurology appointment. Prior to the check up, 10-year-old Clark ran around Le Bonheur Green and enjoyed the outdoor space.
"When we parked the car and Clark saw Le Bonheur Green, her face lit up," Katherine said. "She is very energetic and active, so being able to spend time outside prior to her appointment made a huge difference. Le Bonheur Green put a smile on Clark's face and made her feel at ease."
Many generous donors, including the Krull family, have made this project possible. Le Bonheur Green is 100% donor funded and a welcome addition to the hospital's state-of-the-art campus.
Le Bonheur Children's Hospital depends on the generosity of friends like you to help us serve 250,000 children each year, regardless of their family's ability to pay. Every gift helps us improve the lives of children.
Donate Now