Le Bonheur's Infantile Epilepsy Center is one of a few epilepsy centers in the country that focuses on the potentially devastating diagnosis of infantile spasms and other rare epilepsies affecting children under two years old. Part of our Comprehensive Pediatric Epilepsy Program, we understand that infants are not just small children – a tailored approach is needed to treat the unique aspects of infantile epilepsy.
The Infantile Epilepsy Center team includes the following divisions: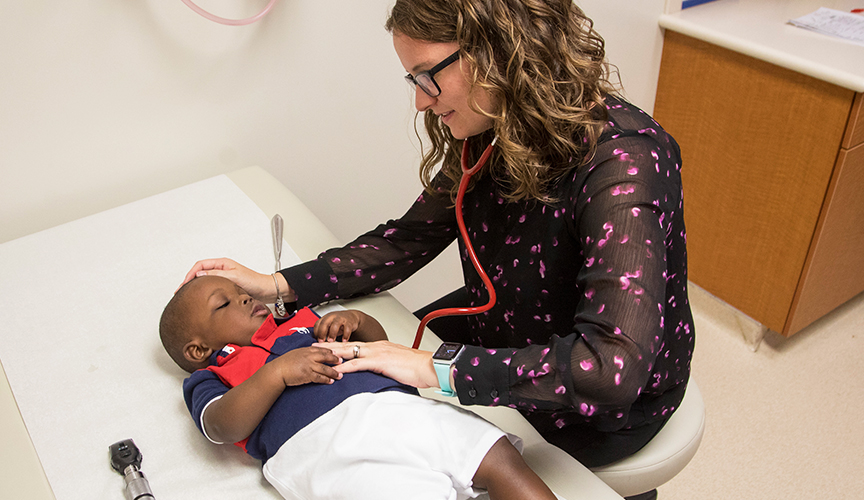 Infantile Spasms
Infantile spasms are a type of infantile epilepsy that can be devastating if not diagnosed and treated as quickly as possible. Early recognition and treatment is a crucial factor to controlling spasms. Delayed treatment beyond even one month can lead to worse outcomes for children with infantile spasms. The Infantile Epilepsy Center at Le Bonheur provides a multi-disciplinary clinic for the early diagnosis and treatment of children with this condition. Through our center, your child will have efficient and rapid access to our pediatric epileptologists, who have extensive experience and interest in infantile spasms.
Frequently Asked Questions: Infantile Epilepsy
Frequently Asked Questions: Infantile Epilepsy from Le Bonheur Children's Hospital on Vimeo.
Treatment Options
Treatment options for infantile epilepsy are tailored to the unique needs of each child. Our Neuroscience Institute provides a full range of treatments including:
Medications including adrenocorticotropin hormone (ACTH) and/or vigabatrin among others
Ketogenic diet
Epilepsy surgery
What is a typical first appointment like?
Your child's first appointment will be arranged by a clinical coordinator who works with infantile epilepsy patients. Clinic is held on a weekly basis.
During your first appointment you will meet with providers from multiple disciplines, based on the specific needs of your child, who will be a part of your child's treatment team.
In addition to your visit to the clinic, your child may undergo other tests to further diagnose their seizures including:
Overnight visit in the 10-bed epilepsy monitoring unit (EMU) to allow physicians to determine what types of seizures your child is having
State-of-the-art imaging tests such to evaluate functionality and seizure locations including:

Magnetic resonance imaging (MRI)

Neuropsychology evaluation to determine any cognitive changes associated with your child's infantile epilepsy
Genetic testing to help determine any genetic cause for your child's seizures
Nutrition therapy consultation to assess your child's growth and/or determine if a ketogenic diet is appropriate
Speech therapy evaluation of feeding and swallowing function
For more information
For more information, contact the Neuroscience Institute at info@lebonheur.org or Le Bonheur Connect at 901-287-PEDS or 1-866-870-5570.