Before Danielle Smiley ever met her adopted son, she knew he was going to be special.
"I fell in love with him the first time I was asked to come hold him in the NICU," said Danielle. "Love had already begun before I could even see him. When I met that beautiful sweet boy, it was instant connection."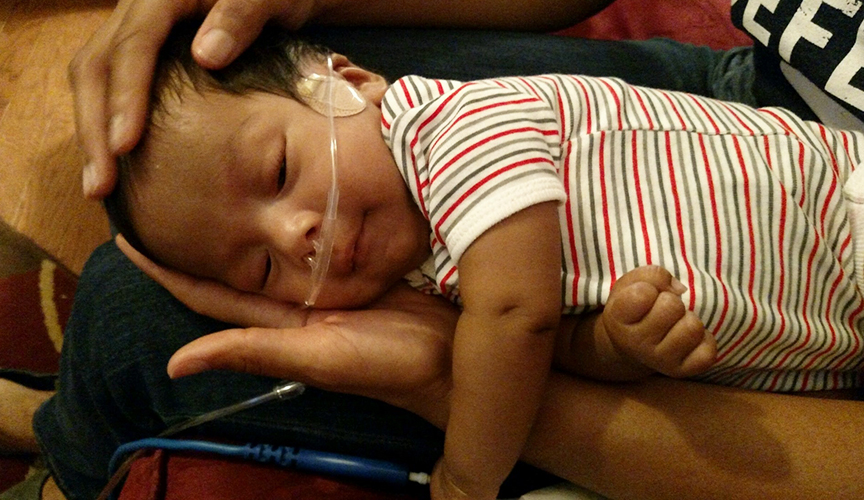 Marty was 3 weeks old and recovering in a Huntsville, Ala., neonatal intensive care unit from a hypoxic brain injury from birth when Danielle first met him. Marty already had significant damage to his brain from the birth injury and had seizures during his first few days of life. However, his seizure activity resolved on its own. About five months after Danielle took him home from the hospital, he had a 24-hour bout of seizure activity that was quickly and fully managed with one medication.
But when Marty was just over a year old, he began to have multiple seizures at a time. Danielle rushed him to the local emergency room where he was transferred to a regional children's hospital, diagnosed with multifocal epilepsy and put on multiple medications.
"It was like an avalanche," said Danielle. "His epilepsy was uncontrolled, and he was on unbelievable doses of medication."
Danielle noticed that Marty's EEGs and seizures didn't look like they had before. Expressing her concern about infantile spasms, she was told that wasn't the issue at hand. During a second stay at the hospital, infantile spasms was again dismissed.
"I had done my research on EEGs and brain waves," said Danielle. "I knew that his EEG pattern was changing, and my biggest concern was infantile spasms."
But doctors continued to tell Danielle that this wasn't the case. Marty's injury from birth had left its mark distinctly, they said. Thanks to a local neurologist, Danielle was given the hope she was looking for – a referral to Le Bonheur Children's Neuroscience Institute.
At Marty's first Le Bonheur appointment, he had another EEG. Within 15 minutes pediatric epileptologist Sarah Weatherspoon, MD, was in the room confirming Danielle's fears – it was infantile spasms, and Marty needed to be admitted immediately.
"It was really a feeling of relief," said Danielle of his diagnosis. "Finally somebody believes me and sees what I'm seeing. We're going to get help."
Treatment with the medications ACTH and vigabatrin began within 48 hours, and it took three weeks for the infantile spasms and coinciding erratic brain activity to get fully under control. Unfortunately, Marty had 10 months of undiagnosed infantile spasms. His brain was significantly and negatively impacted because of the delayed diagnosis.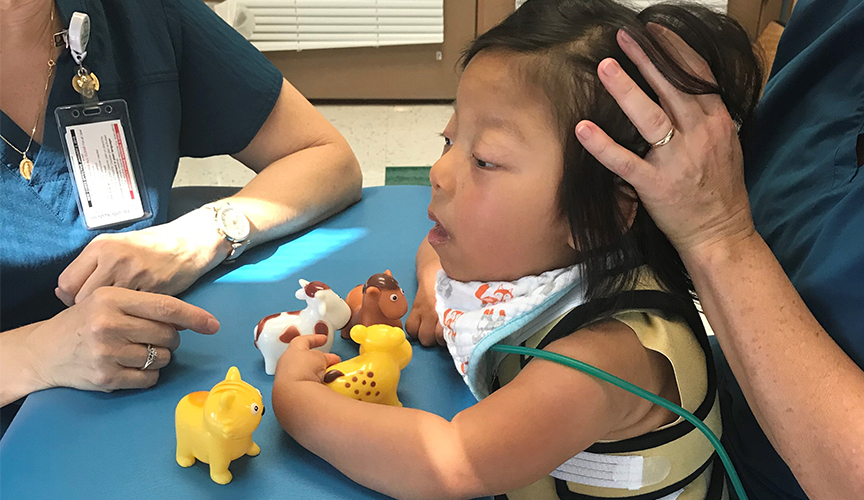 The severe side effects of untreated infantile spasms mean that Marty has to relearn everything. But he is slowly improving and redeveloping his skills, gaining muscle control and strength. He currently spends time in physical, occupation and speech therapies to help encourage further developmental strides. Danielle and Marty continue to see Weatherspoon in clinic and alternate longer inpatient stays for more extensive monitoring.
"The attention that Le Bonheur has given to Marty is an investment to help him as much as possible and give him the best quality of life," said Danielle. "Marty was born outside of the box, but Le Bonheur's doctors are invested in learning about Marty and not making assumptions that dictate their care. That has truly and literally been life-saving for us."
Le Bonheur Children's Hospital depends on the generosity of friends like you to help us serve 250,000 children each year, regardless of their family's ability to pay. Every gift helps us improve the lives of children.
Donate Now