Cynthia Cross, MD, believes she's always been traveling toward her current work at Le Bonheur Children's.
As a native Memphian, she understands firsthand how socioeconomic factors and disparities can affect a child's health. As a mother of a child with special needs, she identifies with parents who are in and out of hospital rooms, doctor's offices and therapy appointments. And as a medical care provider across several disciplines, she understands the experience of nurses, community pediatricians and now hospitalists.
But her path wasn't easy. Growing up in the segregated South, her obstacles were many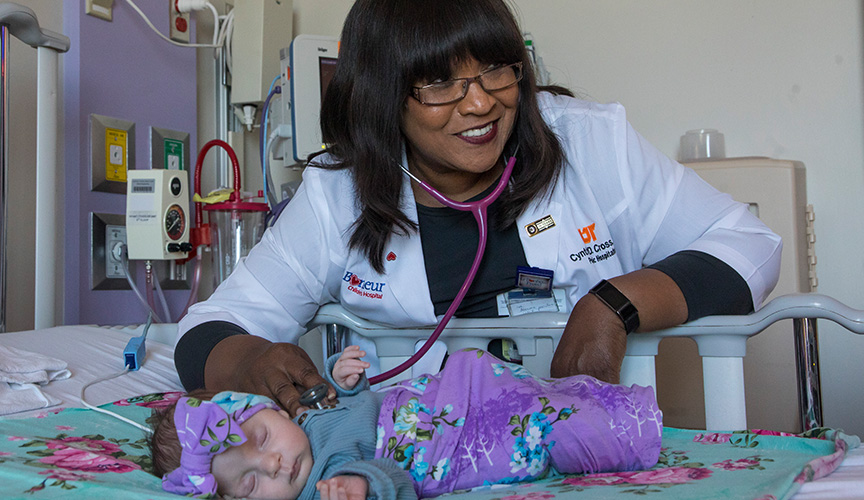 "My grandfather taught me that the way out of poverty for African Americans was education," said Cross. "At the time I didn't know any black women who were doctors, but from childhood I knew I wanted to pursue medicine."
As a child, Cross saw medicine up close and personal thanks to her next door neighbor — a nurse who encouraged her medical interests.
But she also saw the impact that desegregation and busing had on her neighbors and fellow Memphians. Desegregation didn't remove health care disparities — it negatively affected health and access to care.
"Neighborhoods changed because people left, which led to disparities in access to health care among the people of Memphis," said Cross. "Health affects education, employment and more."
Following nursing school, she worked briefly in adult urology before taking a position in the neonatal intensive care unit where physicians encouraged her to go to medical school. So she promptly pursued her undergraduate degree, attended medical school at the University of Tennessee Health Science Center and completed two years of pediatric residency at Baylor College of Medicine before returning home for the final year of residency due to her mother's cancer diagnosis.
She worked for five years in private practice as a pediatrician and then in a position combining emergency and hospital medicine before joining Le Bonheur. "I have always loved kids," she said. "They are accepting, resilient and have so much potential. Improving their health can have wide-reaching impacts for years to come."
In 2008, then Le Bonheur President and CEO Meri Armour, former Pediatrics Chair Russell Chesney, MD, former Chief Medical Officer William May, MD, and local Pediatrician Robert Riikola, MD, approached Cross about forming a hospitalist program at Le Bonheur. The program would help community pediatricians manage admission of their patients. The hospitalists then follow the patient through their treatment at Le Bonheur before discharging back to the pediatrician for follow up.
"Hospitalists care for children with a variety of illnesses and increased medical complexity," says Cross. "We are uniquely suited to care for these children — we know all team members across subspecialties who have a hand in providing the best care for our kids."
At the launch of the hospitalist program, administrators thought Le Bonheur could include about 15 pediatricians in the program. When word got out that Cross was leading the program, the number exploded. Now more than 60 pediatricians in the community utilize Le Bonheur's hospitalist program for their patients.
One of Cross's favorite parts of working as a hospitalist is the opportunity she has to build relationships with families and walk with them through the difficulties of a hospital stay.
We treat illnesses that lead to hospitalization, but we also want to improve their quality of life and get kids and families what they need – medical or not. At Le Bonheur, I can show that I care, walk through this with them and listen to them.
Cross is also involved in several initiatives at Le Bonheur that focus on reducing health care disparities in the Memphis area. She is medical director of Le Bonheur on the Move, a mobile unit that travels to rural areas to provide affordable, accessible health care for kids without pediatricians. She is also medical director of the School Nurse Program — a pilot program in Shelby County Schools intended to decrease health care disparities by providing a resident nurse in five elementary schools in Memphis. She is also involved in the multidisciplinary Center for Health Equity
At the end of the day Cross wants to create better futures for all children in Memphis.
"I enjoy taking care of kids, plain and simple. I get to help my town and mentor future generations," said Cross. "Many people don't have adequate resources for health care or daily needs. Our Le Bonheur team is here to make sure this happens less and less. I'm honored to be part of the solution."
Le Bonheur Children's Hospital depends on the generosity of friends like you to help us serve 250,000 children each year, regardless of their family's ability to pay. Every gift helps us improve the lives of children.
Donate Now