Le Bonheur Interventional Cardiologist Shyam Sathanandam, MD, will be the principal investigator for a national registry that will
study long-term outcomes of a device used to close patent ductus arteriosus (PDAs) in extremely low birth weight (ELBW) infants.
The device, Abbott's Amplatzer Piccolo Occluder, received FDA approval in January 2019 to treat PDAs in ELBW infants. It is the first transcatheter cardiac device to receive FDA approval for premature infants. Sathanandam, medical director of Le Bonheur's Interventional Cardiac Imaging and Interventional Catheterization Laboratory, perfected the technique to close PDAs in ELBW babies in Le Bonheur's hybrid catheterization lab before joining a 10-site FDA device trial for the Amplatzer Piccolo Occluder.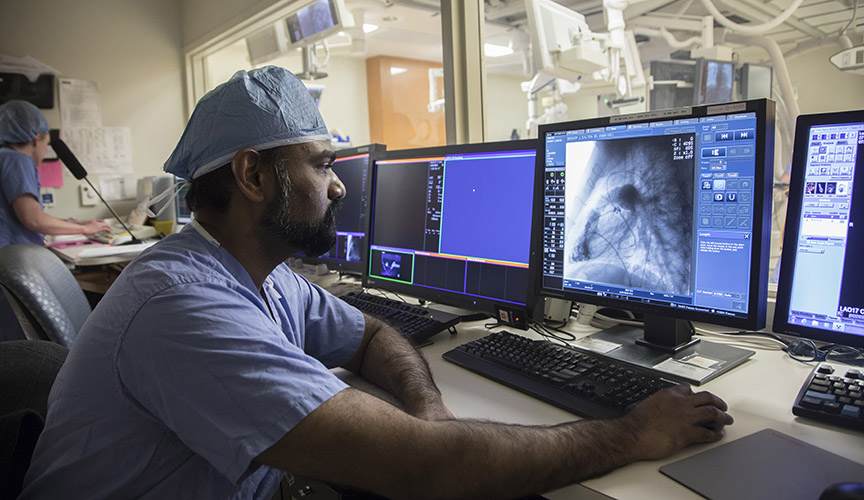 The registry, funded by Abbott Structural Heart, will be housed at Le Bonheur's Children's Foundation Research Institute. It will enroll babies in collaboration with the Congenital Cardiovascular Interventional Study Consortium (CCISC), a non-profit organization dedicated to advancing treatments for those requiring surgical and interventional treatment of congenital heart disease.
Babies who weigh less than 2 kg and receive the Amplatzer Piccolo Occluder device will be part of the study. Researchers hope to enroll 500 children within five years from 50 participating centers.
"We want to move the field forward and understand all we can about this technique and long-term outcomes for these babies," Shyam said. "Our goal is to find even better ways to give premature babies a great start."
Le Bonheur Children's Hospital depends on the generosity of friends like you to help us serve 250,000 children each year, regardless of their family's ability to pay. Every gift helps us improve the lives of children.
Donate Now