Fourteen-month-old Westin Hopper was enjoying playtime when his mom, Jennifer, noticed his head briefly drop and then snap up. She watched this continue for a few minutes and then suddenly stop.
It was unusual, Jennifer thought, but maybe he was just playing.
The next evening she watched the same scene play out two more times. She didn't know what it was, but she knew something wasn't right.
After doing research, she learned infantile spasms was the worst case scenario for her son. Knowing the severe consequences of delayed treatment, she drove him 70 miles to the emergency department at Le Bonheur.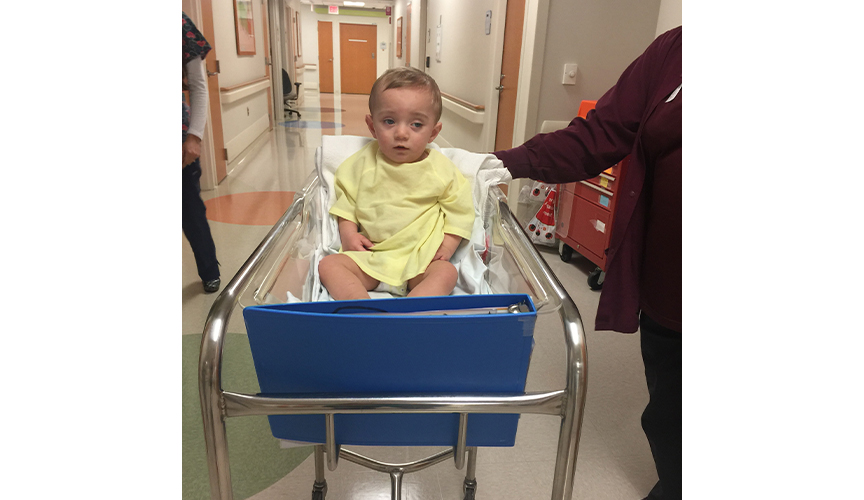 Westin was admitted immediately to the epilepsy monitoring unit (EMU). He was diagnosed with infantile spasms the next day and immediately began adrenocorticotropic hormone (ACTH) – the most effective treatment for infantile spasms.
Three days into his stay at Le Bonheur, he went 24 hours without a seizure. Three weeks later, Westin returned for follow up
testing where Pediatric Epileptologist Sarah Weatherspoon, MD, confirmed that Westin was in remission from infantile spasms.
"So many children are passed over in ERs and pediatrician offices," said Jennifer. "Most children with this diagnosis have serious developmental delays. Thanks to Le Bonheur his condition was caught and treated quickly enough that today he is a rambunctious 3-year-old."
Eight months later, Westin briefly returned to Le Bonheur after Jennifer noticed slight jerking movements again. After six months on a new medication, Westin's infantile spasms were in remission again.
With such a rare diagnosis, the Hoppers found Le Bonheur's team approach comforting and effective. The current knowledge available regarding infantile spasms is sparse, and the team provided a variety of options and answers to give Westin the best possible outcome, said Jennifer.
Today, Westin enjoys playing with his siblings, running and jumping. His infantile spasms left him with some developmental delays, but he was treated quickly enough to prevent a devastating decline in his ability to function.
"Because of correct testing and treatment, we have a little boy who you can't tell had infantile spasms," said Jennifer.
Le Bonheur Children's Hospital depends on the generosity of friends like you to help us serve 250,000 children each year, regardless of their family's ability to pay. Every gift helps us improve the lives of children.
Donate Now