Ryan and Brittany Schwaigert knew early that their son Greyson had polycystic kidney disease (PKD). After being diagnosed with tuberous sclerosis complex (TSC) type 2, Greyson's kidney ultrasound revealed so many cysts that Brittany describes them as looking like popcorn.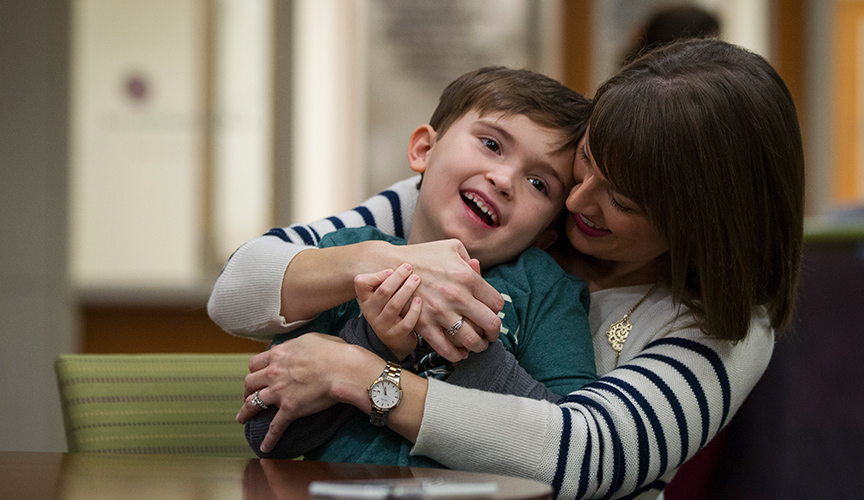 Until recently, children with PKD like Greyson only had one option for managing cysts: an mTOR inhibitor medication. Now, surgeons can remove the cysts and keep them from returning, thanks to a new decortication procedure developed by Le Bonheur Nephrologist John Bissler, MD.
"Previously, there was nothing we could do for PKD but watch the kidneys slowly fail," said Bissler. "After research in the lab, we developed this procedure to drain cysts and ultimately prolong kidney function for kids like Greyson."
The Dangers of Polycystic Kidney Disease
All it takes is a few cells with a deleted TSC gene to instruct the formation of kidney cysts. Bissler's recent research, "Tuberous sclerosis complex exhibits a new renal cystogenic mechanism" published in Physiological Reports, has uncovered the process by which these mutant cells communicate to healthy cells to produce cysts. This causes several types of cystic disease and benign tumors on the kidneys that can drastically affect the health of a child with TSC for a lifetime.
Previously, there was nothing we could do for PKD but watch the kidneys slowly fail. After research in the lab, we developed this procedure to drain cysts and ultimately prolong kidney function.
"Renal disease is the leading cause of death for TSC populations," said Bissler. "We also know that PKD causes a plethora of additional health risks for those with TSC."
In addition to high morbidity, kidney cysts cause high blood pressure, urinary concentration defect, ambulation delays, the possibility of renal hemorrhage and eventually kidney failure. Before developing this procedure, Bissler's course of treating PKD included mTOR inhibitors to slow cyst growth and constant blood pressure medications. Lesion growth is continually monitored with MRI.
But for Bissler, these treatments were not enough to provide the quality of life he sought for his patients. Too many families had passed through his clinic feeling desperate, abandoned and that nothing else could be done for their children. He wanted to find a better option.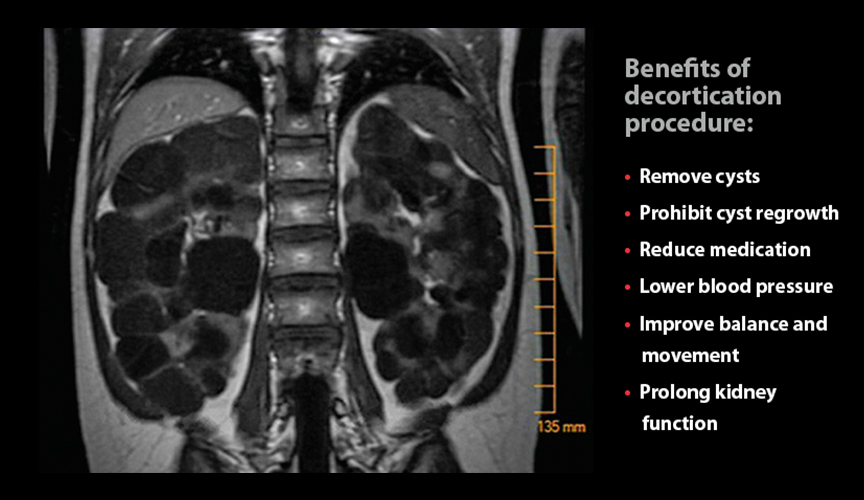 A Surgical Partnership
Bissler joined Medical Director of Robotic Surgery Joseph Gleason, MD, to develop a procedure to "de-roof," or decorticate, kidney cysts to drain fluid, relieve pressure and prevent cysts from returning.
"Decorticating the cysts is a laparoscopic surgery that requires only one to two hours and three small incisions to approach both kidneys," says Gleason. "It's a safe, straightforward operation with a uniformly easy recovery."
During the surgery, Gleason laparoscopically cuts out tissue from the top of each cyst to remove the fluid – simply draining the fluid without tissue removal would allow opportunity for the cyst to regrow. Any fluid not drained is reabsorbed by the abdomen. Gleason is able to decorticate multiple cysts in a single procedure.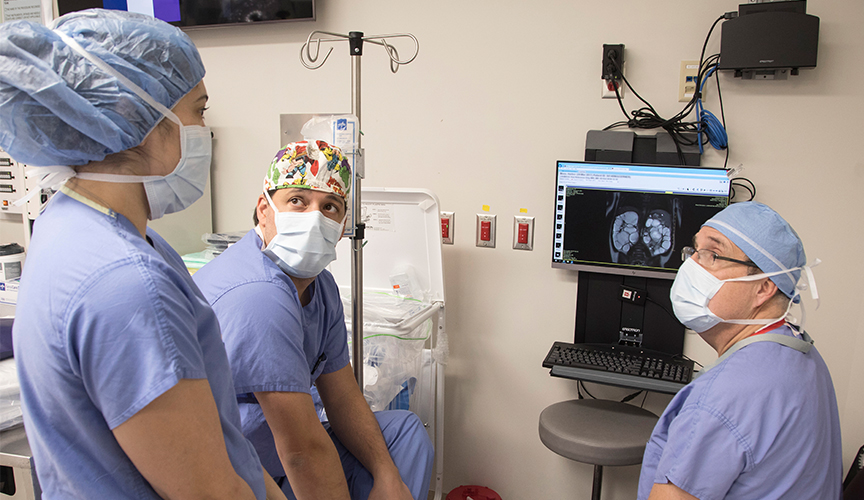 The goal of kidney cyst decortication: to mitigate the detrimental effects of PKD including lowering blood pressure, reducing protein in the urine, improving balance and movement and ultimately prolonging kidney function thereby delaying the need for kidney transplant.
In the procedures completed so far, patients have seen improvements in these areas with a recovery time as short as a few days.
"Greyson was able to bounce back from this surgery incredibly quickly," said Brittany. "Within 72 hours he was back to his normal self, and we couldn't be happier with how this procedure turned out."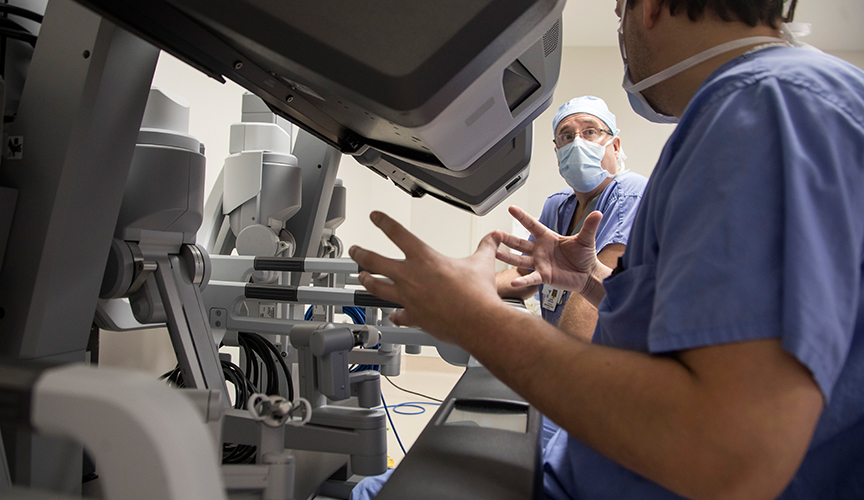 Positive Results
Bissler and Gleason have performed this procedure on seven patients with several more already planned for 2020. Thanks to decortication, parents are able to take action for their children instead of waiting, watching and fearing the worst outcomes.
For Greyson, the new procedure was a definite success. The effects were immediate — he has cut his blood pressure medicine in half and has an easier time playing and moving. His parents don't worry about the risk of a ruptured cyst, and his stomach is no longer distended.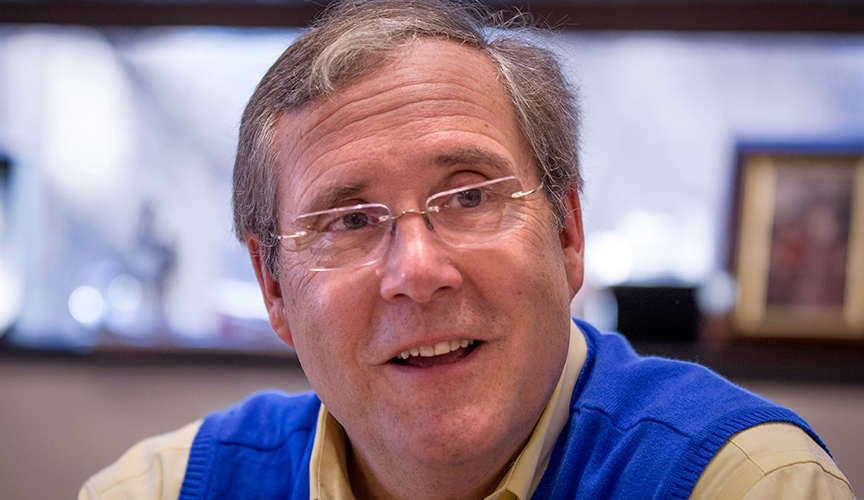 "With Dr. Gleason's reputation and role as chief of robotics and our implicit trust in Dr. Bissler as a world-renowned nephrologist, we knew we had a dream team," said Brittany. "We've lived Greyson's whole life with PKD as a weight upon us. It's a relief that we no longer have to worry about the immediate risks of his kidney cysts."
Le Bonheur Children's Hospital depends on the generosity of friends like you to help us serve 250,000 children each year, regardless of their family's ability to pay. Every gift helps us improve the lives of children.
Donate Now