Neonatologist Mark Weems, MD, entered into the medical field differently than most. A film production major at Northwestern University, Weems spent two years in Hollywood before deciding the show business life was not for him. In search of a more fulfilling career, Weems quickly set his sights on returning to school – this time to study medicine.
"I always had medicine in the back of my mind. My grandfather, father and uncles were physicians. But as an undergraduate, when organic chemistry had interfered with my film classes, I dropped it," said Weems.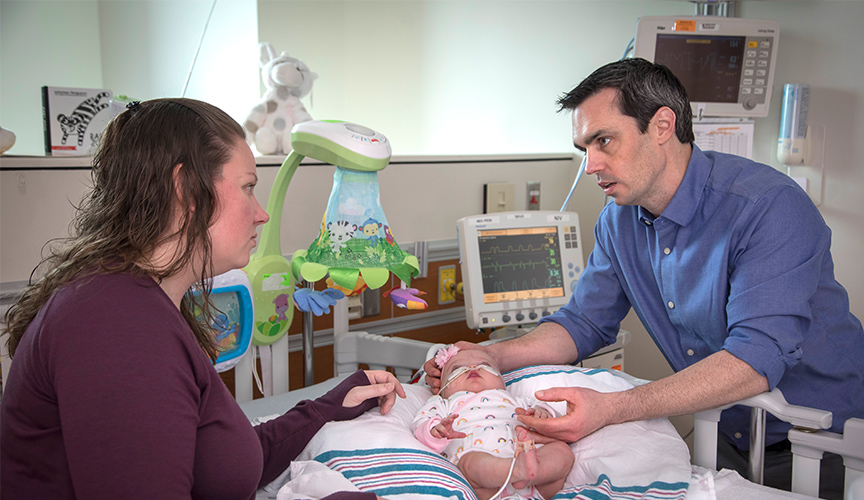 A Memphis native, Weems and his wife returned home where he enrolled at the University of Tennessee Health Science Center after completing two years of prerequisite classes in California. A rotation at Le Bonheur Children's Hospital inspired him to focus on pediatrics – neonatology, specifically. After a neonatology fellowship in Los Angeles, Weems again returned to Memphis to start his career in Le Bonheur's rapidly expanding Neonatal Intensive Care Unit (NICU), where he serves as the unit's associate medical director.
Today, Weems is one of 15 neonatologists who staff the hospital's 60-bed Level IV NICU. The unit is the region's "safety net" for newborns with complex medical needs, says Weems, caring for patients from a tri-state area.
Parents don't plan for their baby to spend months in the NICU. Our job is to take care of, not only the babies, but the whole family, helping them cope with the unexpected."
"Parents don't plan for their baby to spend months in the NICU," said Weems. "Our job is to take care of, not only the babies, but the whole family, helping them cope with the unexpected and often preparing them for the technology we send home with them."
With an average daily census of 53, Le Bonheur's NICU is busy. And with so many patients to care for, so too comes the opportunity for research projects. Specifically: reducing uncontrolled pain in neonates, preserving babies' oral skills and addressing the severe bronchopulmonary dysplasia population in the NICU.
Le Bonheur is currently part of a 34-center national consortium focused on reducing uncontrolled pain in neonates after surgery. Using specific post-operative guidelines, Weems and his colleagues monitor patients' pain levels, scoring based on blood pressure and heart rates, as well as facial expressions. While too little medication causes babies unnecessary pain, too much is also a problem, says Weems, as physicians are understanding more and more about the negative effect of pain therapy and sedation on long-term brain development.
Preserving oral skills is crucial for babies who can't eat after abdominal surgery. In these cases, Weems and his colleagues encourage a "sham feeding" that still allows parents to feed their baby (bottle or breast feeding). The milk is then removed through a suction tube in the baby's stomach, which allows neonates to develop crucial oral skills needed to feed while waiting for the intestines to recover. In the pilot stage, the study is hypothesized to reduce the time it takes to start feeding by mouth and reduce the need for a gastrostomy tube, especially in infants with gastroschisis.
Another research focus: babies with severe bronchopulmonary dysplasia.
"So many of our babies with lung disease remain in the NICU for one or more years. Many families do not have the resources they need to take care of a tracheostomy at home, and we currently have no long-term care facilities to help these babies transition to home," said Weems.
Neonatologists are working to identify babies at risk for severe lung disease early on – typically any infant born before 26 weeks and those still on ventilator support at 36 weeks. Early identification allows caregivers to better manage the baby's respiratory therapies and work to prevent long-term issues.
Weems is passionate about the work his team is doing. "I like the stage of life when parents are trying to grow their families. And I get to help when something goes wrong," said Weems.

Le Bonheur Children's Hospital depends on the generosity of friends like you to help us serve 250,000 children each year, regardless of their family's ability to pay. Every gift helps us improve the lives of children.
Donate Now