Charleigh Jones is the miracle her parents, Charles and Lacey, had prayed for during a two-year infertility struggle. Born happy and healthy, they had no inkling of the disease hiding in Charleigh's genes. She has spinal muscular atrophy (SMA) type 1 — a genetic condition characterized by increasing muscle weakness and early morbidity.
As the state of Tennessee was finalizing newborn screening for SMA, 10,000 random samples were pulled for quality assurance testing. Charleigh's was one of them. Diagnosed through the screening with SMA type 1, Le Bonheur neurologists worked with Charleigh's pediatrician to intervene with a brand-new gene therapy to save Charleigh's life.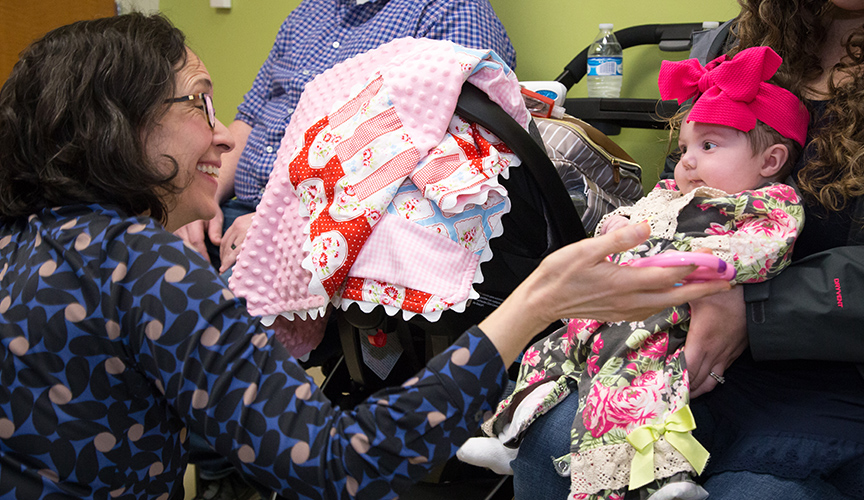 In December 2019 at 8 weeks old, Charleigh was the first Le Bonheur patient to receive an infusion of the newly-approved gene therapy drug Zolgensma. It delivers the gene that Charleigh is missing, stopping SMA in its tracks by preserving motor neuron cells, improving motor function and allowing her to reach childhood milestones like sitting without support.
A Grim Diagnosis
Prior to the screening, no one suspected Charleigh's SMA diagnosis. The state lab contacted Le Bonheur Neurologist Elena Caron, MD, and her team. They alerted Charleigh's pediatrician with the screening results and scheduled Charleigh an appointment two days later.
"We had never even heard of this disease before," said Charles. "Immediately, we started researching and reviewing case studies to understand this disease and what Charleigh's options were."
It felt like a race against the clock – every day mattered. We had to act as quickly as possible to help achieve the best outcome for Charleigh."
SMA type 1 is a genetic disease caused by a missing or nonworking SMN 1 gene responsible for making SMN protein. This protein is necessary for the survival of motor neuron cells which control muscle function across the body. Without the gene and the subsequent protein, muscular function slowly regresses and eventually ceases. Patients experience progressive muscle weakness including respiratory failure and inability to swallow.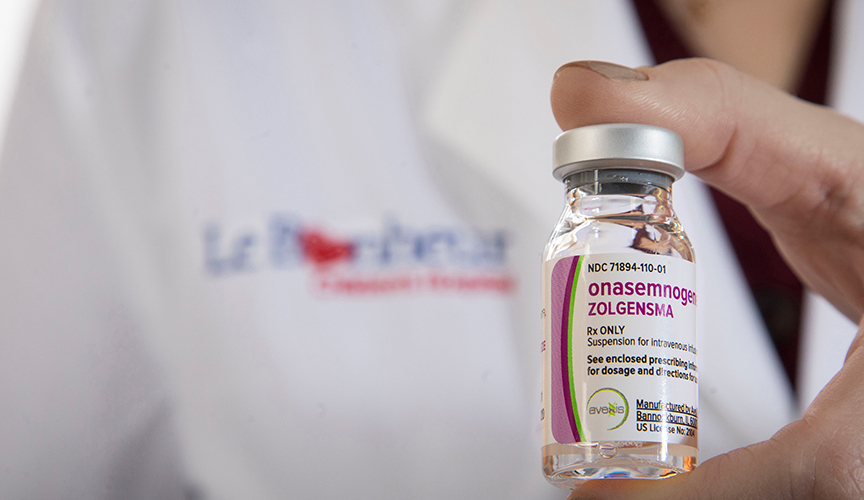 "Born a healthy, vigorous girl, by 5 weeks old her parents started noting weakness in the legs," said Caron. "By the time I saw her in clinic, she was severely weak with progressing arm and neck weakness."
If left untreated, SMA type 1 leads to death or the need for permanent ventilation by the age of 2 in more than 90% of cases.1 SMA has four types – the most severe and most common being Charleigh's, SMA type 1.
Previously children with SMA type 1 required supportive care – including breathing assistance by a ventilator, a tracheostomy and a gastrostomy tube for nutrition. Untreated infants could not achieve normal developmental milestones such as sitting without
support.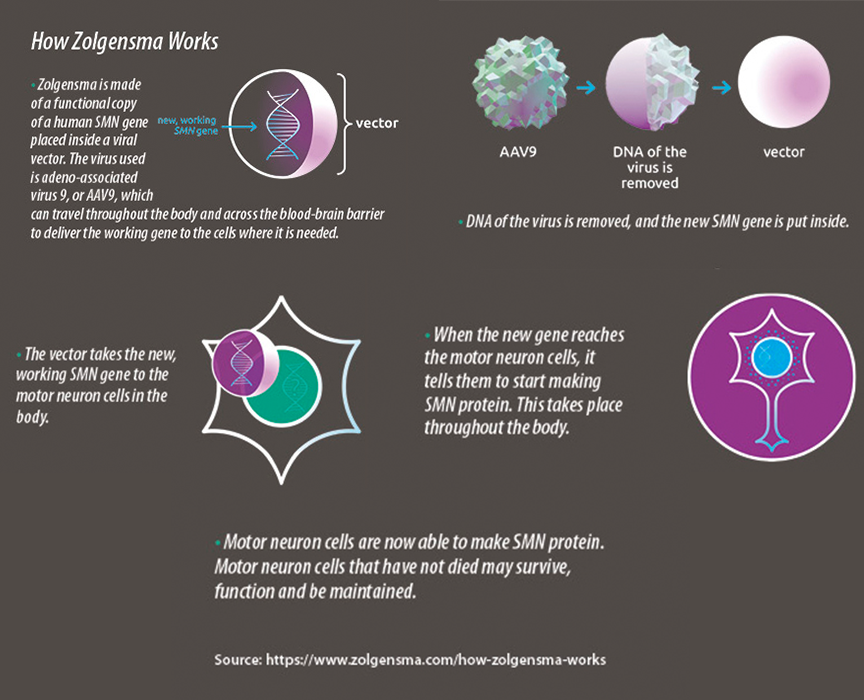 "Babies would begin to show symptoms at 2 to 3 months, slowly lose function and eventually be unable to breathe," said Jessica Fleener, clinical director for Le Bonheur's Infant/Toddler and Neuroscience units. "The best we could do was try to make memories during the time parents had with their child."
Hope for Charleigh
Nine days after her diagnosis, Charleigh was at Le Bonheur Children's for her infusion. Time was of the essence – the sooner a child receives the infusion the better the outcome.
Zolgensma protocol calls for a one-time, one-hour intravenous infusion followed by a 24-hour inpatient observation period. The drug was approved by the FDA in May 2019 for children with SMA younger than 2 years. Candidates must meet multifaceted criteria to be eligible for the drug.
The drug delivers a new copy of the deleted SMN gene through a viral vector, AAV serotype 9. It provides a functional copy of the SMN gene to a child's neurons to instruct the cells to produce the protein needed to keep anterior horn cells of the spinal cord alive. These cells support motor nerves and connect to muscles for all muscle movement. Delivery of the gene preserves existing motor neuron cells but does not repair ones that have already died.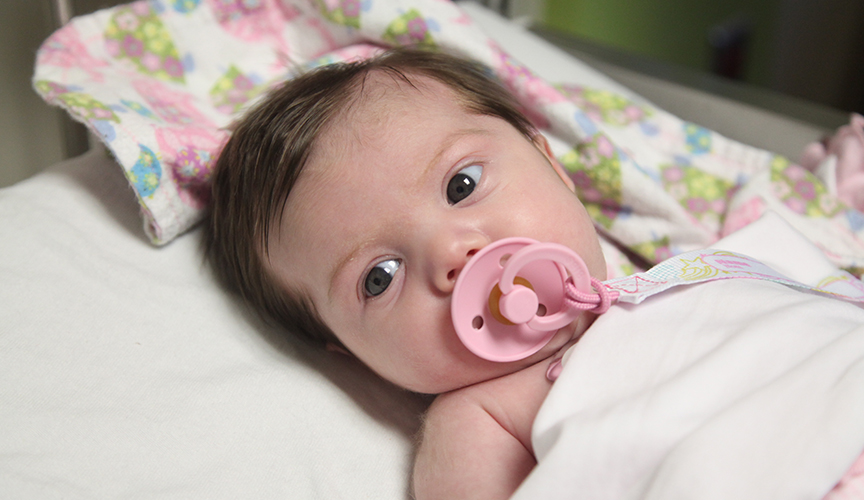 "I'm thrilled we were able to accomplish this so quickly," said Caron. "It felt like a race against the clock – every day mattered. We had to act as quickly as possible to help achieve the best outcome for Charleigh."
Administering a rare and expensive drug like Zolgensma requires a team effort across disciplines. Neurology, genetics, nursing and pharmacy all worked together to make sure Charleigh received the infusion as quickly as possible. Now a diagnosis or suspected diagnosis of SMA is considered a medical emergency due to the rapid, progressive and irreversible weakness and the available treatment with good outcomes.
While the infusion will not cure Charleigh of the disease, it will halt her symptoms so that she is able to continue to achieve childhood milestones and preserve her muscle function. Clinical data from the trial of Zolgensma showed unprecedented rates of survival, rapid motor function improvement and milestone achievement.
The Future of SMA Treatment
The state of Tennessee added SMA testing to newborn screenings in January 2020. For the past year, Le Bonheur physicians including Caron, Geneticist Joel Mroczkowski, MD, PhD, and Genetics Nurse Jennifer Smith, MSN, RN, CNL, have worked with the state to streamline SMA newborn screening, including how patients will be referred for treatment once identified. Le Bonheur is a designated treatment site in West Tennessee for children diagnosed with SMA by their newborn screening. After the infusion takes place, children continue with supportive care to complement the effects of the infusion and are followed in Le Bonheur's Muscular Dystrophy Association (MDA) Clinic.
"We anticipate more patients being identified and referred to us through newborn screening," said Caron. "We will continue to follow infants with SMA and provide excellent multidisciplinary care including pulmonology, neurology, orthopedics, nutrition and physical and occupational therapy."
Dr. Caron and the entire Le Bonheur team were wonderful to work with. Everyone moved quickly so that our little girl could have the best chance possible.
As for Charleigh, her parents are grateful that their daughter was one in 10,000 chosen for a random screening. It's what made the difference for their little girl. Since her infusion she has already begun to show progress moving her arms and rebuilding the strength in her neck.
"Dr. Caron and the entire Le Bonheur team were wonderful to work with," said Lacey. "Everyone moved quickly so that our little girl could have the best chance possible."
Le Bonheur Children's Hospital depends on the generosity of friends like you to help us serve 250,000 children each year, regardless of their family's ability to pay. Every gift helps us improve the lives of children.
Donate Now