A Fresh Start and New Beginnings for Patients with Type 1 Diabetes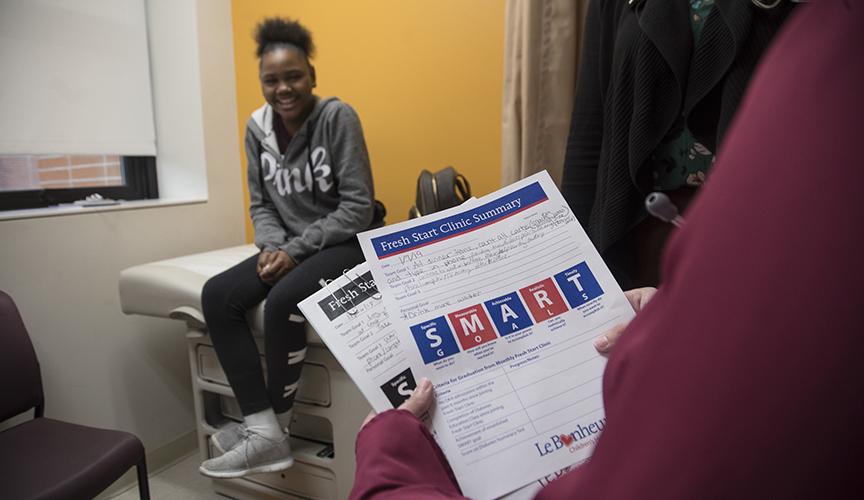 To help children and adolescents with poorly controlled type 1 diabetes and a history of recurrent diabetic ketoacidosis (DKA) admissions, Clinical Psychologist Angelica Eddington, PhD, and Endocrinologist Kathryn Sumpter, MD, see patients in the Fresh Start Clinic on a monthly basis. Type 1 diabetes is a prevalent chronic disease among children and adolescents in the United States with more than 15,000 individuals diagnosed each year.
To prevent serious complications, patients must meet glycemic control targets defined by the American Diabetes Association, i.e., hemoglobin A1c (HbA1c) ≤ 7.5%. Poorly controlled type 1 diabetes can cause DKA, a life-threatening condition in which the blood becomes acidic. Unfortunately, many children struggle to maintain glycemic control and require costly medical intervention.
The goal of the Fresh Start Clinic is to improve glycemic control and lower hospitalization rates among patients with type 1 diabetes. Sumpter and Eddington partner with Memphis-based Urban Child Institute and focuses on children and adolescents with poorly controlled type 1 diabetes throughout Shelby County. The BEGIN program launched in February 2020 to provide support for patients with type 1 diabetes in real-life settings. Sumpter and her colleagues are currently enrolling patients aged 8-17 years living in Shelby County and insured through Medicaid (TennCare) with A1c > 10% or a history of DKA admission in the preceding 12 months.
Patients in the BEGIN program will receive more clinical care in addition to comprehensive psychosocial and practical support, including a continuous glucose monitor, dedicated social worker and therapist, easy access to diabetes providers via texting and free transportation to clinic.
Le Bonheur Endocrinologist Helps Build Healthy Bones
When Endocrinologist Alicia Diaz-Thomas, MD, first came to Le Bonheur, she encountered a young patient with bone disease. Her experience assisting the child's physician with a bisphosphonate infusion (a bone-strengthening treatment) alerted her to the need for management of bone disease and promotion of bone health in pediatric endocrinology.
"Treatment of bone disease is an emerging field in pediatric endocrinology. A large amount of work is being done now to determine best practices. It's not something you're trained for," said Diaz-Thomas. Over time, Diaz-Thomas began encountering more children with bone disease through referrals from orthopedics and neurology. "I saw children with mobility problems due to epilepsy or cerebral palsy who developed disuse osteoporosis. Children on long-term steroid treatment for Duchenne muscular dystrophy or asthma can also develop secondary bone conditions," said Diaz-Thomas. "I also saw patients with osteoporosis. It is a leading cause of morbidity in adults, but the underpinnings of the disease are in childhood."
These encounters made it clear to Diaz-Thomas that supporting proper bone growth in children is critical to ensure healthy bones in adults. To meet this growing need, Diaz-Thomas founded the Bone Health Clinic at Le Bonheur in April 2019. In the Bone Health Clinic, physicians see patients with a variety of primary and secondary bone conditions who often require care from a multidisciplinary team.
As the clinic grows, the goal is to have patients see every specialist on the same day to reduce the burden of multiple appointments on families and enable collaboration among physicians on a child's care team. Bone disease refers to a family of conditions affecting bone strength, divided into primary and secondary bone conditions. Primary bone conditions are caused by genetic mutations, whereas secondary bone conditions are acquired through nutritional deficits, steroid treatment or restricted mobility.
In osteogenesis imperfecta, a primary bone disease, bones become brittle and prone to fractures. Osteogenesis imperfecta also causes a host of systemic issues, including growth problems, hearing difficulties and cardiopulmonary issues. In rickets, a secondary bone condition, bones become soft and weak. Rickets is usually caused by nutritional deficits due to restricted diets or prolonged breastfeeding without vitamin D supplementation. Rickets can be resolved by vitamin D and/or calcium supplementation, but it can slow or reduce bone growth during childhood, a critical period for bone growth. "The Bone Health Clinic is meeting a previously unrecognized need.
Bone diseases are becoming more common, and we need more people working in this space. Our hope is to move toward preventive care provided by primary care physicians to help children at risk of bone disease," said Diaz-Thomas.
Empowering Youth With Type 2 Diabetes
In January 2019, Endocrinologist Amit Lahoti, MD, initiated the multidisciplinary EMPOWER clinic for youth with type 2 diabetes to address the unique clinical and research needs of this growing population in Memphis. Lahoti leads this endeavor with registered dietitians, diabetes educators, nursing staff and a social worker. Clinical Psychologist Angelica Eddington, PhD, has contributed to evaluation and monitoring tools for the clinic based on evidence-based research.
Type 2 diabetes is an increasing problem in adolescents with the highest rates observed among adolescents aged 15-19 years in minority populations. At Le Bonheur's diabetes clinic, approximately one in every five diabetes patients has type 2 diabetes. Management of type 2 diabetes is different from management of type 1 diabetes in multiple ways, including a greater emphasis on lifestyle changes for patients and their families, different insulin titration protocols, earlier screenings and management of diabetes complications and comorbidities. Prior to the EMPOWER clinic, type 2 diabetes was frequently managed the same way as type 1 diabetes, creating an unmet need.
The EMPOWER clinic at Le Bonheur provides a unique opportunity to contribute to the health of children with type 2 diabetes locally by improving clinical care. This clinic also impacts the care of children with type 2 diabetes at regional and national levels by increasing their representation in multicenter research, national consortiums and databases.
Le Bonheur Children's Hospital depends on the generosity of friends like you to help us serve 250,000 children each year, regardless of their family's ability to pay. Every gift helps us improve the lives of children.
Donate Now