Therapy for Primary Sclerosing Cholangitis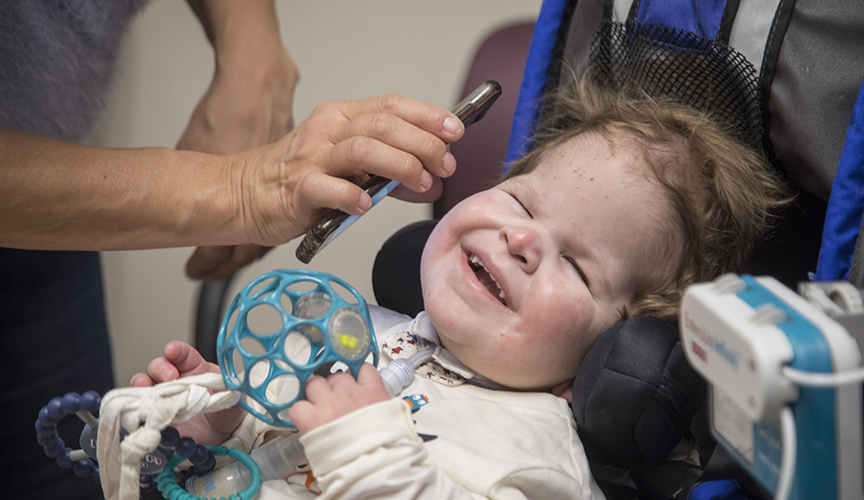 In primary sclerosing cholangitis (PSC), a rare liver disorder, chronic inflammation and ensuing fibrosis damage the bile ducts in the liver, which results in scarring and liver damage and leads to cirrhosis and end-stage liver disease.
Treatments for PSC are limited, and liver transplantation is the only cure. Ursodeoxycholic acid (UCDA), a primary bile acid in bears used to treat several liver disorders in adults and children, is often used off-label to treat PSC. However, data supporting the efficacy of UCDA in PSC are limited. Furthermore, recent data from adults with PSC revealed potential adverse outcomes with high doses of UCDA. Pediatric Hepatologist Dennis Black, MD, who has a long-standing interest in PSC, led a novel multicenter prospective trial to evaluate the impact of UCDA treatment and withdrawal on PSC in children, funded by a grant from the FDA Office of Orphan Product Development.
This disease is especially rare in children, and parents had to agree to temporarily discontinue a medication that might be helping their child. Black and colleagues at 12 major pediatric liver programs across the country recruited 27 participants with PSC who took UCDA between 2011 and 2016. To examine the impact of UCDA withdrawal and reinstatement on PSC, the investigators divided the trial into four phases. In phase I, patients maintained their normal prescribed dose of UCDA.
In phase II, the dose of UCDA was reduced by 50%. In phase III, UCDA was stopped completely. In phase IV, UCDA was restarted at a standardized dose. Liver enzymes alanine aminotransferase (ALT) and gamma-glutamyl transferase (GGT), adverse events, inflammatory biomarkers, bile acids, UDCA levels and complete blood counts were monitored. Based on changes in ALT and GGT in response to UCDA withdrawal, the investigators placed patients into three UCDA response subgroups: null, ALT and GGT <29 IU/L; flare, ALT and/or GGT >100 IU/L during phase II and/or III; and indeterminant, ALT and/or GGT >29 IU/L and <100 IU/L during phase II and/or phase III.
Approximately one-third of study participants were in each group. A total of 22 patients completed the study. Among these patients, three experienced serious adverse events. Two of these patients experienced a significant disease flare and were moved to phase IV of the study with subsequent remission. All patients in the flare group showed remission upon reinstitution of UCDA. Notably, GGT levels were significantly higher and albumin levels were significantly lower at baseline in the flare and indeterminant groups than in the null group. Baseline plasma levels of IL-8 and TNF-a were higher in the flare group than in the null and indeterminant groups.
Despite remaining within the normal range, GGT significantly increased in the null group during or after UCDA withdrawal. Although the results of this trial are limited by the small number of participants and brief period of UCDA withdrawal, they indicated UCDA may have a therapeutic effect in some children with PSC, and plans are underway for a more definitive study. The investigators also noted that elevations in baseline GGT, IL-8 and TNF-a may help predict which patients are at risk of experiencing a flare. The study has been published in Hepatology Communications.
When this study was presented at the annual meeting of the North American Society for Pediatric Gastroenterology, Hepatology and Nutrition, Black was awarded the Gerard Odell Prize for Excellence in Hepatology Research.
Black Wins Mentoring Award from the American Gastroenterological Association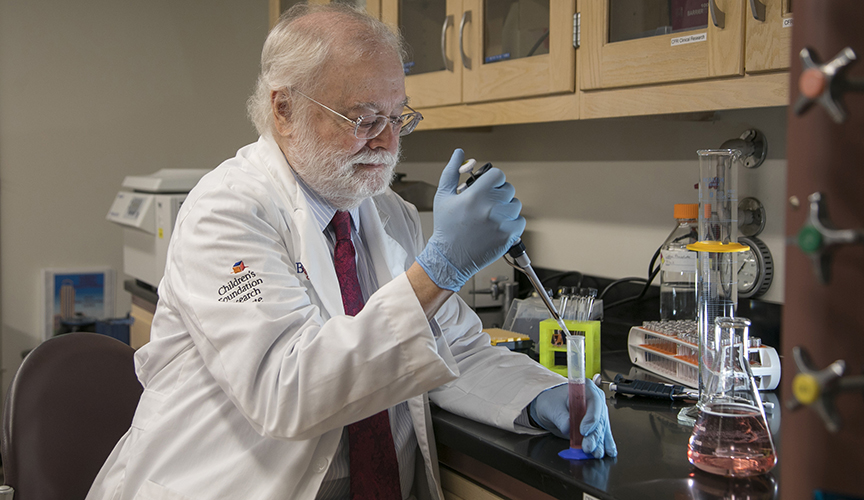 The American Gastroenterological Association (AGA) honored Dennis Black, MD, with the AGA Institute Council Obesity, Metabolism & Nutrition Section Research Mentor Award. This award is for AGA council members who have made outstanding contributions to mentoring in specific fields of research. Throughout his career, Black has specifically dedicated his time to the mentoring and training of new investigators. Black will receive this award during Digestive Disease Week, one of the largest conferences for physicians and researchers in gastroenterology, hepatology, endoscopy and gastrointestinal surgery.
Le Bonheur Children's Hospital depends on the generosity of friends like you to help us serve 250,000 children each year, regardless of their family's ability to pay. Every gift helps us improve the lives of children.
Donate Now