Exploring the Gut Microbiome in Hirschsprung-Associated Enterocolitis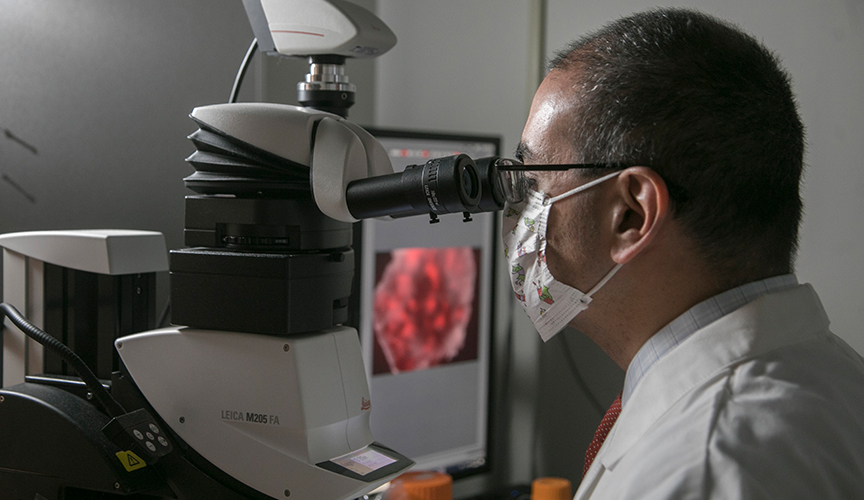 Pediatric Surgeon Ankush Gosain, MD, PhD, recently received $2.1 million for his NIH R01 proposal, "Dysbiosis in Hirschsprung-Associated Enterocolitis Pathogenesis." In Hirschsprung disease, the enteric nervous system, or the "brain of the gut," does not develop completely reducing motility, water and nutrient absorption and local blood flow. Hirschsprung-associated enterocolitis (HAEC) is a life-threatening complication of Hirschsprung disease that affects 30-60% of infants with the disease and is the leading cause of death among these infants. Dysbiosis occurs when the balance of beneficial to harmful bacteria in the gut microbiome is disrupted leading to loss of beneficial bacteria, increased harmful bacteria and decreased overall diversity of bacteria. Dysbiosis is prevalent in patients with HAEC, but its role in the disease is unclear.
Gosain's project will test the central hypothesis that dysbiotic gut microbiota drives the development of HAEC. This innovative project will utilize novel preclinical models to establish a causative relationship between the abnormal gut microbiome and HAEC pathogenesis and test potential therapies. The objectives of this project are to establish a causative relationship between dysbiosis — imbalance of the gut microbiome — and HAEC and identify which bacteria are the main drivers of HAEC.
Gosain will also test therapeutic targets and examine how neurotransmitters made by bacteria influence the motility of the intestine. The expected outcome of these studies will be a deeper understanding of the pathophysiology of HAEC and identification of novel therapeutic approaches for prevention or treatment of HAEC.
ATOMAC Examines Blood Component Ratios in Pediatric Trauma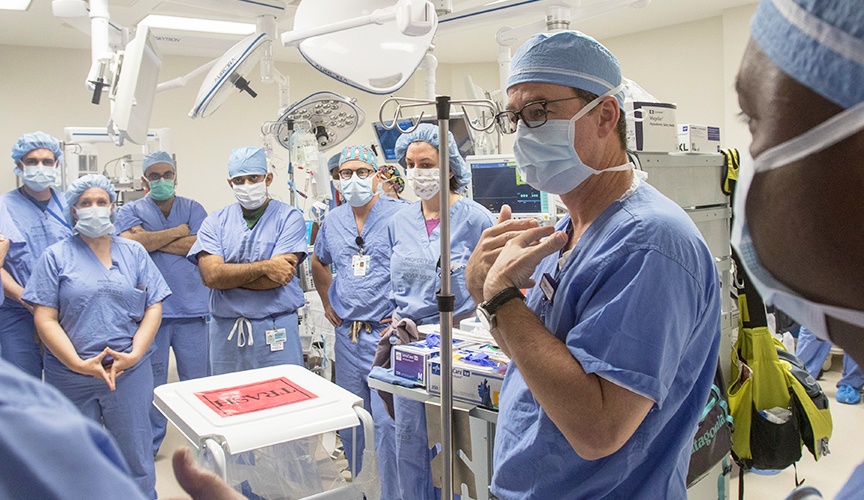 Trauma is the leading cause of death for children in the United States. In many cases, trauma causes severe hemorrhage, which reduces blood volume below the level necessary to keep vital organs working. Massive transfusion protocols, which involve transfusion of large units of blood products in fixed ratios, are often implemented to save patients' lives. The correct balance of blood components such as red blood cells, platelets and plasma is critical to avoid exacerbating coagulopathy and acidosis, two frequent comorbidities in severe trauma patients. However, current massive transfusion protocols rely on data from adult trauma patients, which are not applicable to pediatric trauma patients due to differences in hemostasis and coagulation. To address this issue, Le Bonheur Surgeon-in-Chief Trey Eubanks, MD, and other members of the Arizona-Texas- Oklahoma-Memphis-Arkansas Consortium (ATOMAC) conducted a retrospective study of massive transfusion protocols implemented in pediatric trauma patients treated at each ATOMAC site.
Eubanks and colleagues examined data from 110 pediatric patients who received massive transfusions within 24 hours of severe trauma, mostly caused by motor vehicle accidents. The majority of patients survived to discharge from the hospital while 27% died in the ICU, usually within 48 hours of admission.
When the authors grouped all patients by the transfusion ratios of packaged red blood cells to fresh frozen plasma, the data showed that patients who received packaged red blood cells to fresh frozen plasma at a 1:1 ratio were more likely to survive than those who received these blood products at a 1:2 or 1:3 ratio. This association also held after the authors controlled for age, suggesting the transfusion ratio does not need to be adjusted between younger and older children.
Based on these findings, the primary ATOMAC site, Children's Medical Center Dallas, has since implemented the 1:1 ratio for massive transfusions in pediatric patients. A standardized massive transfusion protocol utilizing the 1:1 ratio could expedite treatment for children in critical condition and potentially lead to better survival rates. Although prospective randomized trials are needed to confirm these results, the current findings do hold promise for children who experience severe trauma.
Le Bonheur Children's Hospital depends on the generosity of friends like you to help us serve 250,000 children each year, regardless of their family's ability to pay. Every gift helps us improve the lives of children.
Donate Now