Growing up, Le Bonheur Registered Respiratory Therapist Crystal Owen would care for her brother with asthma while her mom worked nights as a nurse at Le Bonheur Children's Hospital. So when the time came for a career change, Owen's mom had just the suggestion.
"After watching my brother struggle with severe asthma for so long, I wanted to do something more specialized," said Owen. "My mom said, 'Why don't you be a respiratory therapist?'"
After multiple board tests and additional specialized certifications, Owen is now a shift leader of a team of respiratory therapists at Le Bonheur.
Recently, the role of respiratory therapist has become associated with COVID-19, particularly as a vital role in the care of COVID-19 patients on ventilators. And while COVID-19 care has certainly become part of her job, Owen and her team of respiratory therapists handle much more.
"At Le Bonheur, respiratory therapists take care of all ventilator management in critical areas, provide airway clearance maneuvers likes chest percussion and handle all breathing treatments for patients," said Owen. "We work closely with the critical care doctors in determining the best mode of ventilation depending on their disease process and how to wean kids off ventilators."
COVID is a respiratory disease so we want to get them on a good respiratory regimen early to keep them from getting pneumonia. This can prevent escalating care and having to move them to the PICU.
A team of 90 respiratory therapists are spread throughout the hospital with special emphasis on critical care areas where children are more likely to need their expertise. On top of that, a respiratory therapist is always ready to assist with inserting a breathing tube and airway management in the Emergency Department when a trauma case arrives. And in between regular ventilator care and breathing treatments, respiratory therapists assist with any scans needed of all ventilated or high respiratory support patients.
Owen decided to pursue higher specialties in order to care for the smallest and sickest patients who need respiratory support. She's certified as a Neonatal Pediatric Specialist and an Extracorporeal Membrane Oxygenation (ECMO) Specialist.
ECMO is a treatment that uses a heart and a lung machine to support children when their
organs are too weak to support the body's needs. Children on ECMO need an ECMO specialist in the room at all times to provide specialized care while on this lifesaving treatment.
"We do so many phenomenal things for kids — there isn't another hospital in this area that provides ECMO for children," said Owen. "If a child needs a high level of care or has any major trauma, they will usually end up at Le Bonheur because of our ability to treat patients with a higher level of acuity."
And this higher level of care extends to the rise in serious pediatric COVID-19 complications that are seen at Le Bonheur — particularly in the Pediatric Intensive Care Unit (PICU). Respiratory therapists are critical to provide a respiratory regimen to patients who come in with COVID-19 no matter the level of severity of their symptoms.
"COVID is a respiratory disease so we want to get them on a good respiratory regimen early to keep them from getting pneumonia. This can prevent escalating care and having to move them to the PICU," says Owen.
Le Bonheur's respiratory therapists have encountered multiple challenges with COVID-19 that are unique to pediatric care. With the Delta variant, children present much sicker, and more end up needing ventilator support, says Owen. And while younger kids generally have less severe COVID-19 symptoms, they have seen children as young as 4 weeks need ventilation.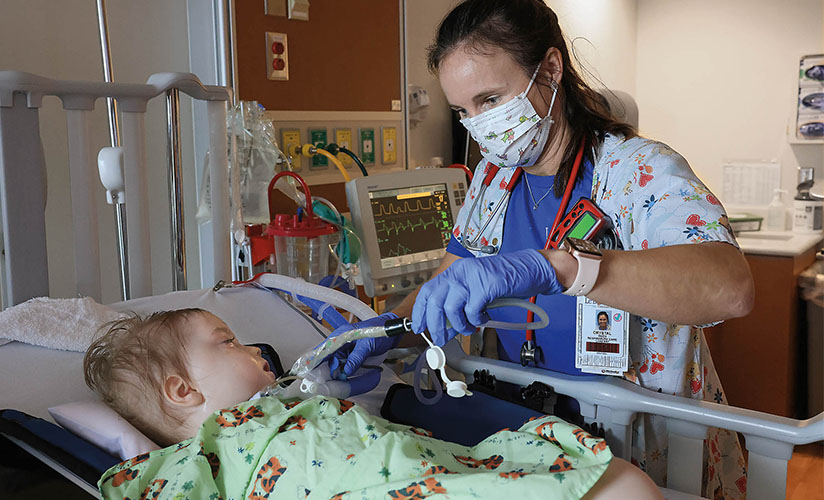 Plus, 2021 saw an early start to the respiratory syncytial virus (RSV) season — a respiratory virus that needs intervention from respiratory therapists as well. The combination of the delta variant and an early RSV season caused an influx of patients in need of respiratory support. The PICU has remained full, usually with half COVID-19 and half RSV patients. And now a post-COVID-19 syndrome, multisystem inflammatory system in children (MIS-C) is presenting itself in kids requiring critical care and affecting a child's lungs and other systems in the body.
Simple measures such as the wearing of masks and vaccination against COVID-19 could help prevent these children from becoming so sick, says Owen.
"During the first wave of COVID, we didn't see it a lot in kids, or they were quick to recover. But now, walk a day through our unit, and you see how sick these kids are," said Owen.
While Owen has seen sadness in the hospital during the pandemic, she says there is so much joy in the great outcomes and the way all entities have come together to provide the best care for kids in a time when everyone is under intense strain.
"Le Bonheur is the heart of this city when it comes to children. We serve the sickest kids in our area and internationally and partner closely with St. Jude to provide ECMO care and procedures," said Owen. "Even under the strain we have been working with — with staff shortages and the influx of patients — there are still smiling faces, still doing the same thing we were before the pandemic, just having to be a little stronger."
Le Bonheur Children's Hospital depends on the generosity of friends like you to help us serve 250,000 children each year, regardless of their family's ability to pay. Every gift helps us improve the lives of children.
Donate Now