Less than an hour after the school bell rang, Le Bonheur School Nurse Nikitta Franklin, RN, heard a knock on her health room door. Eleven-year-old KaMaree Rayford came in with a cough, headache, shortness of breath and a stomachache. He'd been out of school the week before due to COVID-19 exposure, and he hadn't come back with a doctor's note clearing him to return to school.
Nurse Franklin calmly walked with KaMaree to the school's new "safe room," a socially-distanced isolation space implemented in all Shelby County Schools, where she took his temperature and performed an evaluation. She then coordinated with administrative staff for his pickup.
By the time she made it back to her office, another student was waiting. Then another. And then another.
"It's a lot right now," said Franklin. "The students have had to adjust to so much. We're doing everything we can to keep everyone safe."
When schools returned to in-person learning this fall in the grips of the highly contagious delta variant of COVID-19, the vital role of school nurses was brought into stark relief.
The concept of school nursing has existed for a century; but uniformity among states and school districts varies greatly, as do the laws governing school health services. Some school districts in the rural Mid-South, such as Tipton County, provide a nurse in every school, while others such as Shelby County provide, on average, a nurse in each school for only four hours a week.
The current Tennessee ratio equates to one nurse per 3,000 students.
Le Bonheur Children's Hospital is working to meet the school nursing needs of the community through a pilot program with five Shelby County Schools, a mobile health unit in West Tennessee, and the placement of 14 Le Bonheur nurses in Tipton County Schools.
This semester, Le Bonheur Community Nurse Supervisor Charnece Brown, RN, has pitched in to help her nurses on the frontlines, rotating between partner schools to assess and triage sick children. Before the pandemic, Brown said having dedicated nurses in school allowed teachers the ability to focus on educating their students rather than trying to diagnose their health issues.
"Now with the pandemic going on, we not only help teachers be able to do their job, but we can also be that calm in the storm, if you will," said Brown.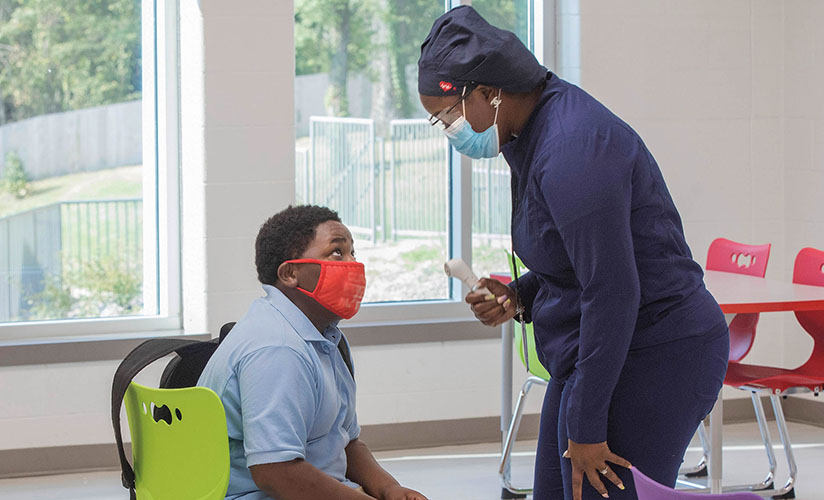 This elevated role of school nurses includes help with screening, contact tracing and follow-up after a student or staff member is sent home to quarantine or isolate.
Le Bonheur Children's experts have advocated for safe school practices since the start of the pandemic, and last year created a joint "Back-to-School Task Force" with University of Tennessee Health Science Center to provide guidance for educators, school officials and parents.
"In the past year, our nurses have really been the source of information for COVID for many schools," said Le Bonheur School Health Services Director Cindy Hogg, RN. "Our providers are answering questions for staff and parents, triaging kids, interpreting policies and practices — and then providing a link back to Le Bonheur."
Hogg said the school nurses' work throughout the pandemic has highlighted the value of relationship building, an intangible core aspect of community outreach work.
"One thing we've seen is the trust parents have for our nurses," she said. "Our school nurses have been calling to check on children and families when they learn of COVID in the home. Many families were given test results with no education on what to do, how to manage symptoms, when to be concerned, how long they should stay home, etc. These families were so thankful someone was calling to check on them and so thankful to have a nurse to ask questions and get information."
While school nurses have been vital for COVID-19 precautions and care, they also provide much needed support for children with a range of health concerns. The American Academy of Pediatrics (AAP) recommends that each school has its own full-time nurse due to the increase of chronic conditions in children, including asthma. The increased survival of pre-term infants and children born with congenital anomalies has resulted in more children with disabilities and chronic diseases. In addition, the number of children with behavioral issues has also increased. Caring for these children in school requires the services of a professional registered nurse.
At the start of the pandemic, when many schools moved to virtual learning, Le Bonheur school nurses kept in contact with students known to have chronic conditions to ensure proper case management.
When school returned, the nurses checked on the whole family. For instance, when an elementary school student complained of a headache and stomachache upon return to in-person learning, a school nurse spoke with him and learned he had anxiety because he was away from his mom, who had suffered a massive heart attack during quarantine. The student's grandfather had passed away from COVID, and his father had died when the student was a kindergartener.
The nurse spoke with the child about his worries and learned his mother, who needed heart medication, had lost her job, and in turn, her health insurance. The nurse worked with Seedco — a national nonprofit organization that connects families in need to Medicaid and Children's Health Insurance Program (CHIP) — to get the family covered, which in turn alleviated some of the anxiety keeping the child from being able to focus in school.
Le Bonheur school nurses are often the first health care contact for a child, helping to catch chronic issues before they escalate. The program's success can be seen in the stories of children and families served.
A recent example involves an adolescent girl sent to the school nurse with a note saying the child was drinking water all day, not eating and losing weight. The teacher thought perhaps the student was suffering from an eating disorder, but the nurse recognized the signs of hyperglycemia. The school nurse called the child's parents and secured an appointment with a primary care provider the very same day. The child was diagnosed with Type 1 diabetes, went on to see an endocrinologist, received a school care plan and returned to school able to manage her condition.
Le Bonheur Children's Hospital depends on the generosity of friends like you to help us serve 250,000 children each year, regardless of their family's ability to pay. Every gift helps us improve the lives of children.
Donate Now