Le Bonheur Children's Hospital once again attained Magnet designation from the American Nurses Credentialing Center this past spring. This credential is the highest national recognition for nurses and a testament to the hospital's continued dedication to high-quality care.
Le Bonheur was first designated as a Magnet facility in 2016 and is one of only six Tennessee hospitals to hold the Magnet designation. Less than 10% of hospitals nationally achieve the designation.
This year's Magnet journey was unlike any other — as an historic February winter storm hit the region, Magnet appraisers virtually visited Le Bonheur.
The city of Memphis was blanketed with nearly 10 inches of snow in the course of four days. The red heart atop the hospital even frosted in white.
But the Le Bonheur team did not let Mother Nature stand in their way.
Despite the major disruption, staff and physicians were steadfast in demonstrating professionalism and devotion to Le Bonheur and their work.
"To earn Magnet recognition once was a great accomplishment and an incredible source of pride for our nurses," said Le Bonheur President Michael Wiggins. "Our repeated achievement of this credential underscores the foundation of excellence and values that drive our entire staff to strive harder each day to meet the health care needs of the people we serve."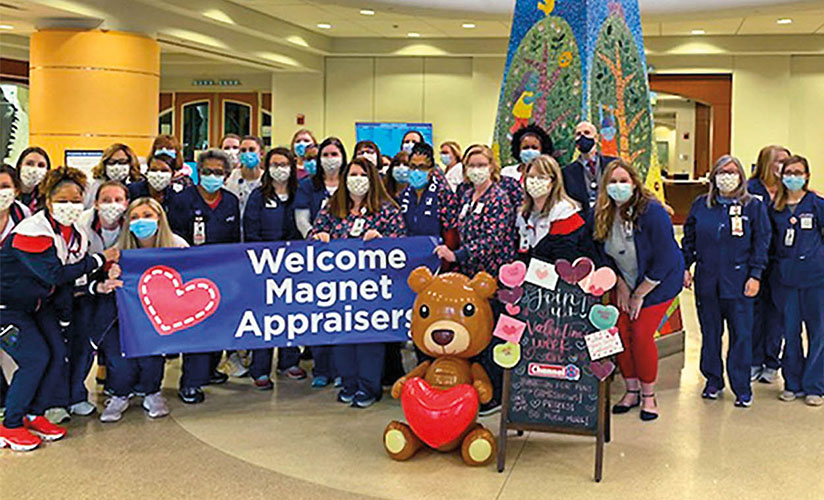 New Chief Nursing Officer Hella Ewing, RN, MSM, was thrilled to join a high-caliber nursing team and an organization dedicated to constantly improving nursing at the hospital.
"The Magnet Model is a framework for excellence focusing on quality, interprofessional relationships, community outreach, nursing leadership and professional development," Ewing said. "Le Bonheur has successfully completed our re-designation showing that we excel in all of these area and reaffirms our commitment to our organization and community."
To achieve Magnet recognition, organizations must pass a rigorous and lengthy process that demands widespread participation from leadership and staff. This process includes an electronic application, written patient care documentation, a site visit and a review by the Commission on Magnet Recognition.
"We're a better organization today because of the Magnet recognition we first received four years ago," Wiggins said. "Magnet recognition raised the bar for patient care and inspired every member of our team to achieve excellence every day. It is this commitment to providing our community with high-quality care that helped us become a Magnet-recognized organization, and it's why we continue to pursue and maintain Magnet recognition."
Le Bonheur Children's Hospital depends on the generosity of friends like you to help us serve 250,000 children each year, regardless of their family's ability to pay. Every gift helps us improve the lives of children.
Donate Now