A Nurse Who Cares
Le Bonheur CARES nurse practitioner leads $1.5-million grant for sexual abuse care training in West Tennessee
It's a question that Andrea Sebastian, DNP, PNP, SANE-P, Le Bonheur CARES (Child Advocacy Resource and Evaluation Services) nurse practitioner, hears all too often: "How do you handle the emotional toll of caring for victims of child abuse day in and day out?"
For Sebastian the answer is simple.
"This patient population is 100% my passion. Seeing kids in follow-up clinic who are now thriving gives me the drive to help the next victim of child abuse," said Sebastian. "It's a small difference I was able to make in their life."
And now she's taking that care to the next level, serving as project manager on a $1.5-million grant to provide sexual abuse response training to nurse practitioners in West Tennessee.
Sebastian's journey into nursing started in high school as she did administrative work in a pediatrician's office. It ignited a love for caring for children.
After nursing school and earning her doctorate of Nursing Practice at the University of Kentucky, Sebastian began working in Le Bonheur's Pediatric Intensive Care Unit (PICU) as a nurse practitioner. She felt pulled toward caring for victims of child abuse and neglect after seeing more cases in the PICU than she ever anticipated.
"I felt like this was where I could make a difference," Sebastian reflects.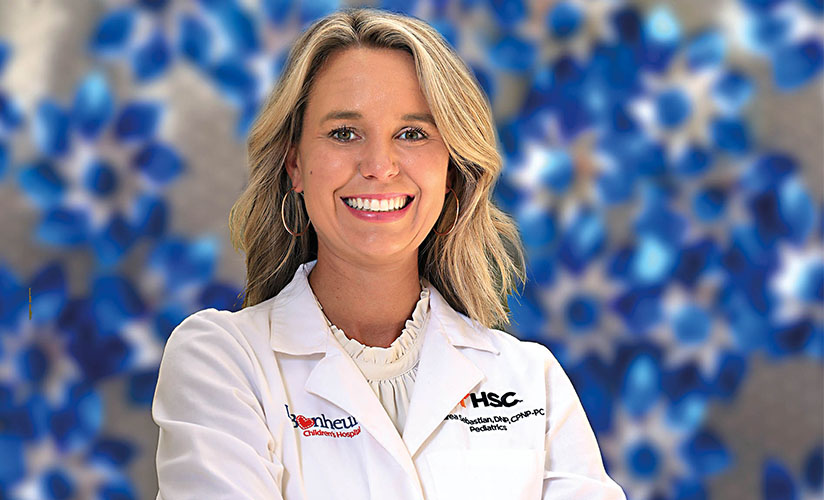 That began Sebastian's transition to working full time with the child abuse program, Le Bonheur CARES.
This work runs the gamut from visiting patients in the hospital, outpatient and Emergency Department (ED) settings, holding clinic for follow-up patients, to working with the Department of Children's Services (DCS) and law enforcement and even testifying in court.
And now Sebastian adds a new vital responsibility to her plate — serving as the project manager for the threeyear, $1.5 million SANE Training and Education through Partnerships for Underserved Populations (STEP UP) grant awarded to the University of Tennessee Health Science Center (UTHSC) College of Nursing to expand Sexual Assault Nurse Examiner (SANE) training and certification in West Tennessee. Sebastian serves as an assistant professor at the UTHSC College of Nursing.
The need for SANE trained nurses in West Tennessee is crucial. In the 21 counties of West Tennessee, there are five certified SANE nurses — four of which are in Shelby County.
"Through this grant we will be able to dramatically increase the number of nurses who are trained in sexual assault response," said Sebastian. "This will increase access to trauma-informed care in rural areas."
Sebastian and her grant team will recruit up to 61 registered nurses or advanced practice registered nurses (APRNs) to receive SANE certification. These certifications train nurses to address sexual assault survivors' needs and provide trauma-informed care.
The goal is to provide access to timely, expert care for all sexual assault survivors in West Tennessee.
"The consequences of child abuse don't stop the day a child leaves the hospital. Kids who are abused have long-term consequences," said Sebastian. "Support for the Le Bonheur CARES program allows our care to continue, and we can help children live healthy, happier childhoods."
A Heart for Patients
CHD survivor and Le Bonheur nurse practitioner spearheads education in ACHD program
Ryan Stephens, DNP(c), FNP-C, MBA, Le Bonheur nurse practitioner in the Adolescent-Adult Congenital Cardiology Disease (ACHD) program, was born with a congenital heart defect that was repaired at 9 months of age. But this is just a footnote in his story.
His congenital heart disease (CHD) diagnosis, however, gives him a unique perspective with the patient population he serves — adolescents with congenital heart disease who are taking responsibility for their health and transitioning to adult cardiology care.
"It's rewarding to help patients understand that while their diagnosis is not something that will disappear, it's possible to live with it and still have a full life," Stephens said.
Without proper transition and education, it is easy for congenital heart disease (CHD) patients to slip off the radar when they outgrow pediatric medicine. Loss of insurance and continuity of care can present issues down the road.
Stephens was working in community health when Rush Waller, MD, medical director of Le Bonheur's ACHD program, called him to fill this gap. Waller had been tasked with building up Le Bonheur's adult heart services. He needed a partner to spearhead transition medicine for the pediatric CHD population.
So Stephens took the reins and developed a methodology to educate current Heart Institute patients, smoothly and methodically transitioning them to an adult heart program. An age-specific flow sheet and checklist within the patient's chart, developed by Stephens and Waller and accessible to all providers, ensures that the patient's education stays on track.
Education for heart patients begins as young as 12, when Stephens and the cardiologists expose them to as much information as they are ready for — understanding their diagnosis, medications, risks for future offspring and more. The earlier conversations start, the better their access to and continuity of cardiology care. As they reach 15 to 18 years old, Stephens starts to meet with them without parents to continue the journey to autonomy for their own care.
"They need to feel the tension of being responsible for their own health and feel the urgency behind it," said Stephens.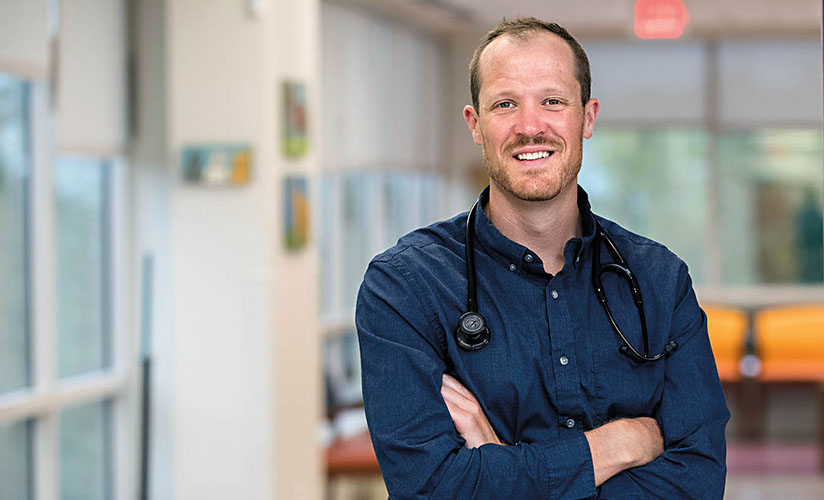 In addition to this transition medicine in the ACHD program, Stephens also plays a large role in the Sports Cardiology Program within the Heart Institute. Athletic trainers of all the universities in Memphis and local professional sports programs such as 901 FC, the Redbirds and the Grizzlies, have Stephens on speed dial when they have an athlete that needs a cardiac evaluation. Stephens filters them in clinic and passes them on to a cardiologist if they need further follow up.
But the COVID-19 pandemic brought new challenges to sports cardiology. As concerns arose about heart injury after COVID infection, sports medicine groups began reaching out for assistance with screening their athletes to return to their sport. Stephens and the sports cardiology team knew they needed to provide guidance for screening these athletes for cardiology issues.
"Our sports cardiology team developed an algorithm for screening positive COVID-19 patients to see if they needed further evaluation from a cardiologist before returning to sports," said Stephens. "Out of that we developed stronger relationships with these athletic teams and saw 200 patients with COVID in a three-month span."
At the end of the day, Stephens says he is continuously motivated by his team and the patients he serves. He cites amazing physician collegiality for collaboration and satisfaction. And he continues to educate the next generation of nurse practitioners through the University of Tennessee Health Science Center (UTHSC) where he is an instructor at the College of Nursing. His patients' well-being for a lifetime pushes him to keep working hard for each one of them.
"If you invest in people's lives, you will always get a return on your investment," said Stephens.
Le Bonheur Children's Hospital depends on the generosity of friends like you to help us serve 250,000 children each year, regardless of their family's ability to pay. Every gift helps us improve the lives of children.
Donate Now